Are you trying to figure out what you should do about your current roof system? Maybe you are thinking about tearing off the old damaged roof and getting something new. Perhaps you are looking for a way to repair some leaks in your roof, but you don't want to spend a fortune if you can help it.
An EPDM coatings roof system could be the best option available. It has a range of advantages, as you will soon see.
Works for Many Types of Roofs and Substrates
An EPDM coatings roof system will work with a wide range of types of roofs. For starters, it will work well with various types of substrates including fiberglass, metal, and rubber coatings. If you already have a substrate on your roof, there's a good chance that you could use liquid butyl EPDM to coat it.
Often, these types of roofing systems are found on commercial roofs that are flat or that might have a small slope to them. They could also be used with similar residential roofs, although it is not as common. One of the areas where EPDM butyl liquid coatings have been used a lot is with RV roofs.
Stands Up to the Weather
An EPDM coatings roof system will be able to handle any type of weather that you might have in your area. It does a great job regardless of the temperature. You don't have to worry about it folding or cracking if it gets too hot or too cold. It is UV-resistant, handles snow and hail, rain, and more, all while providing the roof beneath the coating with excellent protection.
Handles Ponding Water
One of the biggest problems with flat roofs is that there always seems to be at least one area where the water starts to pond. If you don't have a quality roof system in place, there's a good chance that eventually that area will start to weaken, allowing for leaks and water damage to occur.
With liquid butyl EPDM coatings, the roof system can handle that type of ponding water without issue. It will keep the roof safe even when the ponding water is there for a long period.
Easy to Use
The coatings are also easy to apply. It can be a DIY project, as long as you get the right equipment and take the time to learn how to use and apply the coating correctly. You will need to clean your roof before using the coating, for example. It can be applied with rollers similar to painting. If you have a large roof or you don't feel comfortable doing it on your own, you can hire someone to apply the coating for you.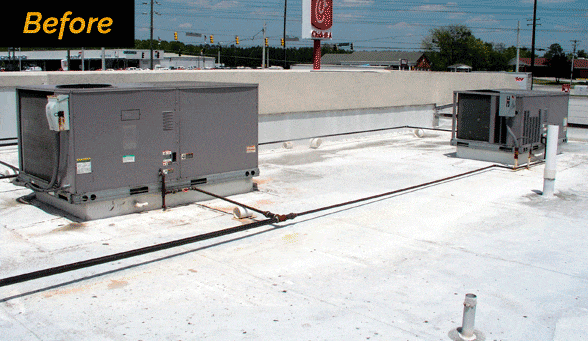 Low Maintenance
Once the coating is applied, there is very little maintenance that's needed. Inspect the roof twice a year, sweep up the debris that lands on the roof, and use a cleaning solution to help remove dirt and to keep it looking great.
Affordable Option
Although there are other options on the market for roofing systems, you will find that this is one of the most affordable options available. The cost of the EPDM is low, and when you install it yourself, you can eliminate the cost of professional installation.
These are some of the biggest benefits that come from using an EPDM coating roof system. It could be the perfect choice for your roofing needs. Consider the type of roof you have, what you need to have done, and see whether it's the right choice. If you aren't sure, you could always talk with a professional roofing company. Just don't let them try to talk you into something more expensive than what you need.