Rated

4.5

/

5

based on

549

customer reviews

Rated

4.5

/

5

based on

549

customer reviews

Liquid Roof - 4 Gallon Pail

Rated

4.5

/

5

based on

549

customer reviews

Liquid Roof - 5 Gallon Pail

Rated

4.5

/

5

based on

549

customer reviews
Liquid Roof AND RV Roof Coatings
Liquid Roof is a specially formulated version of Liquid Rubber that has the flexibility needed for vehicles that are traveling and causing significant amounts of tension as it travels and turns. If your RV is stationary the entire year you can order the Liquid Rubber but if you do travel with your RV you will need to purchase the Liquid Roof. Note applying the Liquid Rubber over an RV will void its warranty.
Liquid Roof is a liquefied version of a synthetic rubber typically referred to as EPDM. The letters EPDM stand for ethylene, propylene, diene monomer and M class. Prior to the liquefied version emerging on to the market, rolls of the rubber were used for waterproofing roofs. The liquids are much easier to apply. Can fill cracks and crevices. They can go where the sheets could not go. The liquid roof coatings have more uses. They can be used on RV roofs and other vehicles. They can be applied to a wide range of roofing materials including metal, fiberglass and wood (although wood is not a warrantied application). The use of an undercoating means the liquid roof can be applied to built-up and asphalt-based coatings (with the use of the ProFlex primer).
Uses
Recreational vehicles
Trailers
Mobile homes
For Fleetwood models with ALPHA roofs you will need to use the ProFlex Primer
EPDM Roof coatings are aftermarket products designed to extend roof life. Can seal roof leaks, or provide a heat-reflective or aesthetic roof-coating function over existing roof surfaces.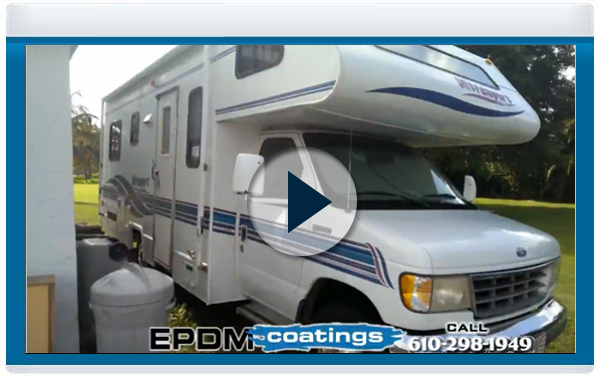 A True Liquid EPDM Rubber
Liquid Roof is a true EDPM rubber, and is the only one sold in liquid form. It makes installations easy. It can be described as a liquid version of the single-ply EPDM membrane that has established an outstanding performance record spanning more than 30 years. The EDPM chemistry has two unique features not possessed by any other rubber: It is unaffected by ultraviolet radiation and ozone and it can tolerate continuous exposure at temperatures above 300° F. The latter feature is also what gives EPDM rubbers the best aging properties of all elastomers (they retain flexibility longer).
ProFlex Primer
IMPORTANT: ProFlex primer is required for any RV roof where someone has put a 3rd party coating/sealant over the original roof. The primer will ensure a suitable surface for the Liquid Roof. Also owners of Fleetwood units need to apply the primer due to Fleetwood's Alpha roof membranes. Fleetwood was popular for Alpha membranes. If you are unsure of what is on your roof we highly suggest applying the primer. When using the ProFlex primer only mix half of each part. For the gallon set part A and part B is enough for 300 sq. ft. Note when applying the Liquid RV Roof be sure the primer is still tacky. Do not permit the primer to fully cure as this will result in you needing to sand the primer to allow for adhesion of the Liquid Roof. The primer should be tacky to the point of being able to walk on it without picking up any of the material on the bottom of your feet.
Application
One coat is all that is needed for your RV. The result is customers saving labor costs and material costs since many of the other systems on the market require multiple coasts and provide no warranty. Stop recoating you RV after just three years with elastomerics and acrylics and get the product with over a 15 year history of proven success in the marketplace and the industry's only 10 year unconditional warranty. Easily applied with a squeegee and a roller a 24 ft unit should take you approx two hours to apply.
Features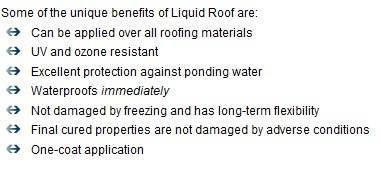 The 10 Year Industry Warranty
Only at EPDM Coatings will you find the RV industry's only 10 year roof coating warranty. The reason we can do this is due to the products 27 years of successful history and thousands of satisfied customers over the years. The product has proven over and over again to surpass other RV coatings for a number of reasons. First it will waterproof just after it is applied so there is no need to worry about weather conditions after it has just been applied. Second since it is a liquid you will never need to worry about seam repair work again. It has a built in fungicide that mold and mildew do not like. It will also tolerate standing water year round. EPDM Coatings is pleased to be the only company to offer a ten year to RV owners and should you decide to sell your RV the warranty is transferrable. Once you go through the order process on our website you will be prompted on how to get the 10 year warranty and if you have any questions simply give our office a call. For those trying to determine how much product you will need there is a simple calculation. Take the length of your unit and multiply by width (8 feet is standard) then divide that by 42 and this will give you the number of gallons you need. Remember to always round up after reaching a half gallon or more.

| | |
| --- | --- |
| | |
Only Liquid EPDM for RV Roof Coatings
The versatility of Liquid Roof is endless from existing epdm roofs to canvas, fiberglass to pvc. If you have already put a 3rd party coating over your roof or you just don't know what has been applied to your roof over the years there is no need to worry. You simply apply one coat of our ProFlex primer prior to the application of the Liquid Roof.
Liquid EPDM For RV Leaks Repair
Liquid Roof is great for repairs also. Many of our customers contact us after driving their unit under a low bridge or under trees where it causes significant scratches or rips. The application of the Liquid Roof literally saves you thousands when compared to a new roof. One coat, one time and years and years of worry free maintenance with your RV. How many other products on the market can make that claim? Preparations is simply; a mild detergent wash with something like Simple Green, Top Job etc and be sure the surface is thoroughly dry before applying the coating. It is also a good rule of thumb to inspect your roof twice a year to be sure that nothing has fallen on it or there are not areas that are cause for alarm. Should you have any questions about application or proper preparation simply give our office a call. Anyone of our sales representatives will be more than happy to walk you thought the process.

Even if you use Liquid EPDM Roof, be sure to check your roof periodically for leaks. If you leave your roof in rough condition or bad repair, you could be in for huge problems and costly repairs. Your entire coach is beneath your roof. When repairing leaks and general waterproofing, the Liquid EPDM Roof coatings is the least expensive and most effective choice. That's the facts about Liquid EPDM Roof and its benefits. It's a money-saving, environmentally friendly alternative.
Click Here to Read our Customer Testimonial Page