Moisture Cure Liquid EPDM Rubber
Moisture Cure Liquid Rubber is specially formulated for customers in areas where temperatures are not reaching 55 degrees. Moisture cure is a product above others in that it will dry in temperatures as low as 33 degrees. The temperature can actually fall below 32 ( it will stop the curing process but will NOT harm the product and curing will continue when the temperature is above 32F). The product will also cure in as little as 1-3 hours. In fact Moisture Cure has been a lifesaver for many of our customers who otherwise would need to find a solution other than a liquid coating.
Product Description
Coating cures in 1-3 hours by absorbing moisture from the air
Moisture cure is elastic meaning it is capable of stretching 160%
Product needs to be applied within 45 minutes to an hour after mixing
Can be applied to a damp surface
Withstands ponding water and total immersion
Easily recoatable
Cures at low temperature
Ultra Violet stable
Tolerates low temperatures to minus 50°F
Can be sprayed without diluting
One Year Shelf Life
Will adhere to a fully cured film of Pro Flex Primer
Coating is oil resistant so it can be used on restaurant roofs
Acceptable Substrates

EPDM Rubber
Metal
Fiberglass
Glass
Asphalt-requires ProFlex Primer
Concrete-requires ProFlex primer
TPO-MUST use ProFlex Primer
Foam - required Proflex Primer
Aluminum-requires ProFlex Primer
Application
NOTE: if you are using the ProFlex Primer in conjunction with the Moisture Cure the ProFlex must fully cure before applying the Moisture Cure.
Add the premeasured catalyst and apply by brush, roller or spray. surface you are coatings may be damp but cannot have water droplets on it. The Moisture Cure coatings have a gel-link structure when at rest. This breaks down quickly under agitation. Moisture Cure will have good adhesion to most substrates except TPO, PVC and aluminum. RV's customer's should add 2 cups of bleach to kill any surface mold/mildew along with a standard detergent such as dawn
Begin mechanical agitation to form a vortex. Pour catalyst into vortex and move mixer shaft around container in a descending followed by an ascending motion while making contact with sides and bottom of container so all parts of the liquid are mixed with catalyst. The usability time (pot life) will now be approximately 60 minutes depending on the humidity. To spray Moisture Cure without diluting you need a sprayer minimum of 3000 psi with a minimum fluid flow of 2 gallons per minute
What You Will Need
GALLON CONTAINERS
4 & 5 GALLON PAILS

3/8 electric drill
Gallon mixing shaft
Short nap roller (6 inch)
Masking tape
Paint thinner for cleanup

1/2 electric drill
Pail mixing shaftt
Short nap roller (6 inch)
Masking tape
Paint thinner for cleanup
BUTYL TAPE AND POLYESTER FABRIC
To strengthen a damaged roof skin or for reinforcing any worn seams.
TOOLS, EQUIPMENT & MIXING INSTRUCTIONS
(Electric drill, mixer shaft, wire brush, sandpaper (60 grits), spatula, paintbrush). The container is under filled to allow for the addition of the premeasured catalyst that is included. An electric drill and a mixer will be needed to incorporate the catalyst. For a 1-gallon can, a short mixer will suffice. For 4- or 5-gallon pails, you MUST use a long shaft mixer. The catalyst will be inside the box for the gallon size boxes and under the lid in 4- and 5- gallon pails.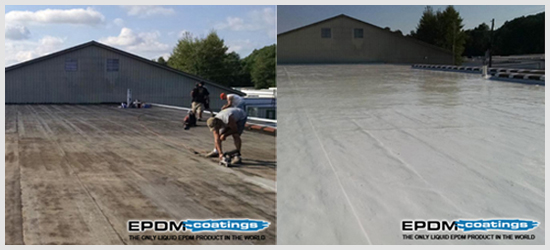 Comparative Moisture Vapor Transmission (gr/24Hr/sq. meter)
| | | | |
| --- | --- | --- | --- |
| Liquid EPDM | Acrylic Elastomeric | Silicone | Moisture Cure |
| 1.12 | 216.5 | 79.32 | 66.17 |
EPDM Liquid Rubber vs. Moisture Cure Liquid Rubber
| | | |
| --- | --- | --- |
| | EPDM | Moisture Cure |
| Cure rate | 24-36 Hrs. | 1-3 Hrs. |
| Is it hydrophobic? | YES | YES |
| Sufaces | NO | YES |
| Lowest cure temp | 55F | 33F |
| Oil resistant | NO | YES |
| Re-coatable | YES | YES |
| Sprayable without dilution | YES | YES |
| Adheres to cured Proflex | NO | YES |
| UV stable | YES | YES |
| Volume Solids | 64% | 75.6% |
| Transmission ASTM D1653 | 1.12 | 66.17 |