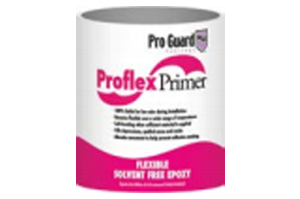 Proflex Primer®
Product Data Sheet
F1524 ProFlex Primer/Base Coat
Two Gallon of Part A and Two Gallon can of Part B mixed together will cover 400 Sq Ft
This product is a unique, extremely flexible, two-component epoxy membrane. It is solvent-free and exhibits excellent tensile strength and elongation under ambient as well as colder temperatures.
ADVANTAGES
100% solids for low odor during installation
Self-priming and leveling on properly prepared surfaces.
Strong adhesion to wide variety of substrates.
Self-leveling when sufficient material is applied.
Fills depressions, spalled areas and cracks.
Absorbs movement to help prevent reflective cracking.
Remains flexible over a wide range of temperatures.
Adheres to asphalt substrates.
SURFACE PREPARATION
Surface should be clean, substantially free of loose and without standing water.
Important Note: It is important to know that you should not use water or water based products to clean your concrete. This will affect adhesion.
TYPICAL PROPERTIES (When mixed)
Mix Ratio:
1:1 by volume
Density:
9.44
Viscosity (Brookfield):
750 cps
Gel Time:
55 min.
Cure Time:
24 hours
Shore D Hardness (72 hrs):
52
Adhesion (aged):
100% @ 730 psi
Impact Resistance:
> 174 inch-lbs.
Mandrel Bend:
1/8" no crack
Color:
Clear Blue
7 days 15 days
Tensile Strength – Ambient:
808 psi 1390 psi
Tensile Strength – Chilled:
3900 psi 6610 psi
Elongation – Ambient:
139 % 132 %
Elongation – Chilled:
68 % 27 %
Modulus of Elasticity – Ambient:
79.7 psi 331 psi
Modulus of Elasticity – Chilled:
1150 psi 1180 psi
Hot Tire Print
No permanent imprint @ 2 hrs., 140°F
Application Guidelines
Applying over Smooth Non Porous Surfaces
Smooth Aluminum, New Galvanized Steel, Glass and Plastics such as ABS, Polypropylene, PVC, Polystyrene, and Acrylic must be primed with Proflex Primer® to improve adhesion. Hypalon and other Thermoplastic Olefin membranes must also be primed with Proflex Primer®
Spray On Urethane Foams
Since there can be considerable variations in density we recommend priming all roof foams with Proflex Primer® in order to produce a uniform surface and improve adhesion to the rubber.
Applying over Previously Painted Surfaces
Epoxy and Urethane patching products, caulks and coatings must be primed with Proflex Primer® to improve adhesion.
Applying over Porous Surfaces
When applying over porous substrates, use Proflex Primer® to stabilize the surface.
Applying over Masonry or Concrete
With masonry / concrete, the surface to be coated must be relatively smooth (steel troweled) and uniform (not honey-combed, full of imbedded stones or aggregate breaking the surface, etc.). The surface must be structurally stable, dry, non-porous, and free of oils, debris, and flaking or loose paint. New (green) concrete should be aged 10 days. Fill any cracks, or spalling or other surface defects on the concrete surface with Proflex Flexible Epoxy®, Butt Putty® Crack Filler Gel or ProFill® to level and smooth out the surface.
Using Proflex Primer® with EPDM Liquid Rubber®
An example of substrates that need to be coated with Proflex Primer® prior to application of EPDM Liquid Rubber® are:
Wood
Plywood
Concrete
Rigid Foams
Previously Painted Surfaces
Spray on Urethane Foams
When applying over the above substrates, use Proflex Primer® to stabilize the surface. The "porosity" of concrete / masonry can be somewhat subjective and needs to be addressed prior to applying EPDM Liquid Rubber® on such surfaces. When in doubt and when time permits, prepare the surface as above and apply a 20 mils dft coat of EPDM Liquid Rubber® to a test section. Check when cured in about 4 to 10 days, for surface "bubbling" and adhesion. Bad adhesion and "bubbling" indicates that the structure is too porous. In such a case, or when testing times do not permit, it is recommended you apply a coat of Proflex Primer® on the concrete first, to "fill in the pores", let partially cure, and then apply the EPDM Liquid Rubber® over the Proflex Primer® following the instructions.
The information presented herein is furnished free of charge and is based on technical data that Pro Guard believes to be reliable. It is intended for use by persons having technical skill and is at their own discretion and risk. Since conditions of use are outside our control we make no warranties, express or implied, and assume no liability in connection with any use of this information. Nothing herein is to be taken as a license to operate or a recommendation to infringe any patents.