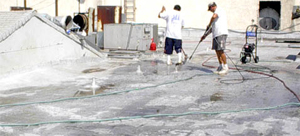 Torch Down, modified bititum hot mop and APP roll roofing are modified asphalt products that experience chalking and then crack as a result of UV degradation. If these products are coated before they reach the cracking stage their life expectancy can be considerably extended. Coating selection and climate zone, however, are very important considerations. Solvent containing coatings should not come in direct contact with asphalt products unless they also contain asphalt. Since asphalt products are thermoplastic, topcoating them with incompatible products can lead to early failure in areas that experience winter temperatures down to 0° F
An acceptable system that can be used in climate zones that do not experience below 0° F temperatures consists of the following:
Proflex Primer (one coat primer) Topcoat: Liquid EPDM Rubber
This combination will produce an average 37 mil dry film thickness.