Commercial Application Tips for Contractors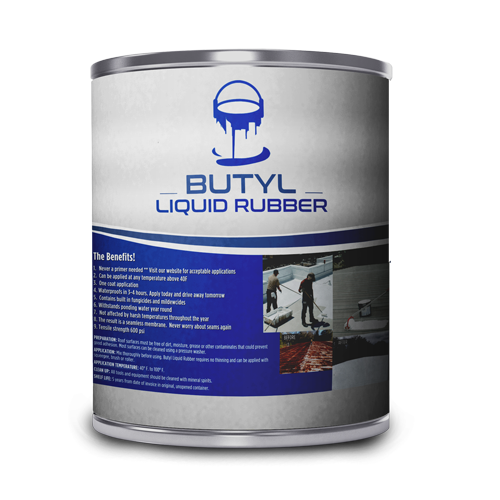 EPDM Liquid Rubber is a two-component solvent-solution version of the single-ply EPDM membrane rubber. Its physical properties and method of cure make it unique among liquid applied coatings. The unique properties of EPDM Liquid Rubber include:

1. You can apply up to 35 mil dry film in one coat.
2. It penetrates into cracks and crevices.
3. It can go directly over a tightly rusted surface without a primer.
4. The cure is not affected by relative humidity. Freezing does not damage uncured coating.
5. It can withstand ponding water or immersion indefinitely.
6. It tolerates a wide temperature range, from minus 60 to 300 F.

EPDM Liquid Rubber has application and spray characteristics that are considerably different from other types of liquid coatings. Although EPDM Liquid Rubber has a heavy consistency, it will self-level and penetrate small crevices and pores. It is also harder to brush and more difficult to atomize for spray. The most efficient method of EPDM Liquid Rubber application: For flat surfaces (flat or low slope), first, catalyze the rubber. Then pour a quantity on the surface and broadcast with a rubber-edged squeegee. Follow this with a short nap roller (lint free mohair) to evenly distribute the wet film. Spread the rubber at no more than 45 square feet per gallon.

Spraying

A.) Equipment: Use a 3 gallon-per-minute airless spray pump capable of developing a minimum 3,000 psi outlet pressure, and a 3/8-inch ID hose or larger with a maximum length of 100 feet. Use a tip size of .015 or .017 for smaller pumps, and a .019 tip for larger capacity pumps. Use a 100 mesh strainer at the outlet of the pump or in the handle of the gun. Use a swivel fitting at the gun in place of a whip in order to reduce the pressure drop through a smaller ID hose.

B.) Thinning: It will be necessary to thin Liquid Rubber with xylene solvent before it can be sprayed. The amount of xylene needed will vary depending on pump size and material temperature. The following is a recommended starting-point procedure for thinning a 5-gallon pail:
1.) Add 1 gallon xylene to pail and mix until uniform.
2.) Add entire amount of catalyst supplied. Mix thoroughly.
3.) Transfer ½ contents to another pail.
4.) Start pump and check spray pattern. If spray is too coarse, try a .015 tip. If this still isn't enough improvement, add another quart of xylene to the 2 1/2 gallons of rubber in the pail. Once an acceptable spray pattern is achieved, use the same amount of xylene to dilute each succeeding pail. Pour newly mixed rubber into the pail under the pump as needed.

Troubleshooting Procedure: Poor spray pattern and clogging of the tip are the most frequently encountered problems during application. These can invariably be traced to inadequate flushing and poor maintenance of the equipment. Check to make certain the 100 mesh strainer is clean before starting. Problem: Poor spray pattern. Solution: Follow thinning procedure in B.) Problem: Still getting a poor spray pattern, even after thinning rubber with 1 ½ gallon of xylene per 5-gallon pail. Solution: Starting at the gun, successively remove one component at a time (i.e., tip, tip extension, gun filter, gun, strainer at pump, etc.) and check the flow. With the tip removed, the material flow should be steady and strong (discharge into the pail at the pump.) If the tip extension is removed and the flow increases noticeably, the ID of the extension is too small. Remove or replace. If the discharge stream is weak and pulsating, attach the gun and open the drain cock at the strainer to see if the condition is the same there. If the pulsation persists, the problem is in the pump (the balls are not seating properly or are dented and need replacing.)

How to Achieve Minimum Dry Film Thickness?

EPDM Liquid Rubber must be applied at a rate that will produce a minimum dry film of 20 mils. This can be accomplished with one coat by applying the rubber at a rate of 200-220 square feet per 5-gallon pail if it is undiluted (6 or 6½ gallons when thinned with xylene). The actual (expanded) surface area must be used for this calculation.
Example: If the expanded area of a ribbed or standing seam roof is 1.2 times the length and width area calculation, and 1.5 gallons of xylene thinner was used per 5 gallons of rubber, how much material will a 3,000 squarefoot roof require? 3,000 square feet_X 1.2 = 3,600 = 16.36 pails X 5 gallons = 82 gallons 220 square feet/pail 220 undiluted 16.36 pails X 1.5 gallons xylene/pail = + 24.5 gallons xylene 106.5 gallons diluted rubber. Spread Rate: The spread rate of 220 square feet expanded area per 6.5 gallons of diluted rubber (5 gallons rubber + 1.5 gallons xylene) is adjusted to the length X width roof dimension. Two hundred twenty = 183 square feet of roof area (L X W) therefore: 1.2. When 6.5 gallons of diluted EPDM Liquid Rubber are applied to 183 square feet (L X W) of roof, an average dry film of 20 mils will result.