For RV's Trailers and Mobile Homes ONLY
Liquid RV Roof Magic
RvRoofMagic For RV Roof Repairs
RvRoofMagic is a specially formulated version of Butyl sheet rubber with the flexibility needed for vehicles that are traveling and creating significant tension as it moves.

RvRoofMagic is a liquefied version of a synthetic rubber, typically referred to as Butyl.

Butyl rubber, sometimes just called "butyl", is a synthetic rubber, a copolymer of isobutylene with isoprene. The abbreviation IIR stands for isobutylene isoprene rubber. Polyisobutylene is also known as "PIB" upon which butyl rubber is based. Butyl rubber is produced by polymerization of about 98% of isobutylene with about 2% isoprene. Structurally, polyisobutylene resembles polypropylene, but has two methyl groups substituted on every other carbon atom, rather than one.
Prior to the liquefied version emerging on-to the market, rolls of the rubber were used for waterproofing roofs. The liquids are much easier to apply. It also fills in cracks and crevices and forms an entirely seamless membrane. RvRoofMagic can be used where the sheet version could never effectively coat. RvRoofMagic coatings have additional uses. They can be used on RV roofs, trailers, boats, motorhomes and other vehicles. They can be applied to a wide range of roofing materials including metal, fiberglass, concrete bur roofs etc. Always consult your roofer to determine if aftermarket coatings are acceptable given the current condition of your roof.
Acceptable Roof Categories for Liquid RV Roof
EPDM rubber
Various metal roofing systems
Weathered aluminum
Weathered copper
Any original EPDM rubber roofing system
Fiberglass
Acrylic sheet and any acrylic based products
Weathered vinyl
Polyurethane foam
Fleetwood models
Alpha Rubber
Roofs that were coated with a 3rd party roof coating.
How Much RvRoofMagic® Material Do I Need?
Uses
Recreational vehicles
Trailers
Horse trailers
Box cars
Mobile homes
Houseboats
For Fleetwood models or roofs with an Alpha Systems roof
EPDM roof coatings are aftermarket products designed to extend roof life. They will seal roof leaks and provide a heat-reflective and aesthetic roof-coating over existing roof surfaces.
A True Liquid Rubber
RvRoofMagic is a true Liquid Butyl Rubber and is the only one sold in liquid form that has all the features and a 5-year warranty. It makes installations easy. It can be described as a liquid version of the single-ply membrane that has established an outstanding performance record spanning more than 30 years. The Liquid Rubber chemistry has two unique features not possessed by any other rubber: it is unaffected by ultraviolet radiation or ozone and it can tolerate continuous exposure at temperatures above 300° Fahrenheit. The latter feature is what gives Liquid Rubber the best aging properties (they retain flexibility longer). The shelf life of the product is four years.
Application
This is a one-coat system for your RV. The result is reduced labor and material costs since many of the other systems in the market require multiple coats and provide no warranty. Stop recoating you RV after only three years with elastomerics and acrylics and get the product that is the chosen leader in the RV industry, with Over a 30-year history of proven success in the marketplace. It normally takes about 2-4 hours during days above 50° for a full cure. Should the temperature drop below 50° you would need to add that time to the overall cure. For example, if the temperature it drops below 50° over the next 10 hours, add 10 hours to the overall time to cure. The higher your daytime temperature the quicker it will dry. If you get an unexpected shower, no need to worry. It can directly rain on the material within 2 hours after application if temps are above 50°. Very few products can make that claim. Imagin using another product and just a couple hours after you finish, there is a thunderstorm, and you have to start all over. Another superior feature of this product is that it will withstand standing water literally 365 days a year. Easily applied with 3/8th inch nap roller a 24 ft unit should take you approximately two hours to apply. Since the catalyst is already incorporated into our product, there is no need to add a catalyst and you never need to worry about rushing due to the pot life of the product. As long as the lid is tightly secured, it will last up to three years. During the initial cleaning of your RV, we suggest adding two cups of bleach to kill any surface mold/mildew along with a standard detergent such as Dawn dish washing detergent or Simple Green. You will want to be sure that any oils or fats are removed as they will cause the coatings to not cross-link and proprely adhere to your roof.
Features
Can be applied on any RV, including those that have already been coated with a 3rd party coating.
UV and ozone resistant
Excellent protection against standing water
Not damaged by major temperature variations
Over a 30 yr. history in the industry
Contains mildewcides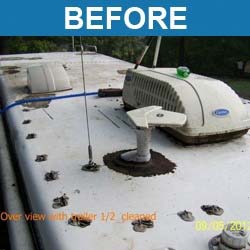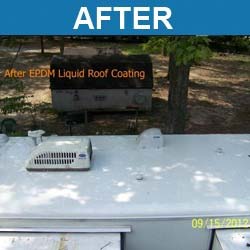 RvRoofMagic for RV Roof Repair
The versatility of RvRoofMagic is endless; from repairing existing EPDM roofs to canvas or fiberglass. If you have already put a 3rd party coating over your roof or you just don't know what has been applied to your roof, not to worry. RvRoofMagic will go over other coatings as well without the need for a primer.
RvRoofMagic For RV Leak Repairs
RvRoofMagic is also great for repairs. Many of our customers contact us after driving their unit under a low bridge or under trees, causing significant scratches or rips. The application of RvRoofMagic literally saves you thousands compared to a new roof. One coat, one time and years and years of worry-free maintenance with your RV. How many other products on the market can make that claim? Preparations are simply: a mild detergent wash with Simple Green, Top Job, etc. and be sure the surface is thoroughly dry before applying the coating. It is also a good rule of thumb to inspect your roof twice a year to be sure that nothing has fallen on it or areas that might be cause for alarm. Should you have any questions about application or proper preparation, simply give our office a call. Anyone of our sales representatives will be more than happy to walk you through the process.
Even if you use RvRoofMagic Roof be sure to check your roof periodically for leaks. If you leave your roof in rough condition or bad repair, you could be costly repairs down the road. Your entire coach is beneath your roof. When repairing leaks and general waterproofing, RvRoofMagic Roof is the least expensive and most effective choice.
Click Here to Read our Customer Testimonial Page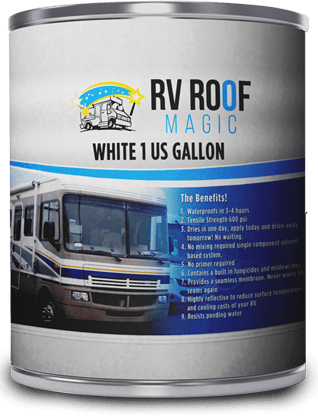 RV Roof Magic - 1 Gallon

Rated 4.5 /5 based on 549 customer reviews.
$89.75 In stock
Product description: With 30 years of success, RvRoofMagic is the ONLY Butyl Liquid Rubber product you need for rv roof coating, motorhomes, roof repair and similar application that come with all the benefits and warranty!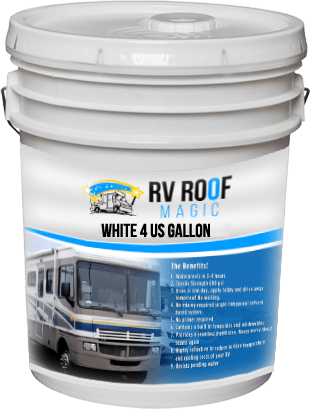 RvRoofMagic - 4 Gallon Pail

Rated 4 /5 based on 549 customer reviews.
$325.00 In stock
Product description: With 30 years of success, RvRoofMagic is the ONLY Butyl Liquid Rubber product you need for RV roof coating, motorhomesm roof repair and similar applications that come with all the benefits and warranty!