We Are Proud to Announce some significant enhancements to our product line. Our BUTYL LIQUID RUBBER is now a single component product with the solvent already incorporated into the product. We have extended the shelf-life to four years as well as incorporating a mildewcide to deter mold spores from growing on your roof. Click here for an many other benefits! CLICK HERE for the details.

We also make a couple enhancements on our RV ROOF MAGIC product as well. CLICK HERE for the details. We have also added a Seam Repair Kit and increased our tensile strength in our clear skylight protector, Skylight-911 and have increased the strength of our Roof Cleaner Roof Protect giving you up to 15 washes.
Online orders Can only ship within Continental United States.
Please call our office for all other destinations.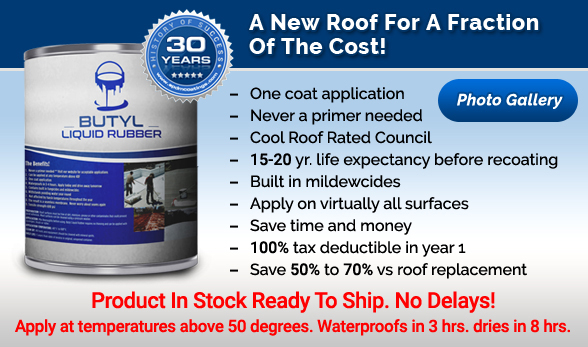 Why is Butyl liquid Rubber® The best choice?
The Liquid version of BUTYL is identical to the sheet BUTYL but because it is a liquid you will never need to worry about seams. As the product dries you can literally see the seam disappear and what is left is a brilliant seamless membrane on your roof.
The product can handle significant temperatures but what is even more important is the changes in temperatures it can endure.
Will take standing water 365 days a year
ASTM Tested
Unlike any elastomeric, acrylic or urethane -- you can apply Liquid Butyl Rubber 3 times thicker.
One coat needed, and no primers needed saving your product and labor costs.
A true "Do-It-Yourself" product with over a 30-year history of success.
Waterproofs within a 2-3 hours of application; that's right unlike other products that required 24 hours or more to dry a light rain after 2-3 hours after application will not affect the material or its performance.
Accelerated aging testing has proven Butyl Liquid Rubber to out-perform elastomerics & urethane 3 times longer.
Butyl Liquid Rubber is good for virtually any surfaces. List of applicable uses
When looking for a long-term roof solution, compare apples to apples. Butyl Liquid Rubber is in most instance is a one-coat application saving you time and money. There are no primers needed, and when you begin adding up the cost of other systems that require primers and multiple coats, you certainly exceed the cost of Butyl liquid Rubber and have an inferior sealant on your roof. Why add unnecessary weight to a roof by using multiple-coat systems? Cut your time and labor costs in half with our one-coat system. Butyl Liquid Rubber has a very thick consistency. One of the main characteristics that make this product so unique is in the chemistry of the curing process. During the drying process, the product will actually chemically cross-link creating a chemical bond with the coating and the substrate it is being applied onto. This is a superior solvent based product and good news; the catalyst is already in the container. There is no need to add a catalyst from a separate bottle. Also, as the product dries the catalyst is hard at work forcing up to the surface what would otherwise be trapped air with other coatings. Other products may trap this air making future cracks inevitable as temperatures change or expansion and contraction of the roof occur. Our Butyl Liquid Rubber has a 500% elongation and over 1520 psi tensile strength. What you have left is when the product dries is a smooth seamless membrane.


Repairing roof leaks with Butyl Liquid Rubber and EPDM Liquid Rubber Coatings is the only choice for a long-lasting solution. EPDM Coating's rubber products work on more roofing materials than any other kind of coating. Liquid EPDM coating has been the one product recommended time and again by contractors throughout the USA as an economical and long-lasting solution. A proven alternative to roof replacement.
Butyl Liquid Rubber is applied in one coat at a 20 mil film (50 sq ft per gallon) thickness and will still withstand extreme temperatures. That is the beauty of the product. Radical extremes in temperature where constant surface temperatures reach 250°F or above or -40°F or below is not an issue for the product. There is not a need for a second coat.
25 years of field study and thousands of satisfied customers have made Liquid butyl Rubber the roof repair solution for many applications. Butyl Liquid Rubber is so versatile that it can easily be applied to metal, rubber, fiberglass, concrete, Hypalon TPO, BUR, foam and many other surfaces. Butyl Liquid Rubber has proven to outlast acrylic, urethane and elastomerics by 3 times. There may be lower-cost products on the market but none that have the long-term durability, waterproofing ability and tolerance to extreme temperatures like Butyl Liquid Rubber or EPDM Coatings. Other roofing coatings require two and three coats so not only does this triple your material cost but also triples your labor time. If you are looking to add less weight to your roof with a one coat system that has proven itself over the years look no further. Here is a sample of just some of the companies who have use our products and have come back time and time again!
EPDM Coatings' Clients
JFK Airport
New England Patriots (Gillette Stadium)
U.S. Army
FAA
A Kennedy Space Center
Tesla Motors
Piggly Wiggly Grocery
Dallas Airport
NASA
Kohl's Department Stores
Marriott Hotels
Holiday Inn
Dow Chemical Corp
UPS
Quality Inn Suites
Federal Bureau of Prisons
Applebee's Restaurants
ABB Asea Brown Boveri
Cyalume Light Technology
Hampton Inn
Siemens Rolm
Mystic Aquarium
Convault Tank
Pan Jit
Embassy Suites
New York City-DOT
Days Inn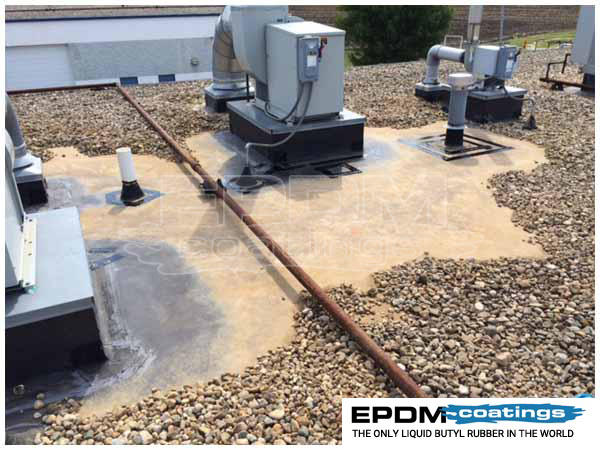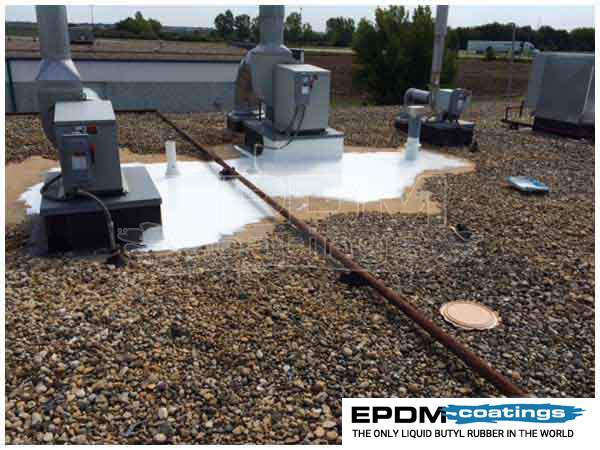 Application of EPDM Coatings is easiest when the surface is flat, clean and smooth. Similar to all painting projects, the most time-consuming aspect is often cleaning, repairing and preparing the surface for application.
EPDM Coatings cost compared to the Competition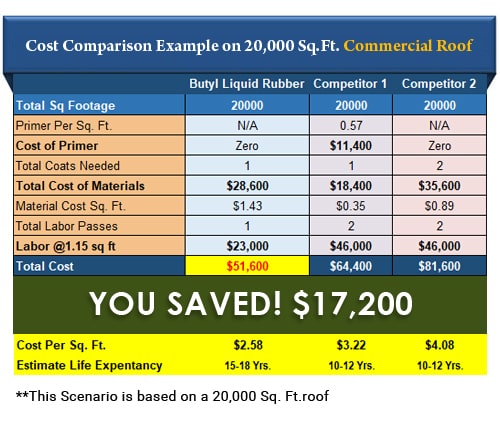 EPDM coatings has been featured in Article Insider, as well as Roofers Exchange, Building Service Management and recently won Metal Roofing Magazines product of the year. EPDM coating product have always been made right here in the USA. In addition, we source our suppliers from the USA as well. The product comes with the catalyst already in the can. Simply mix the product with a drill mixer and you are ready to apply. Application is with a 3/8-inch nap roller. Simply put the lid on the product to avoid air getting into it to stop the curing process. Any material left in the can fasten the lid tightly and you can store it for up to 4 years. For best results, the product should be applied between temps of 50-100. If you are using spray equipment; then 70 degrees. The product requires daytime temperatures of at least 50° to cure. Temperatures can fall below 50° at and once they rise again above the 50 degree mark it will continue to cure. Any non-opened can be stored up to 4 year without it going bad. Roof leak repairs are an unwelcome reality to every owner of a residential or commercial building, mobile home or recreational vehicle. Roof leak repairs can include almost anything including replacing damaged shingles, mending holes, fixing roof leaks, or repairing dents with roof coatings.

Featured Customer Testimonials
Butyl Liquid Rubber comes in various colors, White, Black, Grey. For orders over 50 gallons; Beige, Light Green, Light Blue, and Tile Red. You can have custom colors made with a minimum order of 200 gallons.
The RV product RvRoofMagic is available only in white. The Rvroofmagic coating is specifically designed for RVs and trailers and mobile homes; items that are in motion. Butyl Liquid Rubber our commercial product, is available in white or black or grey. Approved Uses for Liquid EPDM Rubber.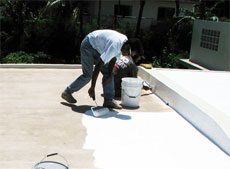 Butyl Liquid Rubber, applied over generally sound single-ply EPDM can extend the life of the single-ply EPDM an additional 20 years. Save thousands of dollars on normal roof installations. Fix roof leaks while sealing and protecting surfaces. It's a one-coat application that works great on existing EPDM rubber roofs. No primer or topcoat is needed a truly easy application! It cures only above 50°. Great for roof leaks repair, commercial and residential roof leaks repair, industrial applications, pitch and non-pitch roof repair, trailer leaks repair, camper leaks repair, RV roof leaks repair, houseboats, pond liners, basement waterproofing, roof seal leaks, shingles, gutters, steel roofs, air-conditioner enclosures, cooling towers, galvanized steel/metal roofs, unit-heater flues, smoke stacks and chimneys, fiberglass, and non-porous masonry surfaces and vessels. RV Roof Magic is great for roof repairs. It stops leaks ponds and fountains with Pond Pro 2000, which is specifically formulated to be safe for fish and plant life. Compare the total cost of your project. Now look at what you save in labor by doing the project yourself!
Roof leak repairs with roof coatings are often made after the damage has been done. However, you can avoid roof leaks and unnecessary damage altogether if you keep up on routine roof maintenance. A surprising 65 percent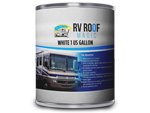 of roof replacements are performed because of roof leaks. Leak repair is a top priority among building owners and managers. Break the roof-repair cycle with Butyl Liquid Rubber Coatings. Liquid Rubber has also formulated custom EPDM Coatings and EPDM Rubber Coatings for your specific commercial and industrial needs. RvRoofMagic and Butyl Liquid Rubber are liquid products for leaks repair that form a membrane of 100% pure Butyl rubber when cured. This rubber coating is specially formulated for roof repair and leaks repair. EPDM rubber coatings can be widely used for commercial purposes.
Stop making the same repairs using less reliable products that are not Butyl-based, are not UV and ozone resistant, and do not have flexibility built into the material (causing them to crack). Butly rubber will expand and contract with any surface as seasons change and will not crack as a result of temperature changes. Other products will begin to bubble and crack in less than two years.