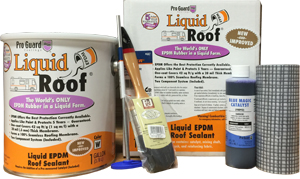 Liquid Roof Gallon Kit
Special box with moulded foam packing around a one gallon can with safety ring on lid; bottle of premeasured catalyst (mixer shaft; 10 foot roll polyester fabric and a 2 1/2 inch bristle brush.

Rated 4.6/5 based on 1029 customer reviews
Colors:
White
Coverage:
42 square feet with 20 mil dry film.
Wt:
11.0 Pounds
Regular price:
$91.25
Availability:
In stock
Comes with a gallon of Liquid roof, mixer, catalyst, brush and a 10 Ft. piece of poly reinforcement fabric to reinforce any loose seams. Liquid Roof is a true EDPM rubber in fact it is the ONLY liquid EPDM rubber in the world made right here in the USA! It has been the choice of RV owners over the past 25 years and has been written up many of the rv publications and has won numerous awards. Easily applied, this one coat application comes with a pre-measured bottle of catalyst that you mix in the same can. The product self levels to produce a beautiful smooth membrane giving you a new roof for a fraction of the cost of a new roof. Liquid Roof is backed by an unconditional warranty guaranteed not to peel, crack, flake or loose adhesion. It also waterproofs immediately upon application. As stated the product waterproofs immediately upon application; however, we suggest 48 hours before rain fall on it as it could create rain diets depending on how hard it rains. That's right; let's say you just got done applying the material to your roof and it started to rain. There is no need to worry you roof is already waterproofed and you simply need to wait for the water to dry off before it starts curing again. In fact if the ponding rain water gets above 55 degrees it will even start curing underwater!