Liquid RV Roof Repair to Fix RV Roof Leaks & RV Roof Sealant

Our committed staff has served thousands of clients, ranging from those with quite urgent needs to those looking for reputable products that can extend the life of an existing roof. When it comes to fix RV roof leaks we receive countless calls from folks in desperation telling us stories of dealing with RV leaks repair. Many of our customers have faced the same issue year after year and others just discovered their leak just after recently purchasing an RV or motorhome. For many customers we hear the same story over and over again; "well we put this elastomeric on our roof every 4 years but it still leaks." OR "we have tried everything and when we wash our roof the material we put on starts peeling off". When customers call us we are not at all surprised with their initial skepticism. But after viewing the videos sent in by our customers and reading the testimonials it becomes clear very quickly that Liquid EPDM is unlike anything out on the market. This is part of the reason for its 26 year history in successfully recoating RV's.
Customer Testimonials

EPDM RV Roof Sealant Features
Chemically speaking, EPDM is basically ethylene propylene diene monomer and was first developed in the 1960's and has since been a great rv roof sealant solution within its niche of industries. The drying properties of the EPDM are depended on the prevailing air temperature and oxygen availability. The curing mechanism in this product will therefore vary depending on the air temperature. Although the material can be put on at any temperature; oxygen is required to activate the hardener. The curative properties of the EPDM Liquid rubber will therefore change from inactive to active and back as temperature changes. Quite frankly Liquid Roof can be applied at freezing temperature but it won't cure until it gets above 55. In fact a newly coated roof can be exposed to ponding water and if the temperature of the water is above 55 it will actually cure underwater. You will also be pleased to learn that the physical and protective properties of Liquid EPDM are not compromised even during temperature swings. You can't say that about any other product! Liquid EPDM takes a relatively shorter time of about 3-5 days to dry and cure your RV roof. As mentioned however, this time is depended on temperature. For any separation in the joints seams we suggest applying the two sided Butyl tape along the seams prior to the application of the Liquid roof. For areas around your vents, air conditioners or where existing caulk has become loose we suggest filling those with the Rutex caulk found on or order form. This Caulk has been field tested and is compatible with the liquid epdm and will not void its warranty. It is free of any solvents or isocyanates and is 100% volume solids. More information can be found HERE (RUBEX CAULK)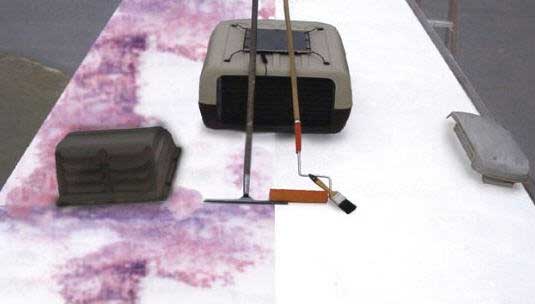 Product Usage for RV Roof Leaks Repair
EPDM is used in a wide range of recoating and repairs, these include:
Weathered metal roofing
Weathered sheet rubber roofing
Weathered modified asphalt ProFlex primer required and urethane foam roofing
Steel (especially if exposed to salt environment)
For Fleetwood models with ALPHA roofs or an Alpha Rubber roof you will need to use the ProFlex Primer. You will be able to refer to your manual to determine if you have a roof made by Alpha systems. These applications are not covered under the warranty.
Although Liquid Roof may be used in conjunction with the ProFlex primer directly on wood it is not warrantied
In the event anyone has put a 3rd party coating over the original epdm roof you would need to prime with the ProFlex primer.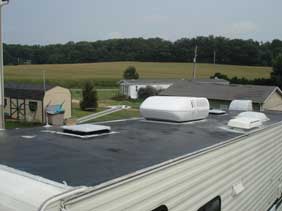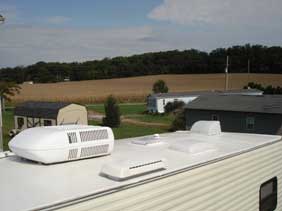 In the case of asphalt roofing, it's advisable to apply our ProFlex primer first before applying the Liquid Roof. ProFlex has been tested to work in conjunction with Liquid Roof and is the best available water proofing product. It can also be used on concrete roof decks. If your RV roof leaks the only solution for you is Liquid EPDM (Liquid Roof). Just look at the numerous benefits and advantages which cannot be compared to any product of its kind on the market.
Benefits and Advantages of Liquid EPDM
Ozone and UV resistant
Works well on ponding water and can also withstand ponding water even when not yet cured
Is effective on a wide range if roofing materials except Petroleum and silicone based materials
Reduces heat
Energy Efficient
Waterproofing properties are experienced immediately
No primer needed on most surfaces
Requires only One-Coat application
Alkali and acid resistant
Has long term flexible with resistance to freezing