Sealing your RV roof is a routine part of the ownership process. Typically, when you apply a sealer or coating to the roof, it will last for about three to five years under normal wear and tear. This may vary from one RV to the next, of course. For example, someone who uses their RV on a regular basis and exposes it to many more potential dangers may need to recoat their roof every two or three years. On the other hand, the people who rarely use their RV and keep it in climate-controlled storage may be able to get away with not resealing for five or six years.
With over a 30-year history of success join the thousands who have already benefited from a system specifically formulated for RV, Trailer and Mobile Homes industry. Never a primer needed and backed by a 10-year manufacturer's warranty. Apply today and drive away tomorrow. Over the years we have taken valuable feedback from RV owners, repair shops and retail stores and formulated RvRoofMagic to address the needs and demands for a quality roofing sealant within the rv community. We continue to listen to our customers year after year and value their comments in making the product better and better!
Add another 15-18 years to your roof's life before a recoat is needed. A primer is never needed! When you compare other products that require primers and multiple coats, you far exceed the cost of RvRoofMagic. Why add unnecessary weight and extra time by using products requiring multiple coats? Cut your time and labor costs in half. RV Roof Magic is a professional grade solvent-based product with a fast set up time. Apply RvRoofmagic today and drive away tomorrow!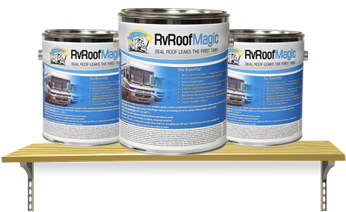 Specifically formulated for:
Recreational vehicles
Trailers
Mobile homes
Buses
Shipping Containers
House boats
EVEN POOLS!!!
Again, this all depends on the condition that your roof is in and the products that you choose. Finding the best RV roof sealer is not an impossible task, but it is one that takes your undivided attention. The following list should help you with choosing the right RV roof sealer, no matter what type of RV you have.
Base Material: Most RV roof sealers are either silicone-based or in Liquid Butyl Rubber. Therefore, they will be ready to go when they arrive, saving you the trouble of a lot of extra prep work. Today, Liquid Butyl Rubber remains a popular choice, and as a base material, it can make a great sealer. Silicone is also a good choice, although it doesn't have the same benefits as Liquid Butyl Rubber in some cases. Elastomeric coatings are a type of EPDM with an elastic finish for added protection and durability.
Application Method: The sealing process should be quick and easy, and many seasoned RV owners will tell you that it can easily be a weekend project if you do it right. Therefore, you need to choose products that offer a simple application. Typically, the options for sealants and recoating include liquid products that are either rolled on or sprayed on.
Flexibility: While you want to protect your RV roof from the elements, you also need to make sure that the material will bend and flex with potential damage or debris hitting it. The flexibility will also be helpful to prevent cracking in the event of extreme temperature changes. After all, if you're looking to get the protection that you need, it's more than sealing the cracks.
Guarantees: While there is never a guarantee that nothing will go wrong, the leading brands and best products on the market will offer some type of guarantee or warranty on their product. These are the ones that you want to use because then you will have peace of mind that no matter what happens, you have extra protection on your side.
Color or Finish: Although it might seem arbitrary at first, the color of your RV roof sealer will make a difference. For corners and flashing seams, a clear silicone might be preferred. In most cases, people choose a white finish because it will reflect the sun's rays and extreme temperatures, making the RV more comfortable on the inside while providing top-rate protection outside.
DIY or Do You Need Help?
Typically, applying an RV roof sealer is something that can be done by just about anyone. All of the products come with easy application instructions and don't take much work at all. Some people might not feel comfortable doing the work themselves, but you can definitely save some money on professional labor if you do. As mentioned above, resealing your RV roof is a regular part of maintenance for as long as you own the RV, so you'll want to make sure that you take the time to do it right.