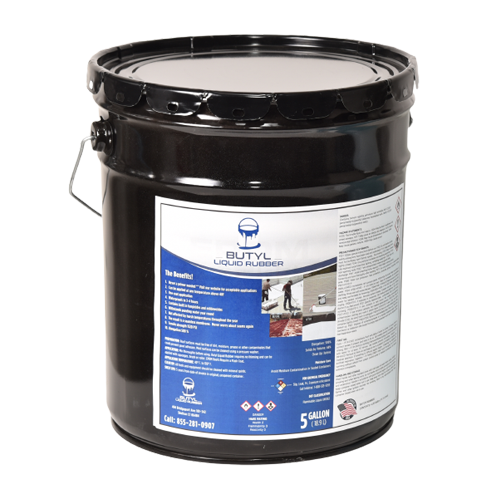 Liquid Butyl Rubber - 5 Gallon Pail
( Call For Wholesale Pricing )

Rated 4.8 /5 based on 671 customer reviews
Colors: White and Black (For custom colors see chart below)
Coverage: 250 square feet at 20 mil dry film.
Availability: In stock
Product description: Liquid Butyl Rubber - For residential and commercial Roofing Applications. Standard colors are White, Black and Gray. Custom colors are available for orders over 50 gallons or roofs over 2500 sq ft.

Colors Available: (RC-2000 Colors)

White
#F2F2EE

Off White
#E5E0D2

Light Gray
#CED2D4

Gray
#90989D

Black
#292A2B

Light Beige
#DBCAAB

Beige
#BAAB98

Light Green
#BAC4B9

Forest Green
#2F4E42

Light Blue
#BAD9EE

Tile Red
#7F2E25

French Press
#5C4C44
*Liquid Butyl Rubber comes standard in white and black for ALL order quantities. For BEIGE AND GREY an additional $15.00 per 5-gallon pail; minimum order of (5 of our 5-gallon pails). Our other custom colors are available for an additional $25.00 per 5-gallon pail. Minimum order for custom colors; Five (5- gallon pails) or a total of 25 gallons. For custom colors orders please call our office.
*Due to monitor settings, actual colors may vary from those that appear online.