As a roofer you want to sell as many jobs as you can. As a building owner you want to save time and money but most roofing tools you've tried just seem to get in your way. They're flimsy and unreliable, inefficient and messy. It's frustrating because your reputation (and your bottom line) depends on your ability to get the job done right and on time.
Why choose a Tank Spreader?
Efficiently apply any pourable material, such as adhesives and coatings
Achieve even, consistent coverage with simple, gravity-driven application
Accurately cover either flat or ribbed roofs without messy overspray
Reduce waste with pre-drilled holes
Decrease downtime with easy refills
Enjoy simple clean-up and disposable or easy-to-replace parts
Apply coating over metal roof panels using 14" Tank Spreader
Easily purchase additional rollers
Customized rollers are also available for corrugated metal roofs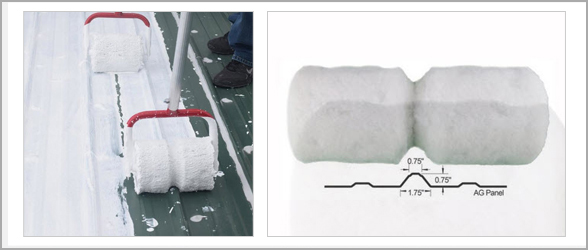 Description
All spreaders are gravity-fed and have disposable rollers. All parts are disposable or simple to replace. Tank Spreaders apply any pourable material such as low VOC adhesives and coatings from a tank.
Additional information
| | |
| --- | --- |
| WEIGHT | N/A |
| DIMENSIONS | N/A |
| WIDTH | Singlewide 14", Doublewide 27", Super 40" |
| PROFILE STYLE | Standard, AG Profile, R Profile (PBR), HI R Profile, Snap Lock Profile, Single Lock Profile, Trapezoid Profile |
| REPLACEMENTS PARTS AVAILABLE | Single, Double, or Super Wheel Axle Assembly; Single, Double or Super Roller Axle Assembly |
FAQs
How do I clean the tank?
After each use, allow the adhesive to drain from the drain hole. It is best to wipe tank walls and hole edges before the adhesive sets up. Spray all tank surfaces with silicone spray before each use to aid in removal of hardened material.
How can I adjust the flow for using materials with different viscosity?
Distribution ports can be increased with a drill bit. It is best to open the holes in increments of 1/16 at a time and usually only the center most holes.
How do I know what size spreader to use?
The 14" Singlewide is best for roofs under 100 squares and in cut up areas with penetrations. The 27" Doublewide is a good balance of maneuverability and productivity. Usually used on projects from 50 squares to 500 squares. The 40" Superwide Tank Spreader offers unmatched productivity, as the operator walks along a 40" (1 Meter) swath of material.
Why are the wheels covered in tape?
Teflon tape on the wheels protects them from glue and coatings.
Why are there two screws at the end of the holes in the tank?
These two holes are optional. They are to be used when applying Bonding Adhesive where no running puddle is needed. When applying coating, it is helpful if the end holes are closed to allow the running puddle to diminish toward the ends of the roller.
GROUNDING THE BETTERSPREADER AND TANKSPREADER
To ground the BetterSpreader and/or TankSpreader you purchased:
Attach a wire to any bolt on either side of the product and
Attach the other end of the same wire to the steel deck or other grounded conductor such as a steel soil stack or metal roof deck. Attaching this end of the wire to a non-grounded conductor such as plastic or wooden material is NOT proper grounding.
To avoid an electrical shock hazard, or tripping hazard, from the ground wire:
Attach a Guide ground wire during use.
Prevent ground wire from contacting with flammable liquids, electrical wires or equipment. Reel in ground wire, whenever possible.
Ensure work crews are aware of the ground wire location at all times, and
Prevent unauthorized people from entering the work area.
OPENING HOLES IN A FIVE GALLON PAIL FOR THE BETTERSPREADER
When using a flammable liquid with the Better Spreader, care should be taken to avoid creating a spark. An electric drill should NOT be used with flammable liquids, as the motor may generate a spark. If using a flammable liquid, utilize a non-sparking Beryllium/Copper Scratch Awl to open holes in the pail.
KEEP THESE INSTRUCTIONS
We hope your next project is both safe and profitable.