WHY BUTYL LIQUID RUBBER

When sealing your roof, one thing is clear; you want to get it right the first time round. Years of exceeding our customer expectations show that Butyl Liquid Rubber is the best choice for sealing your roof and fixing leaks.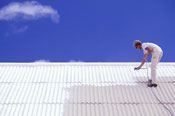 Let us take a look at some of the reasons that has made Butyl Liquid Rubber the best the world over. No roofing sealant can match the durability or longevity of our Liquid Butyl roof sealant; this is mainly because it is true commercial-grade Butyl and not an elastomeric coating water-based acrylic. Field testing has shown time and again that Butyl Liquid Rubber outlasts any elastomeric options, acrylic or urethanes three times over. Besides that, it is easy to apply and the curing process allows the liquid to slip into the smallest cracks, giving you an airtight layer. Furthermore, Butyl Liquid Rubber is water resistant within two hours of application, giving you peace of mind should an unexpected light rain soon follow. As a homeowner, you will need to deal with roof repairs sooner or later, mainly due to separated seams, holes or damaged shingles. EPDM Rubber coatings have been proven by our customers to be the ONLY one-coat product with a significant lifespan on roof surfaces. This is due to its unique catalytic curing process. It has superior performance against a wide range of temperatures, from -60° to well over 200° Fahrenheit. EPDM Liquid Rubber Coatings are used in many industrial applications due to their resistance to acids and chemicals. EPDM rubber roofing solutions have proven themselves to be the best in the market.
Butyl Liquid Rubber comes in various colors: white (which is Energy Star qualified), black, and grey. For orders over 50 gallons: beige, light green, light blue, and tile red. You can have custom colors made with a minimum order of 200 gallons.
Butyl Liquid Rubber Roofing-Preventative Maintenance
It acts as a protective shield against cracks for existing sealants and caulks, extending your roof's life. Some of our original customers applied the product over 20 years ago and are still with the original coating.
For brick and concrete applications, it works extremely well on non-porous surfaces. For porous surfaces, ask us about our compound products prior to the application of Butyl Liquid Rubber. This fills any voids in porous brick material, allowing you to then apply the Butyl Liquid Rubber.
A coating of Butyl Liquid Rubber is a beneficial way to restore an existing EPDM roof because it prevents further aging and chalking. Butyl Liquid Rubber is solvent based, meaning you can mix it with a pre-measured catalyst. For EPDM roofs, we suggest a light coat (what we call a field coat) then followed up with the regular coat. This will provide better adhesion over time,
As a commercial-grade product, we have put together a product that requires no primers, saving our customers both money and labor costs with a one-coat system over BUR roofs, asphalt- based substrates as well as roofs that have been coated with a third-party coating.
Butyl Liquid Rubber Application for Large Surfaces
When coating larger roof surfaces with seam and joint gaps wider than 1/16", you might need to reinforce the seams before applying our Butyl Liquid Rubber. Follow these instructions:
Prepare the intended surface by cleaning as directed on label.
Cut a strip of butyl tape (available on our order form) to cover holes, cracks, and defects.
Lay butyl tape on surface and coat
OR
Use our polyester mesh fabric and a roller to flatten, as necessary.
Use Butyl Liquid Rubber to impregnate and saturate the polyester fabric. Once dry, go over again with the Butyl Rubber to totally incapsulate the fabric in the product.