History
A synthetic rubber, butyl rubber is impermeable to air and used in many applications requiring an airtight rubber. Polyisobutylene and butyl rubber are used in the manufacture of adhesives, agricultural chemicals, fiber optic compounds, ball bladders, O-rings, caulks and sealants, cling film, electrical fluids, lubricants (2 stroke engine oil), paper and pulp, personal care products, and so much more, The first major application of butyl rubber was tire inner tubes. This remains an important segment of its market even today.
Isobutylene was discovered by Michael Faraday in 1825. Polyisobutylene (PIB) was first developed by the BASF unit of IG Farben in 1931 using a boron trifluoride catalyst at low temperatures and sold under the trade name Oppanol B PIB remains a core business for BASF to this day.
It was later developed into butyl rubber in 1937, by researchers William J. Sparks and Robert M. Thomas, at Standard Oil of New Jersey's Linden, N.J., laboratory.
In the early 1980's we started seeing it used in RV roofing & liners for fountains and ponds. With such an outstanding history of success and over a twenty-five history in the roofing industry Butyl Liquid Rubber has made its mark in the industry.
The main properties of Butyl Liquid Rubber are its superior resistance to cold and heat. And by cold we mean 40 below zero and heat up to 250 degrees F. It does extremely well as a barrier to ozone and UV and has the ability to retain its color over time. It is Energy Star rated and will withstand standing water 365 days a year.
Butyl Rubber Uses
Butyl Liquid Rubber is ideal to recoat existing roofs and add a significant number of years to the life of a roof. In fact, our customers have described it as essentially getting a new roof for a fraction of the cost. Since, for most roof types, this is a single application with significant cost savings when compared it to multiple coat systems. The cost savings alone have made it the choice for thousands of our customers over the years. Labor costs are also decreased since you are only need one coat versus 3-4 with other systems. Below you will find the roof types that are acceptable with Butyl Liquid Rubber. We suggest if you have any doubt's about your particular roof or your particular roof type is not listed to conduct an adhesion test prior to application. We are not responsible for improper roof preparation prior to the application.
Various Metal Roofing systems
Any original epdm rubber roofing system. Flash coat (6-8 mils) then main coat (16 mils)
Fiberglass
Hypalon
Acrylic Sheet and any acrylic based products
Weathered Vinyl
Polyurethane Foam-
Torchdown
Aged Vinyl (adhestion test required)
Modified & BUR roofs
Concrete where there is little foot traffic
Any roof where a 3rd party coating such as an elastomeric or acrylic was previous applied.
Urethane foam roofs
TPO-Must be aged 5 years. Adhesion test required
Any other application must be approved in writing
NOTE: Not to be used for 3rd party silver-asphalt based coatings unless fully removed
Butyl Liquid Rubber offers significant tensile strength, elongation as well as other technical attributes which can be found on our "technical" page.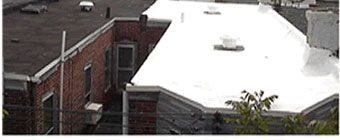 The above are only guidelines. Any applications related to chemicals should be tested thoroughly before putting anything in service.
There has been no other product to match the durability of Butyl Liquid Rubber in the Roof Repair Products industry. Because Butyl Liquid Rubber is catalyst based it can boost the broad temperature tolerance we have been speaking about. This is not the same case for water-soluble products like elastomerics, acrylics or urethanes. If it were to light rain unexpectedly just a few hours after you applied Butyl Liquid Rubber this will not harm the application and the curing will continue when the water has evaporated. Once applied Butyl Liquid Rubber will not wash off.