EPDM Uses
EPDM, technical name, Ethylene-Propylene-Diene-Monomer
Did you know that EPDM rubber is used in many of the products used today from appliance hoses, radiator hoses in our cars, to washers and insulation? In the early 1980's we started seeing it used in RV roofing & liners for fountains and ponds. With such an outstanding history of success and over a twenty five history in the roofing industry as the only liquid EPDM rubber in the world. Let's take a closer look at what makes this such a unique and durable product.
The main properties of EPDM are its superior resistance to cold and heat. And by cold we mean 40 below zero and heat up to 300 degrees F. It does extremely well as a barrier to ozone and UV and has the ability to retain its color over time. The liquid version, as we stated previously, is formulated differently and will not chalk in comparison to the sheet version.
Liquid EPDM Rubber is ideal to recoat existing roofs and add a significant number of years to the life of a roof. In fact our customers have described it as essentially getting a new roof for a fraction of the cost. Since, for most roof types, this is a single application with significant cost savings when compared it to multiple coat systems. The cost savings alone have made it the choice for thousands of our customers over the years. Labor costs are also decreased since you are only need one coat versus 3-4 with other systems. Below you will find the roof types that do and do not require the primer. We suggest if you have an doubts or your situation is not listed to call prior to application.
The following roof types-substrates do NOT require the ProFlex primer only one coat of the Liquid EPDM
Liquid EPDM has a one year shelf life
Various Metal Roofing systems
Any original epdm rubber roofing system
Fiberglass
Acrylic Sheet and any acrylic based products
Weathered Vinyl
Polyurethane Foam-Requires the Moisture Cure Version of Liquid Rubber call for details
The below roof types- substrates will require one coat of the ProFlex primer prior to application of Liquid EPDM Rubber. Or click here for our Aromatic/EnergyMax High Volume Solid System
Built up asphalt roofs-You would first need to apply the ProFlex Primer before applying the liquid EPDM.
Modified asphalt roll roofing - First needing the ProFlex Primer
Asphalt Shingles-For the Asphalt substrates there cannot be any separation between layers. Cracked ridges must be cut out and filled with PROFLEX and rubber mix plus reinforced with POLY FABRIC.
Stainless steel-Only if sanded
Neither the primer or Liquid EPDM can be applied to glass
Silicone caulk-Any silicone caulk needs to be removed and replaced with our Rubex caulk on our order form that was field tested to be compatible with the Liquid EPDM
Neither the proflex or Liquid EPDM will work on silicone coatings
Wood applications; however these are not warrantied as we cannot verify the condition or quality of the wood
Concrete where there is little foot traffic (concrete applications require one coat of the ProFlex Primer)
Any roof where a 3rd party coating such as an elastomeric or acrylic was previous applied. Note Liquid EPDM will not adhere to silicone coatings
Motorhomes or RV's made by Fleetwood
Urethane foam will require the Proflex Primer Version
Torch down roofs
Note any usage for non-roofing applications voids warranty
Applications of the proflex primer over water based acrylic elastomerics are not covered under warranty
OSB/Wood; however these are not warrantied as we cannot verify the condition or quality of the wood
TPO-Must be aged 5 years. Adhesion test required
The manufacturer offers a 5 year warranty when liquid roof is used in conjunction with Proflex primer
Any other application must be approved in writing
Requires Bonding Primer and Moisture Liquid Rubber-Call For Pricing
Hypalon Membrane
PVC
TPO-Call office for product options
Note: This product is not advised for asphalt shingles stainless steel or glass. Any other application other than those listed would not be considered an acceptable use
EPDM offers significant tensile strength, elongation as well as other technical attributes which can be found on our "technical" page.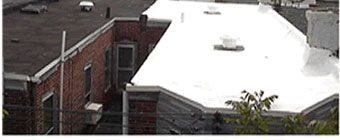 EPDM Rubber has a long history of performance in molded products, and also in tires. From the radiator hoses in our vehicles to the refrigerator gaskets in our kitchens, we have all been exposed to the superior qualities of EPDM rubber. Another great benefit of Liquid EPDM is that is relatively inexpensive when looking at the long term life expectancy. It is easy to install, and fairly clean to work with when compared to conventional materials. Other products are not very stable to work with; this is not the case with Liquid EPDM. It is flexible, has great weather durability characteristics and is very resistant to certain chemicals. Take the below chart for example.
| | |
| --- | --- |
| Sulfuric acid | OK up to 50% concentration up to 158 F |
| Nitric Acid | OK up to 50% concentration up to 70 F |
| sodium dichromate 11% | OK up to 70 F |
| phosphoric acid 50% | OK up to 140 F |
| Trichloroethylene 98% | OK up to 70 F |
| Sodium hydroxide 50% | OK up to 176 F |
| Potassium Hydroxide 10% | OK up to 200 F |
| Potassium cyanide 25% | OK up to 140 F |
| Silver cyanide 25% | OK up to 140 F |
| Nickel Chloride 50% | OK up to 176 F |

The above are only guidelines. Any applications related to chemicals should be tested thoroughly before putting anything in service.
There has been no other product to match the durability of EPDM Liquid in the Roof Repair Products industry. Because Liquid EPDM Rubber is catalyst based it can boost the broad temperature tolerance we have been speaking about. This is not the same case for water-soluble products like elastomerics, acrylics or urethanes. If it were to light rain unexpectedly just after you applied Liquid EPDM this will not harm the application and the curing will continue when the water has evaporated. Once applied Liquid EPDM will not run or wash off.
Liquid EPDM Rubber vs. Neoprene Rubber
When first introduced to the market, building owners, architect's & contractors recognized EPDM rubber as a very cleaner, cooler and overall easier product to work with vs. the traditional built-up or hot mop roof system, which were the only roof options prior to EPDM. With sheet EPDM rubber coming on the scene many building owners and contractors were able to get the tools and training they needed to properly install membrane roofing systems. The new systems offer very low maintenance costs, allow for ease in repairs and have very low annual costs. Prior to the arrival of liquid EPDM, Neoprene rubber was the universal choice for concrete roof protection both in fresh and salt water environments. Liquid Neoprene products are solvent solutions or water based emulsions and as a result have relatively low volume solids or call it "actual material". The limitations required contractors to increase material costs through the need of multiple coat as well in many cases top coating with compatible polymers to prevent UV and ozone degradation.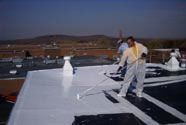 The development of industry acceptance Liquid EPDM Rubber was based on a key factor which resulted in a higher solids percentage. It is based on a two components (catalyst-based) chemically reactive process capable of polymerizing at temperatures between 55 degrees and higher. After it is chemically cured what is left is a high molecular weight coating with all the protective and performance characteristics exceeding those of liquid applied Neoprene products.
EPDM Rubber has even been used in boiling water and steam applications. As we explained previously, EPDM is both UV and ozone stable. Due to its high flash point the material is also safer to work with and can be stored at higher temperatures vs. Neoprene. Also, as long as the catalyst is not mixed, the product has a 1 year shelf life. The product is safer to use because of its higher flash point and the two-component packaging permits extended storage at higher temperatures than liquid Neoprene. The non-polar characteristic of the EPDM also gives it advantages over Neoprene in saltwater environments as well as better resistance to cathodic disbondment. Liquid rubber is resistant to salt environments, alcohol and ketone solvents.