Butyl Liquid Rubber


Colors Available:
| | | | | | |
| --- | --- | --- | --- | --- | --- |
| | | | | | |
| White | Off White | Gray | Beige | Light Beige | Light Green |
| | | | | | |
| Light Blue | Light Gray | Forest Green | Black | French Press | Tile Red |
*Butyl Liquid Rubber comes standard in white and black for non-commercial orders (less than 25 gallons) the other custom colors are available for an additional $15.00 per 5 gallon pail. Minimum order for custom colors is 5 of our 5 gallon pails or a total of 25 gallons. For custom colors orders please call our office.
*Due to monitor settings, actual colors may vary from those that appear online.
Butyl Liquid Rubber is a specially formulated version of Butyl sheet rubber that has the flexibility needed for change in environmental conditions.
Butyl Liquid Rubber is a liquefied version of a synthetic rubber typically referred to as Butyl.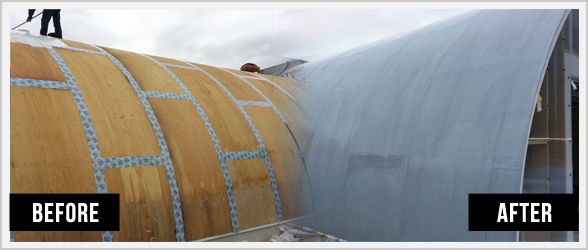 Butyl rubber, sometimes just called "butyl", is a synthetic rubber, a copolymer of isobutylene with isoprene. The abbreviation IIR stands for isobutylene isoprene rubber. Polyisobutylene, also known as "PIB" which butyl rubber is based. Butyl rubber is produced by polymerization of about 98% of isobutylene with about 2% of isoprene. Structurally, polyisobutylene resembles polypropylene, but has two methyl groups substituted on every other carbon atom, rather than one.
Prior to the liquefied version emerging on to the market, rolls of the rubber were used for waterproofing roofs. The liquids are much easier to apply. It can also fill cracks and crevices and form an entirely seamless membrane. Butyl Liquid Rubber can go where the sheet version could never effectively coat. Butyl Liquid Rubber coatings have additional uses. Over the years, they have been used for roofing, cooling tanks, industrial applications, storage tanks etc. They can be applied to a wide range of roofing materials, including metal, fiberglass, concrete bur roofs etc. Always consult your roofer to determine if aftermarket coatings are acceptable, given the condition of your overall roof.
| | |
| --- | --- |
| | |
ASTM Tested. ASTM International, formally known as American Society for Testing and Materials, ASTM's physical and mechanical, testing standards provide guides for the proper procedures employed in the determination of the physical and mechanical properties of certain materials. Using test methods such as scanning electron microscopy, hole-drilling strain-gage method, semiautomatic and automatic image analysis, and X-ray diffraction, parameters like strength, ductility, hardness, residual stress, and grain size are measured. These physical and mechanical testing standards allow manufacturers, other producers and users to examine and evaluate such materials for strength and quality to ensure safety toward their end-use. Below are the results of the ASTM Testing:
Elongation
ASTM-D-412
500%
Tensile Strength
ASTM-D-412
1520 PSI
Permeance (10miles)
ASTM-E-96
0.166 perms
Fungi Resistance
ASTM-G-21
0 (Pass)
Water Swell
ASTM-D-471
0%
Weathering
ASTM-4798
Pass
Low Temp. Flex
ASTM-D-522
Pass
Wind Driven Rain
TT-C-555B
Pass
WET ADHESION (ASTM C 794/D 903)
Metal
Pass
SBS Mod. Bit.
Pass
APP Mod. Bit.
Pass
Smooth BUR
Pass
EPDM
Pass
TPO
Pass
Hypalon
Pass
SPUF (Foam)
Pass
In the United States, ASTM standards have been adopted, by incorporation or by reference, by many federal, state, and municipal government regulations.
Acceptable roof types for butyl liquid rubber
EPDM Rubber
Various Metal Roofing systems
Weathered Aluminum
Weathered Copper
Any original EPDM rubber roofing system
Fiberglass
Acrylic Sheet and any acrylic based products
Weathered Vinyl
Polyurethane Foam
Fleetwood models
Alpha Rubber
Roofs that were coated with a 3rd party roof coating (non-silicone).

1 gallon covers 50 sq ft and a 4 gallon covers 200 sq ft. Customer is responsible for determining their square footage.
Butyl Liquid Rubber Gallon Pail

Rated

4.5

/

5

based on

671

customer reviews

Butyl Liquid Rubber 4 Gallon

 Pail

Rated

4.8

/

5

based on

671

customer reviews

Butyl Liquid Rubber 5 Gallon

 Pail

Rated

4.8

/

5

based on

762

customer reviews

Call For Pricing