Mixing of Butyl Liquid Rubber

You will need an electric drill and a 3/8 inch nap roller for manual application. Mix for approximately 3 minutes. Chalk off your roof into 20X10 ft areas. When you are done "filling-ing" that area you should be done with your 4 gallon pail.
Spraying
Butyl Liquid Rubber can be applied by brush, spray or roller. Best results can be obtained with airless spray equipment. See Inland Application Bulletins for additional information. Recommended Spray Equipment = Airless
Tip size.......................................... 025"
Fluid Pressure (PSI)..................... 3000
Fluid hose size.............................. 3/8" - 1/2"
Physical Makeup
Butyl Liquid Rubber is very similar to traditional EPDM makeup. The most crucial qualities include:
A high resistance to water, ozone and ultraviolet stability, and overall fantastic anti-aging characteristics for many years to come
Has a built-in Mildewcide to deter mold and mildew growth
Our White is an Energy Star qualified product. A temperature tolerance that ranges from -40° to 250° F.
It is both alkali and acid resistant.
Withstands standing water 354 days a year
What is the Spread Rate?
The ideal thickness is 20 mil. of dry film, which can be spread to 42 square feet per gallon onto a smooth area. When assuming a 45 square foot gallon, the specs are: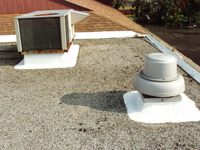 8 pounds per mixed gallon
680 psi tensile
62° F brittle point
180-200% elongation
What is the Cure Rate?
The quickness of curing depends wholly on temperature and oxygen availability. Oxygen is required in order to activate the catalyst. Keep in mind that temperatures vary drastically in some regions, and it may take several weeks for a full cure to take place if Butyl Liquid Rubber is applied during a cool season. However, even in a non-cured state, it will withstand water and rainfall.

Technical Properties
Coverage Rate
80-100 sf/gal
Flashpoint
101°F.
Weight (lb./gal.)
8.5
Solids (% by Weight)
50.0±1%
Viscosity @ 78
2900 cps.
Drying Time
2-4 hours
Elongation
ASTM-D-412
500%
Tensile Strength
ASTM-D-412
1520 PSI
Permeance (10 mils)
ASTM-E-96
0.166 perms
Fungi Resistance
ASTM G 21
0 (Pass)
Water Swell
ASTM D 471
0%
Weathering
ASTM 4798
Pass
Low Temp. Flex
ASTM D 522
Pass
Wind Driven Rain
TT-C-555B
Pass
WET ADHESION (ASTM C 794/D 903)
Metal
Pass
SBS Mod. Bit.
Pass
APP Mod. Bit.
Pass
Smooth BUR
Pass
EPDM
Pass
TPO
Pass
Hypalon
Pass
SPUF (Foam)
Pass
Failure to follow the directions and/or proper preparation may result in product failure.
Existing MOISTURE on/in substrate prior to coating application
Substrate insufficiently cleaned
Coating unable to bond to substrate
Improper/Inconsistent coating mil thickness
Leak area not identified and sealed
Malfunctioning spray equipment
Product contamination on job site