Shop Liquid Rubber Butyl Online. For years our commercial grade Liquid Rubber has been the choice of one satisfied customer after another. It has literally made other roofing sealants such as elastomerics urethanes obsolete. The reasons are clear, Liquid Butyl Rubber's system saves time and money. Most elastomeric systems require a primer plus a base coat and a final coat as well. What you have left is needless weight on your roof as well as a system that proven to only last 1/4th the time than liquid epdm rubber. In controlled accelerated aging testing Liquid Rubber actually lased 3 times longer than the standard acrylics and elastomerics you can get at your local hardware store. What makes our Butyl Liquid Rubber so unique is its chemical structure and solvent based system. Throughout its history in the marketplace and thousands of satisfied customers it has warranted the reputation it has achieved. It has been written up in countless roofing publications and has won awards numerous awards as outstanding product of the year.
25 Years History of Success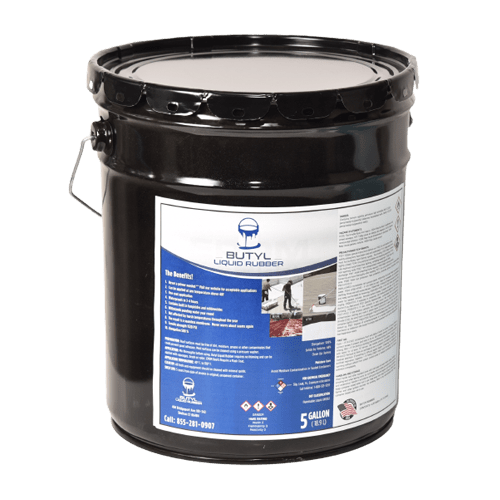 Liquid Rubber 5 Gallon Pail

Rated 4.8 /5 based on 762 customer reviews
Call for Wholesale pricing. Minimum order is (5) of our 5 gallon pails or a minimum of 1000 sq ft that needs to be coated
Product description: Liquid Butyl Rubber - For residential and commercial Roofing Applications. Standard colors are White, Off White, Light Gray, Gray, Black, Light Beige, Beige, Light Green, Forest Green, Light Blue, Tile Red, French Press
The Reasons for – Liquid Butyl Rubber
Used on many substrates which other products fall short. Made right here in the U.S.A.
Applied directly to virtually any surface without the need for primer. Click here to take a look at the long list of substrates where Liquid Rubber has been approved to be used.
As the curing process progresses you will discover that it conforms to any shape vertical or horizontal and when fully cured will produce a smooth seamless surface. Finally, an end to seam repair. No longer will you need to worry about inspecting your seams. After the application, your seams will be entirely encapsulated within the Liquid Butyl Rubber membrane, assuring you years of maintenance free worry.
Our Butyl Liquid Rubber waterproofs within 3-4 hours depending on temperature and a full cure in 8-10 hours at temps above 50. directly on application. That's right; you just get finished and have a light rain come through and it will not hurt the product. Curing continues when the water evaporates off the newly applied coatings.
Liquid Butyl Rubber handles significant temperatures but is also one, if not the best product for handling temperature swings.
Applying Liquid Rubber
The size of your roof will determine the method of application. Generally, for roofs of less than 5000 sq. ft, a squeegee and roller should be used. You will need: an electric drill (a cordless drill will be ineffective), a long handle rubber squeegee, a 1/4-inch nap roller and zylene or mineral spirits for clean-up. For larger jobs over 5000 sq. ft, assuming you have the equipment, you will want to consider an airless sprayer. Below are the specifics:
Equipment capable of spraying Liquid Rubber
| Pump Model | Max. Pressure | Fluid Flow | Hose ID | Max. Hose Length |
| --- | --- | --- | --- | --- |
| Graco GH 773 | 3500 psi | 3.0 gpm | ½ inch | 150 feet |
| Graco GH3640 | 3600 psi | 3.8 gpm | ½ inch | 150 feet |
(CLICK HERE FOR MORE DETAILED INFO ON SPRAY APPLICATIONS)
Liquid Rubber can be applied at any temperature. However, we suggest applying it on a day that it is 55 so it will waterproof in 3 hours. It is OK if temps fall below 50 the product will not continue to dry until it gets above 50 again during the day. You can work with the product; the curing process will just take longer than in cooler temperatures.
The shelf life of Liquid Rubber (Butyl) is five years. We are not responsible for product that is not stored at room temperature or past its shelf life.
More Advantages of Liquid Rubber (Butyl)
Its powerful resistance to ultra-violet and ozone as well as its chemical bonding properties is a decided advantage. It is puncture resistant and completely odorless once cured.
Still not convinced? For those of us with flat roofs we know ponding water is the enemy, right? Well, Liquid Rubber can withstand continually submerged water year-round; yes, 365 days a year. We challenge you to find another product that measures up to that claim.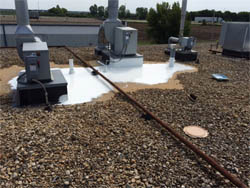 There are no shortcuts in our manufacturing process. Only the highest quality materials are used, insuring long-term durability for our clients' roofs. Also, we perform several tests after production to ensure products meet all standards before they ship from our warehouse.
Us vs. the Competition
A mildewcide is incorporated to deter mold growth
ASTM Tested
Tensile Strength, 1520 psi
Elongation, 500%
A true do-it-yourself application in all respects. We provide all the materials and videos you need to feel confident when applying the product.
For those of us with flat roofs, Liquid Rubber protects from ponding water year-round!
Liquid rubber's one coat application is all that is needed for most substrates.
Mil rate is everything… You can apply Liquid Butyl Rubber six times thicker than other standard elastomerics and acrylics. But you should apply the product at least at 20 mil.
The end to seams! Never worry about yearly seams again!
Resistant to the most extreme temps -40° to 250° Fahrenheit
Rust Inhibitor - Can go directly over mild rust without a primer
Solvent-based product allowing for chemical cross-linking to occur creating a chemical bond to the surface it is being applied to
Save Thousands with this Do-It-Yourself-Product
There is no other product on the market that is better, more flexible or durable than Liquid Rubber. Don't take our word for it. Read our testimonials and watch our videos sent in by our customers. Watch as folks just like yourself apply the product with their suggestions and observations. If you have any questions or doubt about the product, give our sales staff a call. We look forward to answering your questions and making you one more satisfied customer. Buy with pride, knowing that Liquid Butyl Rubber is made right here in the U.S.A. with a 25 year history of success in the industry. If you have any questions at all regarding whether it is the right product for your project, don't hesitate to give us a toll-free call at is 855-281-0940. We are here to help!