FB-180 POLYESTER KM-MESH
FB-180 series polyester km-mesh is a stitchbonded material that is ideally suited for use with Butyl Liquid Rubber. The parallel fiber structure allows Butyl Liquid Rubber to quickly wet-out and totally saturate. These properties ensure a true monolithic membrane which remains intact even under thermal shock conditions.
TYPE OF APPLICATIONS:
Reinforcement of seams, cracks and penetrations on:

Various roofing surfaces
Concrete, stucco and brick
Wood joints and cracks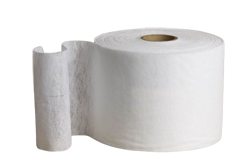 Butyl Liquid Rubber FB-180 provides high tensile strength with good elongation for excellent thermal stress force properties. When used with Butyl Liquid Rubber, they provide flexible, reinforced repairs.
Butyl Liquid Rubber FB-180 are soft flexible polyesters that will readily conform to corrugated metal and many other irregular surfaces. This makes them easier to handle and apply properly than other products.
Butyl Liquid Rubber FB-180 polyester km-mesh is compatible with both solvent-based and water-based coatings.
AVERAGE TYPICAL PROPERTIES
| | |
| --- | --- |
| Weight | 3-oz/sq yd |
| Tensile | 57.1 lbs |
| Elongation | 61.65% |
| Mullen Burst | 176.8 lbs |
| Trapezoid | 16.1 lbs |
AVAILABLE SIZE
2" x 180
The specifications, properties and performance of materials described herein are based on information believed to be reliable. Unless otherwise expressly provided in written contract, the products discussed are sold without conditions or warranties, expressed or implied. Product specifications are subject to change without notice.