FB-325 POLYESTER KM-MESH
FB-325 series polyester km-mesh is a stitchbonded material that is ideally suited for use with our SeamTight to reinforce your seams. You would apply a coating of our SeamTight down along the seam then embed the fabric into the SeanTight and let dry. Follow up with another coating of the SeamTight to encapsulate the fabric. Once the second coat of SeamTight is dry you are then ready to apply the Liquid BUTYL Rubber. Now with this reinforcement you will never need to worry about your seams splitting or coming undone. The parallel fiber structure allows Liquid Butyl Rubber to quickly wet-out and totally saturate. These properties ensure a true monolithic membrane which remains intact even under thermal shock conditions.
TYPE OF APPLICATIONS:
Reinforcement of seams, cracks and penetrations on:

EPDM
Mod Bit
Foam
Built Up
Concrete, stucco and brick
Wood joints and cracks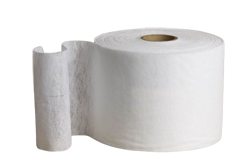 Liquid Butyl Rubber FB-325 provides high tensile strength with good elongation for excellent thermal stress force properties. When used with Liquid Butyl Rubber, they provide flexible, reinforced repairs.
Liquid Butyl Rubber FB-325 are soft flexible polyesters that will readily conform to corrugated metal and many other irregular surfaces. This makes them easier to handle and apply properly than other products.
Liquid Butyl Rubber FB-325 polyester km-mesh is compatible with both solvent-based and water-based coatings.
AVERAGE TYPICAL PROPERTIES
| | |
| --- | --- |
| Weight | 3-oz/sq yd |
| Tensile | 57.1 lbs |
| Elongation | 61.65% |
| Mullen Burst | 176.8 lbs |
| Trapezoid | 16.1 lbs |
AVAILABLE SIZE
6" x 325