Our Liquid Butyl Rubber has a proprietary solvent that has over a 30-year history of success. The best way to explain our chemistry is that as other product simply dry to the surface they are applied to our product will actually chemically bond to the substrate and as the product cures the Liquid Butyl Rubber and the substrate become one in the same. Although the process is quite involved what is important to understand is that our Butyl rubber is produced by polymerization of about 98% of isobutylene with about 2% of isoprene. Structurally, polyisobutylene resembles polypropylene, but has two methyl groups substituted on every other carbon atom, rather than one thus allowing for a significantly stronger bond and long term weatherability for you roof life. This chemical reaction is not found in other roof coatings. This is also the reason one coat in only ever needed and no primer is needed. This allows for significant savings from both a product standpoint and labor cost.
The science behind our product Chemical cross-linking

When we discuss "crosslink" it is really the process of our product forming a sequence of chemical bonds to join two polymer chains together. An object made of a cross-linked rubber is one single molecule. Ours which is an oxidative meaning it undergoes a proprietary cross-linking process when exposed to oxygen. These crosslinks tie all the polymer molecules together making them very strong, enhancing tensile strength and decreasing overall product degradation over the years.

We have created a picture to show the difference between a single polymer chain and our product which is a crosslinked network polymer. Imagine a spider trying to capture its prey in Figure 1 vs Figure 2. Now imaging your roof coating would you not want something that is chemically interlocked that provides significant adhesion to your roof?
A non-crosslink roof coatings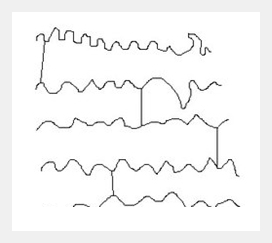 Our product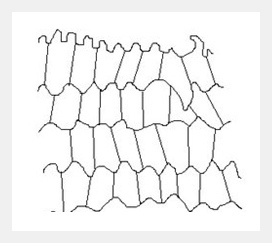 When sealing your roof, one thing is clear; you want to get it right the first time round. Years of exceeding our customer expectations show that Liquid Butyl Rubber is the best choice for sealing your roof and fixing leaks.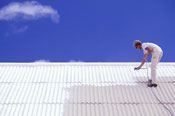 Let us take a look at some of the reasons that has made Liquid Butyl Rubber the best the world over. No roofing sealant can match the durability or longevity of our Liquid Butyl roof sealant; this is mainly because it is true commercial-grade Butyl and not an elastomeric coating water-based acrylic. Field testing has shown time and again that Liquid Butyl Rubber outlasts any elastomeric options, acrylic or urethanes three times over. Besides that, it is easy to apply and the curing process allows the liquid to slip into the smallest cracks, giving you an airtight layer. Furthermore, Liquid Butyl Rubber is water resistant within two hours of application, giving you peace of mind should an unexpected light rain soon follow. As a homeowner, you will need to deal with roof repairs sooner or later, mainly due to separated seams, holes or damaged shingles. EPDM Rubber coatings have been proven by our customers to be the ONLY one-coat product with a significant lifespan on roof surfaces. This is due to its unique catalytic curing process. It has superior performance against a wide range of temperatures, from -60° to well over 200° Fahrenheit. EPDM Liquid Rubber Coatings are used in many industrial applications due to their resistance to acids and chemicals. EPDM rubber roofing solutions have proven themselves to be the best in the market.
Liquid Butyl Rubber comes in various colors: white (which is Energy Star qualified), black, and grey. For orders over 50 gallons: beige, light green, light blue, and tile red. You can have custom colors made with a minimum order of 25 gallons or more.
Liquid Butyl Rubber Roofing-Preventative Maintenance
It acts as a protective shield against cracks for existing sealants and caulks, extending your roof's life. Some of our original customers applied the product over 20 years ago and are still with the original coating.
For brick and concrete applications, it works extremely well on non-porous surfaces. For porous surfaces, ask us about our compound products prior to the application of Liquid Butyl Rubber. This fills any voids in porous brick material, allowing you to then apply the Liquid Butyl Rubber.
A coating of Liquid Butyl Rubber is a beneficial way to restore an existing EPDM roof because it prevents further aging and chalking. Liquid Butyl Rubber is solvent based, meaning you can mix it with a pre-measured catalyst. For EPDM roofs, we suggest a light coat (what we call a field coat) then followed up with the regular coat. This will provide better adhesion over time.
As a commercial-grade product, we have put together a product that requires no primers, saving our customers both money and labor costs with a one-coat system over BUR roofs, asphalt- based substrates as well as roofs that have been coated with a third-party coating.
Liquid Butyl Rubber Application for Large Surfaces
When coating larger roof surfaces with seam and joint gaps wider than 1/16", you might need to reinforce the seams before applying our Liquid Butyl Rubber. Follow these instructions:
Prepare the intended surface by cleaning as directed on label.
Cut a strip of butyl tape (available on our order form) to cover holes, cracks, and defects.
Lay butyl tape on surface and coat.
OR
Use our polyester mesh fabric and use a roller to flatten, as necessary.
Use Liquid Butyl Rubber to impregnate and saturate the polyester fabric. Once dry, go over again with the Butyl Rubber to totally incapsulate the fabric in the product.

Liquid Butyl Rubber application on Built up roof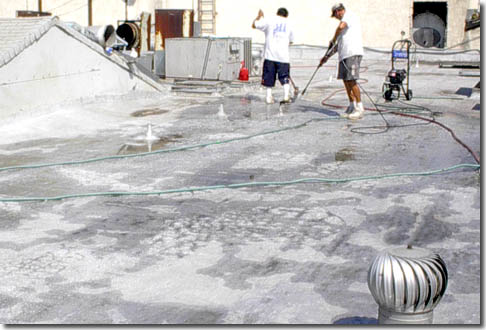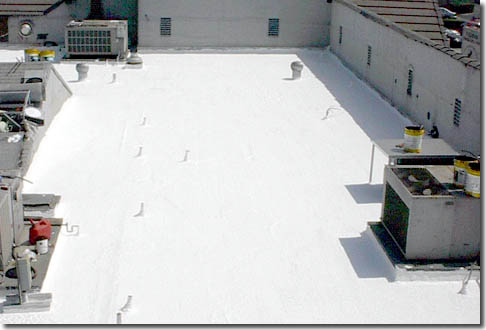 In this application, the built-up roof was badly weathered and leaking in several locations. To save money and prevent downtime, the owner decided to use our Liquid Butyl Rubber to restore the roof. AFTER: A leak-free, seamless roofing membrane now covers the old, weathered built-up roof. The cool roof coating reflects about 90% of the heat from the sun. The rooftop air-conditioning units also operate more efficiently, since the temperatures of the intake air around the units have been noticeably reduced. Since it is flat roof the owner experienced damages due to the ponding water and algae built-up over the years. Our Liquid Butyl Rubber contains a mindewcide to deter mold and mildew from growing on the roof and it also will take standing water 365 days year. It has actually been used to coat the inside of ponds.
Industrial and Commercial Uses of Butyl Rubber Coating
Steel Siding
Liquid Butyl Rubber is the best product for recoat and roof leak repairs on steel roll-formed siding when there is corrosion at the bends. When the one-coating system of rubber is applied, there is no need for any corrosion-inhibitive primer.
USDA Approved-Food Safe
This product, after curing, is approved by the U.S. Department of Agriculture (USDA) to be used in storage and meat packing facilities. It has been used throughout the years for the following:
Dry package cold storage
Food production and production areas
Industrial kitchens
Storage of fruit and vegetables
Chicken and meat processing plants
Fabricated Steel in Saltwater Environments
Support structures, tanks, and cranes at dock facilities often have higher corrosion rates due to exposure to saltwater. Saltwater has no effect on Liquid Butyl Rubber and this makes it excellent for marine environments.

Steel Storage Tank
Butyl rubber coating effectively protects ground-level or elevated steel storage tanks. Cathodic protection, surface condensation, and temperature stresses between shady and sunny areas will not negatively impact the EPDM coating.
Marine Uses
Leaks on boats, ships and barges can be effectively repaired with Liquid Butyl Rubber. It features excellent water and salt resistance, extreme temperature tolerance, ultraviolet stability, along with good flexibility.
Concrete Spill and Pipe Containments
Concrete pipes are effectively protected against saltwater corrosion when the product has been applied. A coating of Liquid Butyl Rubber will tolerate very high temperatures and strong sunlight exposure.

Corrosive Environments
Many industrial operations use various acids and these can cause corrosive environments. Hog and poultry operations often produce high amounts of manure which also create similar corrosive conditions. Rapid deterioration of steel and many other construction materials can be prevented in these environments when our Liquid Butyl Rubber coating has been applied.