WHY EPDM

Rubber Roofing - Repair with Liquid epdm Rubber
When sealing your roof, one thing is clear; you want to get it right the first time round. Years of exceeding our customer expectations show that Liquid Roof/Liquid Rubber (Liquid EPDM) is the best choice for sealing your roof and fixing leaks.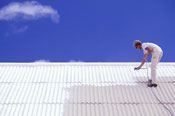 Let's take a look at some of the reasons that has made Liquid EPDM the best the world over. No roofing sealant can match the durability or longevity of EPDM rubber roof sealant; this is mainly because it is true rubber and not an elastomeric coating or urethane. Field testing has shown time and again that EPMD Rubber outlasts any elastomeric options, acrylic or urethanes four times over. Besides that, you can apply the same liquid rubber coating up to six times thicker than the elastomeric options. It is easy to apply and the slow cure time allows the liquid to sip into the smallest of cracks giving you an airtight layer. Furthermore, EPDM rubber coating is water resistant as soon as you apply it. As a home owner, you are going to have to deal with roof repairs one time or another. Mainly due to separated seems, holes or damaged shingles. EPMD Rubber coatings has been proven by our customers to be the ONLY one coat product with a significant lifespan to most roof surfaces. This is because it is a great gas and vapor barrier. It has superior performance against a wide range of temperatures, from -60 to well over 300° Fahrenheit. EPDM Liquid Rubber Coatings are used in many industrial applications due to its resistance to acids and chemicals as well. EPDM rubber roofing solutions have proved to be the best in the market.
EPDM Rubber coating comes in various colors, white for RV's and gray, black or white for commercial and residential rubber roofing applications. You can have custom colors made with a minimum order of 100 gallons or if you choose you can paint over it after 6 weeks of application and safely use Automotive Enamels or Acrylic Latex which are urethane or acrylic.
EPDM Rubber Roofing- Preventive Maintenance
It acts as a protective shield against cracks for existing sealants and caulks thus extending your roof's life.
For bricks and concrete applications, it is best to apply a coating of the ProFlex Primer which can be found on our order form. This fills any voids in porous bricks allowing you to then apply the Liquid EPDM. For any wood application one coat of the proflex primer would be required. On any wood application the total square foot coverage would be 30 sq ft and not 42 sq ft
When applying to wood, the wood should be free from mold and mildew and dry. Allow three days for the splits filed with butyl calk to cure then prime. When applying the ProFlex Primer, use at least 300 square feet for every gallon set (gallon of part A & gallon of part B). If you begin early in the morning wait until all the morning dew has dissipated before applying Liquid EPDM Rubber. The pot life of the rubber after you add the catalyst to it is about 3 - 4 hours. You can use a brush, a squeegee and roller or even an airless spray; assuming you are experienced in roof spray equipment. When working with painted or treated wood, thoroughly clean the surface with soap and water to make sure that you got rid of all the debris, oil and dirt. Use one gallon for every 42 square feet and work in temperatures above 50 degrees Fahrenheit. Any wood application is considered non-warrantied.
A coating of Liquid EPDM Rubber is a very beneficial way of restoring existing EPDM roof's because it prevents further ageing and chalking. Once applied, some areas may swell but this is no cause for concern. Liquid EPDM Rubber is solvent based, meaning you mix it with a pre-measured catalyst. The swelling is just the liquid being absorbed into the sheet rubber and will disappear after a little while.
It does not however work well with asphalt based substrates. It becomes unstable. Use the ProFlex Primer on those areas first or our multi-surface primer and butyl rubber product which can be found on contractor website http://wwww.epdmcoatings.net
EPDM Rubber Application for Large Surfaces
When coating larger roof surfaces with the seams and joints gaps bigger than 1/16", you might need reinforce the seams before applying EPDM Rubber. Follow these instructions:
Prepare the surface intended by cleaning as directed on label.
Cut a strip of butyl tape to cover holes, cracks and defects.
Lay butyl on surface and use roller to flatten.
Lay polyester fabric on butyl tape and use roller to flatten as necessary.
Use Liquid rubber to impregnate and saturate the polyester fabric.
Partial cure or "a skin" occurs about 16-24 hours above 50 degrees a full cure normally within 4-7 days depending upon temperature. Should it go below 50 degrees you simply need to add those hours to your overall cure time. The higher the temperature the quicker the cure. And best of all the product waterproofs immediately so any rain that falls on it as it is curing is unaffected. As stated the product waterproofs immediately upon application; however, we suggest 48 hours before rain fall on it as it could create rain diets depending on how hard it rains.