Roof leaks repair with Liquid EPDM Coatings and Liquid Rubber Coatings is the only choice for those facing roof leaks choice. Why, first because works on more roofing materials than any other kind of coatings. Our Liquid EPDM coating has been recommended time and time again by contractors throughout the U.S. as very economical and long-lasting solution. Twenty five years of field study and thousands of satisfied customers has made Liquid EPDM Rubber so versatile that can easily be applied to metal, rubber, fiberglass, concrete, wood, fabric or foam. Liquid EPDM Rubber Coatings have proven to outlast Acrylics, Urethanes and elastomeric by 300 percent. For those of us who have used lower-cost products we know all too well the time and cost of making the same repairs again and again just after a few years of coating or roofs. There is a significant long-term cost savings by using Liquid EPDM rubber. The application of EPDM Coatings is easiest when the surface is flat, clean and smooth. Similar to all painting jobs, the most time-consuming aspect is often cleaning and repairing/preparing the surface for application.
Why is liquid EPDM (rubber) THE best choice?
Liquid Roof is nearly identical, chemically, to sheet EPDM, but with the distinct advantage of being a liquid. It is self-adhering and seamless
Withstands temperatures of minus 40° to 300°s F
Can be applied 3 times thicker than elastomeric.
One-coat application, with no primer, top coat or multiple coats needed
Easy application; a true do-it-yourself product
Waterproofs immediately upon application and will withstand ponding water 365 days a year
Will seal leaks, reduce heat buildup and rain noise, and considerably extend service life
Liquid EPDM has proven itself superior to acrylics, urethanes and other elastomers, holding up for up to THREE TIMES LONGER.
EPDM rubber goes on virtually all surfaces Click here for applicable uses
As a liquid, it can conform to any shape of roof, flashing or protrusion, vertical or horizontal. It cures by chemical reaction to form a self-adhering, seamless membrane
Liquid EPDM forms a 100% seamless membrane
The unique properties of EPDM rubber make it a versatile maintenance and repair product, and its uses are nearly limitless
When looking for a long-term roof solution, compare apples to apples.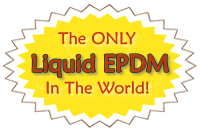 Liquid EPDM Rubber is a one-coat application. There are no primers needed, and when you begin adding up the cost of other systems that require primers and multiple coats, you are often exceeding the cost of liquid EPDM Rubber and have an inferior sealant on your roof. Why add unnecessary weight to a roof by using multiple-coat systems? Cut your time and labor costs in half with a one-coat system. Liquid EPDM has a very thick honey-like consistency and a slow cure time. This is one of the biggest benefits of the product. During the cure process, you will see bubbles resembling those created when you cook a pancake. This is the trapped air below being forced to the surface. Many other products retain this trapped air, making future cracks and unstable coating a real possibility.
EPDM Coatings Cost Summary vs. The Competition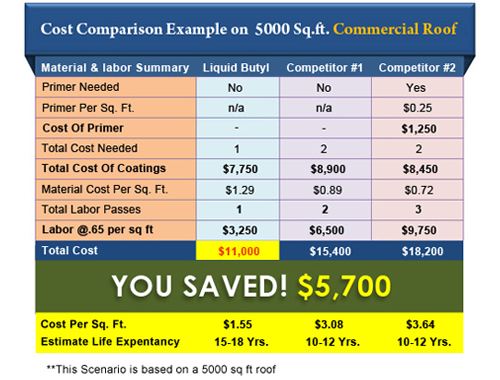 As featured in Article Insider,Roofers Exchange, Roofing Classifieds and Fine Homebuilding Magazine. It's the only liquid EPDM rubber in the world. Liquid rubber can be applied on most surfaces and waterproofs immediately upon application. Free shipping is available on all Internet orders in the continental US. All orders come with a curing catalyst. Liquid Roof Coatings require daytime temperatures of at least 55° to cure. Temperatures can fall below 55° at night as long as they rise above 55° during the day. Liquid Roof and Liquid Rubber coatings have a five-year shelf life if the catalyst is not mixed. Roof leaks repair is something you will always have to deal with as the owner of a residential or commercial roof. Roof leaks repair can include almost anything including replacing damaged shingles, mending holes, fixing roof leaks, or repairing dents with roof coatings.

Featured Customer Testimonials
EPDM (Liquid Roof), or Ethylene Propylene Diene Monomer, as it is known by its chemical name, is available only in white. However, you can customize the color by adding no more than three ounces per gallon of a non-oil-based universal colorant, which will produce a pastel color. Colorant is available at your local paint stores. Liquid Roof coatings are specifically designed for RVs and mobile homes. Liquid Rubber, the commercial product, is available in white or black. Approved Liquid Rubber application.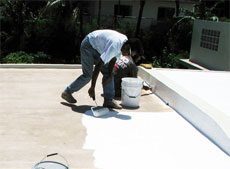 Liquid EPDM, applied over generally sound single-ply EPDM can extend the life of the single-ply EPDM an additional 20 years. Save thousands of dollars on normal roof installations. Fix roof leaks while sealing and protecting surfaces. It's a one-coat application that works great on existing EPDM rubber roofs. No primer or top coat is needed a truly easy application! It cures only above 55°. Great for roof leaks repair, commercial and residential roof leaks repair, industrial applications, pitch and non-pitch roof repair, trailer leaks repair, camper leaks repair, RV roof leaks repair, houseboats, pond liners, basement waterproofing, roof seal leaks, shingles, gutters, steel roofs, air-conditioner enclosures, cooling towers, galvanized steel/metal roofs, unit-heater flues, concrete pipes and vessels, smoke stacks and chimneys, fiberglass, and non-porous masonry surfaces and vessels. Liquid Roof is great for roof repairs. It stops leaks ponds and fountains with Pond Pro 2000, which is specifically formulated to be safe for fish and plant life. Compare the total cost of your project. Now look at what you save in labor by doing the project yourself! Liquid Roof and Liquid Rubber are the only liquid EPDM products on the market.
Roof leak repairs with roof coatings are often made after the damage has been done. However, you can avoid roof leaks and unnecessary damage altogether if you keep up on routine roof maintenance. A surprising 65 percent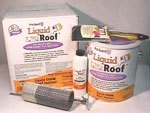 of roof replacements are performed because of roof leaks. Leak repair is a top priority among building owners and managers. Break the roof-repair cycle with liquid EPDM Roof Coatings. Liquid Rubber has also formulated custom EPDM Coatings and EPDM Rubber Coatings for your specific commercial and industrial needs. Liquid Roof and Liquid Rubber are liquid EPDM products for leaks repair that form a membrane of 100% pure EPDM rubber when cured. This rubber coating is specially formulated for roof repair and leaks repair. EPDM rubber coatings can be widely used for commercial purposes.
Stop making the same repairs using less reliable products that are not EPDM based, are not UV and ozone resistant, and do not have flexibility built into the material (causing them to crack). EPDM rubber will expand and contract with any surface as seasons change, and will not crack as a result of temperature changes. Other products will begin to bubble and crack in less than two years.