Liquid Butyl Rubber Application
For a complete list of suggested applications, click here.
Preparation. Although a light rain can directly fall on the Liquid BUTY Rubber 2-3 hours after it has been applied (assuming temps above 60°), we suggest you plan a day when rain is not in the forecast. Liquid Butyl Rubber may be applied at any temperature however we suggest between 45°-95° for best results. Liquid BUTYL Rubber needs a temperature at least 50° for the product to cure. Many people have asked what happens if it drops to freezing temperatures at night. Fortunately, because of the formulation of our product, many of our customers can complete roofing projects well into late fall and even in the winter if there is an unexpected day above 50 degrees! This allows for our product to be used in seasons where it would be impossible with other products. The product will not be harmed if temperatures fall below freezing after it is applied. It will continue to cure when temperatures get above 50 again during the day.
Assuming a smooth surface that needs to be coated, the coverage per gallon is approximately 50 square feet. For rough substrates, the coverage is 40 sq feet per gallon. An example of a rough substrate is BUR (built-up roofing). After you have completed the application, we suggest waiting approximately 48 hours before walking on the surface. It will develop a skin within 2-3 hours. For any separation in the joints, we suggest filling them with caulk found on or order form. This caulk has been field tested and is compatible with Liquid Butyl Rubber. It is free of any solvents or isocyanates and is 100% volume solids.
Any rips in your seams we suggest reinforcing them with a coating of our SeamTight; apply the product 8 inches wide with a roller or paintbrush then embed a poly fabric into the wet SeamTight and let dry. The next day recoat the entire area with our Liquid BUTYL Rubber. Now the seam will be encapsulated, and you will not need to worry about your seams coming undone in the future. Both are available on our order form. Any holes, gaps, seams or tears (of more than 1/16-inch) should be repaired or reinforced. Rusted areas on your metal roof need to be brushed with a wire brush to remove as much of the oxidized rust as possible. Any light corrosion that is not loose is fine for applying Liquid Butyl Rubber over. For heavy rust, apply SeamTight over those areas first.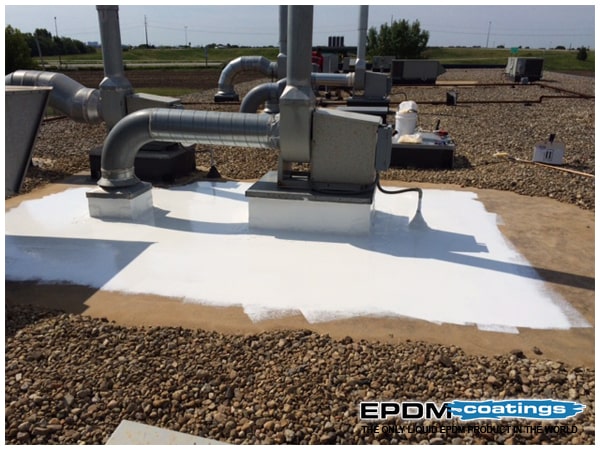 Before applying the product, be sure the surface is clean from any debris that could be picked up in the roller during the application. The surface should be cleaned with Roof Protect to ensure proper adhesion. Roof Protect (available on our order form) when exposed to air will chemically lift dirt and contaminants and provides improved surface preparation by effectively removing oil, grease, mildew, dirt, and most importantly living mold spores from your roof membrane. You can also use Roof Protect annually to further protect your roof allowing dirt and grease etc to be removed, further extending your roof's service life. Be sure that the surface of the roof is perfectly dry before applying Liquid Butyl Rubber. Liquid Butyl Rubber will not adhere to damp surfaces. Keep some Xylene or basic mineral spirits on hand just in case you get the Liquid Butyl Rubber on unwanted areas. The shelf life of the product is five years. We are not responsible for product that is not stored at room temperature or past the shelf life.
This is a true one-coat application. There is no need for a second coat. Pour the material onto flat surfaces and then spread with a 3/8 inch nap roller.
Liquid Butyl Rubber Mixing and Characteristics
One of the most unique characteristics of Liquid Butyl Rubber is that within seconds it begins to self-level, creating a smooth seamless membrane. Coverage is approximately 50 sq ft per gallon. If this is your first-time applying Liquid Butyl Rubber, we suggest you chalk your roof off into the following areas.
For gallons 10 X 5 ft. area (or 50 sq ft)
For 4-gallon pails 20 X 10 ft. area (or 200 Sq ft)
For 5-gallon pails 25 X 10 ft. area (or 250 sq ft)
Apply using a 3/8th inch nap roller and a brush for corners and hard to reach areas. When you are done "filling in" the area you should be done with either a gallon or 4-gallon or 5-gallon pail. This is how you know you are applying it at the recommended spread rate.
Applying Liquid Butyl Rubber
Here is what you need:
Electric drill
A mixer for a can or pail (paddle mixer), available on our order form
One long handle short nap roller approx. 3/8".
Chip brush
Rubber spatula
Mineral spirits or Xylene for clean up
Bag of Rags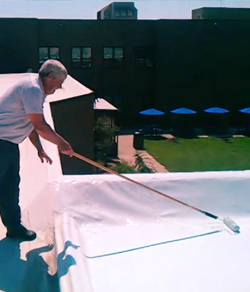 FOR CUSTOMERS WITH EPDM ROOFS ONLY
To avoid any potential bubbling during the drying process we suggest Appling a "flash coat" (a very light coat) YOU DO NOT NEED MORE THAN 0.75 gal per 100 square feet. The flash coat DOES NOT require purchasing additional material. Too thick of a flash coat may result in temporary bubbling of the material. But the bubbling will ALWAYS go down! A minimum 24-hour cure time is required before proceeding with main coat. Cooler temps or high humidity may retard your cure times. The flash coat should be completely dry before applying the final coat. After September, we suggest at least 36 hours between flash coat and main coat due to environmental conditions. Cooler ambient air temperatures and active dew points play a factor in the flash coat as they will also increase cure times.
Liquid BUTYL Rubber has a five-year shelf life as long as you affix the lid properly preventing air to get into the can during storage.
For those roofs approaching 10,000 sq ft or more you may want to consider purchasing a spreader from us which will significantly reduce the application time. For those who already have commercial grade sprayer please read the below specifications on the equipment needed

Spraying Liquid Butyl Rubber
There are more details on spraying in our brochure, which can be printed from our website. Airless equipment needs only one hose from pump to gun, but it must generate pressures of 3,500 to 4,000 psi, and specific hose length needs to be used due high pressure drops. Air-atomized equipment requires two hoses to the gun, making it more cumbersome to maneuver. It also requires the addition of a compressor.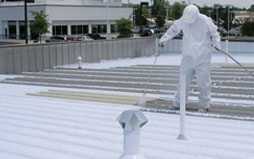 Equipment Specifications
PUMP must be capable of delivering three to four gallons per minute at 3,500 to 4,000 psi HOSE with 3/8-inch ID max. Permissible length is 150 feet when using a .019 tip with 1/2-inch ID maximum. Permissible length is 200 feet when using a .21 tip.