Elastomeric Roof Coatings
Elastomeric coatings offer effective and affordable solutions for fixing roof leaks. The coatings can be used to repair any type of roof leak. The elastomeric roof coatings can be used throughout the year because they stretch and contract easily to adjust to winter and summer temperatures. It is usually made using polymeric products such as acrylic alongside white pigments like titanium dioxide. This helps create an opaque and reflexive final product.
USES OF ROOF COATINGS
As mentioned above elastomeric coatings can be used to fix almost all types of roofs. Examples of common roof types that will work well with elastomeric coatings include; wood, polyurethane foam, single-ply roofing, modified bitumen, metal roofs, concrete and built-up roofing. If you aren't sure your roof type will work well elastomeric coatings, do not hesitate to contact us. Our experts are always willing to help.
PROS OF ELASTOMERIC COATINGS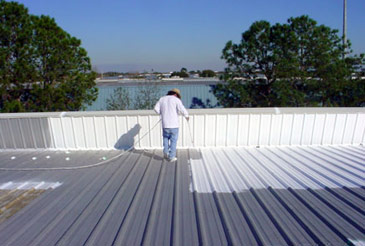 As mentioned above, These coatings can work with almost any roof type. Another advantage is they are long-lasting. The coatings are resistant to fungi and mildew among other common materials that damage roofs with time. Another advantage of the coatings is that they are seamless, providing a neat uniform coating. Elastomeric coatings offer individual benefits to certain roof types. For instance, polyurethane foam roofing benefits greatly from the coatings by getting great ozone and UV light protection. The heat reflexive properties also offer great benefits such as lowering cooling costs. This advantage is enjoyed regardless of the rooftype. The heat reflexive properties also offer anti-aging properties when coatings reflect harsh sun rays which age roofs with time. Elastomeric roof coatings are also simple to use, VOC compliant and nontoxic.
TECHNICAL DATA
1. HOW TO INSTALL Energy Guard
Clean and free the roof surface of any debris and then dry the surface using a cloth. If you happen to have a current coating on the surface, check for adhesion. Consider removing loose coating, repairing, cleaning and then checking the area. Remember to use Energy Guard without thinning it because it is sold ready for use. Containers should not be left open except for a short period of time. You must also ensure that you check for any existing coating adhesion before opening Energy Guard. For application, you will require a brush preferably a bristle brush (synthetic) or a short nap roller. You can also use a good airless sprayer with a 0.031 or 0.027 tip to apply the coatings at (3000 psi/1gpm). You will also need water for cleaning up when you are done.
2. AVAILABILITY AND COST
EPDM coatings sells Energy Guard Roof Coating at the best prices. Liquid Rubber, Liquid Roof and Liquid EPDM are also available. Contact us today to get a price quote.
3. WARRANTY INFORMATION
We offer a 10-year warranty on qualifying projects with all appropriate applicators. Contact us today. Our staff is always ready to discuss all warranty requirements with interested clients.
4. MAINTENANCE TIPS
Like many other products, maintenance is the number one tool for prolonging the life of any project.
TECHNICAL INFORMATION: EnergyGuard™ Elastomeric Coatings
| | |
| --- | --- |
| Color | Any custom color |
| Viscosity | Between 6,000 and 8,000cps |
| Solids by Weight | 68 percent ± 2 percent |
| Solids by Volume | 60 percent ± 2 percent |
| Density (lbs/gallon) | 11.2 ± 0.2 |
| Hardness | ASTM D-2240 (45 Shore A) |
| Tensile Strength (psi) | 400 ± 50 ASTM D-412 |
| Permeability (perms) | 3.5 ASTM E-96 |
| Elongation | 315 percent ASTM D-412 |
| Flash Point | None |
| Cleanup | Water |
| Shelf Life | 1 year at 40-90°F |
Warning: EnergyGuard™ Elastomeric Roof Coatings can freeze below 32° F. This is because the product is water based. In case of freezing temperatures, stop the application process. After application, you must allow the product time to dry before exposing the elastomeric roof coating to foot traffic or water. You should also cover the containers and dispose them responsibly after application. In case you or someone else i.e. a child ingests the coating seek immediate medical attention. Don't induce vomiting.
Types of Elastomeric roof Coatings
There are 4 main types of Elastomeric roof Coatings namely; Butyl, Acrylic, Polyurethane and Silicone.
1. Butyl
This type of elastomeric roof coating is the best for flat roof repair, low-sloping roofs i.e. single-ply or built-up PVC. Butyl has a very superior water pounding resistance. Butyl also acts as a vapor barrier.
2. Acrylic
Acrylic roof coating is the best for over sloped roofs. Acrylic is more popular than Butyl because it is more environmental friendly and lasts longer.
3. Polyurethane
Polyurethane coating is the best for EPDM rubber roofs. The coating doesn't require high PH rinses. The coating can also be used on other roofs such as modified bitumen and single ply roofs.
4. Silicone
Silicone coating is the best coating for polyurethane foam roofs. The coating is very effecting for repairing weathering. The elastomeric roof coating is also good for recoating roofs especially those which already have silicone coatings.