Gentlemen: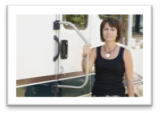 In early June I purchased a 4 gal pail of "Liquid Roof" for my RV with the hope it would seal the Roof from additional leaks. Its been about a week since the product was applied and today I viewed the results and I can not tell you how pleased I am with your product and how the old roof looks new . The results of the new coating have not been tested with a heavy shower as yet. If there is any water that gets into the RV. It will not be through the roof (my opinion)

A couple of observation; your customer service is great. I had some concerns as I had not used your products previously. Please advise any potential customers to relax as your folks have the answers to any problem.

You may want to include with your instructions the fact that the material spreads so much easier with a squeegee and then finish with a roller. In addition after a short period of time the highs and lows seem to blend together and you have a great looking and tight roof again. I found the brushing didn't work well at all.

One of your many satisfied customers; thanks
R. Reily (New Hartford, NY)

Donna you may have recalled me asking if the testimonials on your site were real....well here I am writing you one after using the product. Thanks for all the help for us novices here. I will send pictures later but we completed our warehouse last week and had two good rainfalls and no leaks. We had a few roofers who quoted us $25,000 but managed to get by with $4,500 of your product !!
B. Wildler (Auburn, ME)

I thought I read at one point that this was non-toxic to fish. I have a leak in a pond liner where the two parts over lap. I was thinking of using your product to try and seal the joint. Your thoughts P.S. Installed your product on my barn and is working great!
Tom H (Corrales NM)

You asked us to send you a note on our feedback. As a roofer we have tried many products Sealoflex, Santi-Tred, Snow Roof and everything in between. Yours is what we will be using from now on. We are especially impressed with the flexibility of your product. With the seasonal changes we find this is the major cause for cracking to occur with the other products we have used. I guess it goes without saying....You get what you pay for.
R. Holt (Kansas City KS)

Thanks Brian. I'm just going to order me a gallon to start. Your rapid replies to my inquires make me know that you have confidence in your product. So, that gives me the confidence to try it out.
J Odom (TX)

We did a lot of research about finding the right product to fix our tin gutters. We had tried many products over the years and they either wouldn't cure in enough time and would eventually peal. When we tried Liquid Roof, it was love at first sight! It spread on smooth and filled in all of the cracks and folds completely tight. It's been through winter and spring and has held up remarkably with no sign of wear.
Dannie G. (Louisville, KY)

Thank-you for your speedy reply. I really love your product and fully recommend it to all RV owners.
Jeff. P (Purchase NY)

Very well worth the wait. As promised would be glad to tell all of the wonderful experience with your product. Quite easier than the EPDM sheet rubber regarding installation. Hope to be a long customer of yours. Cheers All!
Erickson Industries, U.K.

Thanks to all for the very informative info. It made our decision easier. After discussing with several roofing companies we found that your product as promised did not require a primer nor a second application. We saved about a $1.10 per sq foot. Next month the second building!.
D. StJames (Burbank, CA)

We looked at many products before making our decision and we though yours was the most expensive, as it turned out it was the cheapest. Donna walked us through the whole deal. What the contractor originally wanted to do was going to require us to set a primer down first then the tar roof and gravel. We saved over $3500.00 just in the labor alone. Wish we know about your product two years ago when we built our warehouse. Thanks for returning our calls, it's like pulling teeth to get a return call from some of the other companies out there!
T.S. Industries (California)