I was going to install a regular rubber roof when I saw your product. It would save a lot of work. I ordered a gallon to try and your product was just what you said it was. It went on easy with the squeegie and evened itself to a beautiful coating. It looks and feels like it will last a long time.I am ordering a second gallon to finish the job.
Bernie P. (Cranston, RI)

I had a contractor build a patio cover out of cedar and 4x4 glass panes. He never could get the roof to stop leaking though he used several products. Water would eventually always leak somewhere around the joint of the glass and the tin lip he had laid the glass in. I just applied your product and am confident I finally found the right sealant to stop the leaks. I can BBQ in the dry for once without drips all over the patio roof. Great product! I just wanted to drop a line about your product.
Gary S. (San Antonio, TX)

Everyone was SUPER helpful and knew the product, properties and application methods well. I applied to product on the trailer in about a 2-hour period one evening. It was tricky with the application, from a novice who had not done this before, on the flat surface as well as rounding the corners and down on the sides about 6 inches. It went GREAT! Needless to say, I am super proud of the product and the finished job. I cannot thank your folks enough for the support and quality of the product. Excellent. Coming from a process management philosophy and background, it leads me to be extra thankful for outstanding processes with outstanding people. Thanks again,

Here is what I say about my finished product now.... "No drips, no runs, no errors!"
G. Sorrell (Lufkin, TX)
Diboll Lumber Operations

Donna,your staff and your customer service is the reason we buy from you. You had asked us several months ago if we would write up something for your Website. We wanted to get some additional orders first before coming to conclusions. We have ordered over 1000 gallons this year and the product truly lives up to its name. We have won three bids using your product because of our ability to stand behind our work. Your staff has always been there for questions, handling returns and the voice of reason when our installers call. Thanks for the visit. Sorry I wasn't there but at least you got the fifty cent tour.
H W Property Management

We have completed the resurfacing of our commercial roof back in April and ordered a few more pails for areas where we probably did not apply it thick enough. Just wanted to share these photos with you. We have received several quotes for our 25,000 ft roof and after all was said and done managed to get it done for under $21,000 with you guys. Great product as you can see it came out wonderful and you were dealing with a skeptic.
T. Basset

Here is a picture of our finished roof. We were very happy with the end result. You have a great product here and we will be ordering for future jobs we have. We were a bit skeptical at first but when it was fully dry it looked as if we installed a new 1500 sq piece of sheet EPDM.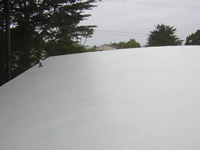 B T Contracting

Attached is a picture of the trailer I used the EPDM coating on. It's 10 years old and the roof gave out last year. I applied your coating and everything has been "hunky-dory" since then. Thanks for a really good product which is easy to use and DOES the job as advertised.

Yours Truly,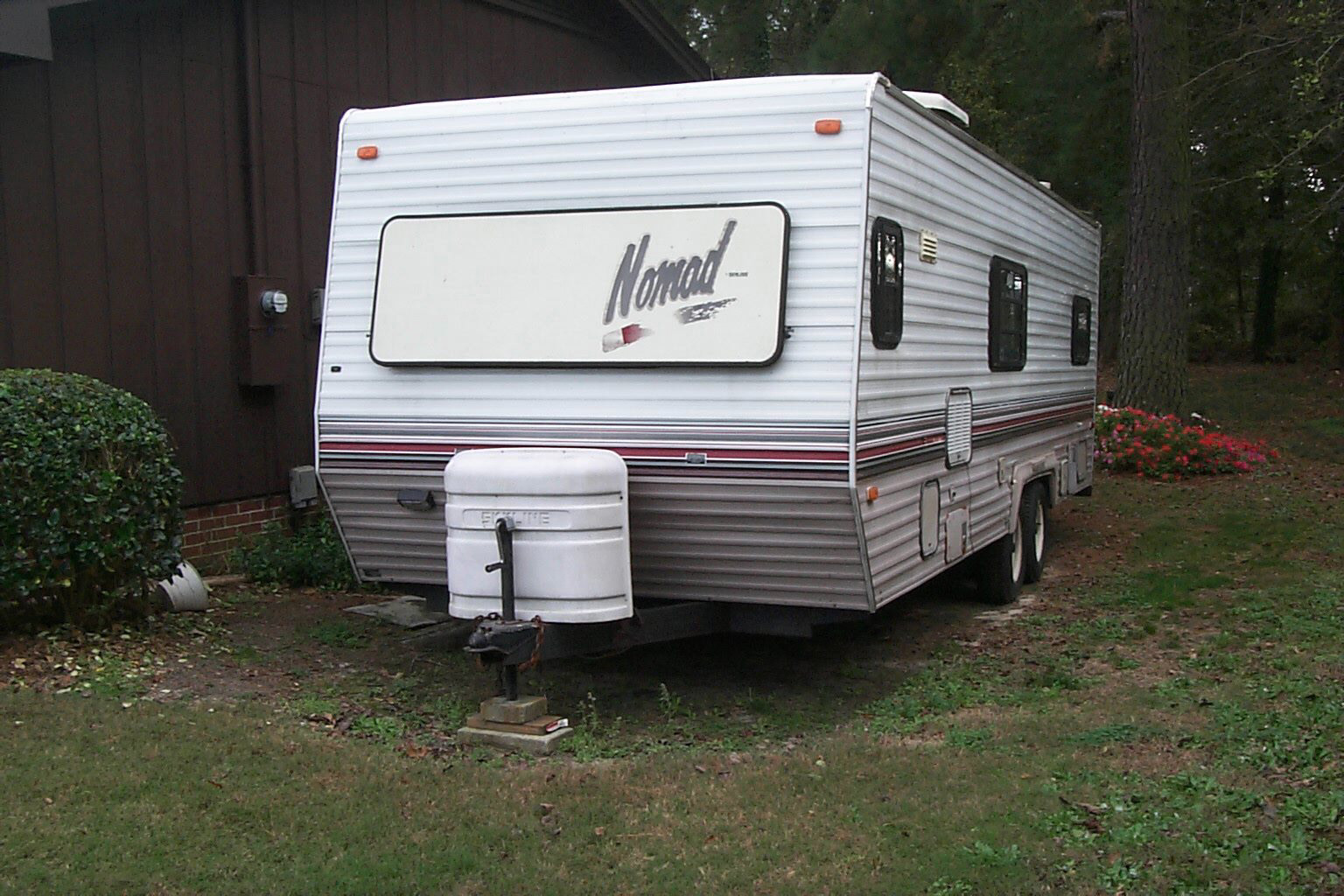 T Gallow. (San Jose, CA)

We recently installed Liquid Butyl Rubber on the roof of our houseboat. Liquid Butyl Rubber was installed over unpainted plywood, fiberglass, painted wood and aluminum. It bonded very well to everything! Installation was relatively easy and the final result looks great! We are extremely pleased and have been recommending it to everyone on our dock! Thanks.
D Skipper . (Memphis TN)

Gentlemen: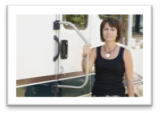 In early June I purchased a 4 gal pail of "Liquid Butyl Rubber" for my RV with the hope it would seal the Roof from additional leaks. Its been about a week since the product was applied and today I viewed the results and I can not tell you how pleased I am with your product and how the old roof looks new . The results of the new coating have not been tested with a heavy shower as yet. If there is any water that gets into the RV. It will not be through the roof (my opinion)

A couple of observation; your customer service is great. I had some concerns as I had not used your products previously. Please advise any potential customers to relax as your folks have the answers to any problem.

You may want to include with your instructions the fact that the material spreads so much easier with a squeegee and then finish with a roller. In addition after a short period of time the highs and lows seem to blend together and you have a great looking and tight roof again. I found the brushing didn't work well at all.

One of your many satisfied customers; thanks
R. Reily (New Hartford, NY)

Donna you may have recalled me asking if the testimonials on your site were real....well here I am writing you one after using the product. Thanks for all the help for us novices here. I will send pictures later but we completed our warehouse last week and had two good rainfalls and no leaks. We had a few roofers who quoted us $25,000 but managed to get by with $4,500 of your product !!
B. Wildler (Auburn, ME)