I usually don't take the time to email companies about their service, but I definitely felt the need to for your company. You have a great product and your customer service and shipping speed are second to none!.......Kellie......feel free to use my comments on your site....I'll be ordering again soon.Sincerely.
P. Merisotis (Carlisle, PA)

Had to forward a comment about how happy I am with your product. The order I received back in March of this year worked so well that I decided that it would be the perfect solution to a problem I'm having on another project, so I've ordered 2 additional gallons of your Black Liquid Rubber (everyone who has seen this stuff is also amazed!). Once again, great product!
Craig Trevillyan (Palmdale, CA)

Kellie, Thanks for all your assistance over the past two months. We have finally got around to getting the product on a job and were very impressed overall with it. Solid performance and just a remarkable finish when it dried. Just what you said a 100% seamless area.
Trolier Roofing (Dayton, OH)

We have been doing metal roofs for about 12 years now and I think we found the product to end all. Great staff who walked us through our first roof. We had a 25,000 sq ft flat roof, mostly metal with some rusting and areas where the vents were covered with a hot tar application. We brushed on an elastomeric coating on the tar areas and on the heavily rusted areas covered them with a metal primer. By the way the product is nice to work with. Given the 8 hour timeframe you have to work with, our guys didn't have to rush. Not the case with some of the other products out there where the set up is real quick. We were quite amazed with the appearance. It looks like someone put a 25,000 sq ft piece of sheet epdm on our roof. We'll be back!
Brian Venderbult (Miami, FL)

I was going to install a regular rubber roof when I saw your product. It would save a lot of work. I ordered a gallon to try and your product was just what you said it was. It went on easy with the squeegie and evened itself to a beautiful coating. It looks and feels like it will last a long time.I am ordering a second gallon to finish the job.
Bernie P. (Cranston, RI)

I had a contractor build a patio cover out of cedar and 4x4 glass panes. He never could get the roof to stop leaking though he used several products. Water would eventually always leak somewhere around the joint of the glass and the tin lip he had laid the glass in. I just applied your product and am confident I finally found the right sealant to stop the leaks. I can BBQ in the dry for once without drips all over the patio roof. Great product! I just wanted to drop a line about your product.
Gary S. (San Antonio, TX)

Everyone was SUPER helpful and knew the product, properties and application methods well. I applied to product on the trailer in about a 2-hour period one evening. It was tricky with the application, from a novice who had not done this before, on the flat surface as well as rounding the corners and down on the sides about 6 inches. It went GREAT! Needless to say, I am super proud of the product and the finished job. I cannot thank your folks enough for the support and quality of the product. Excellent. Coming from a process management philosophy and background, it leads me to be extra thankful for outstanding processes with outstanding people. Thanks again,

Here is what I say about my finished product now.... "No drips, no runs, no errors!"
G. Sorrell (Lufkin, TX)
Diboll Lumber Operations

Donna,your staff and your customer service is the reason we buy from you. You had asked us several months ago if we would write up something for your Website. We wanted to get some additional orders first before coming to conclusions. We have ordered over 1000 gallons this year and the product truly lives up to its name. We have won three bids using your product because of our ability to stand behind our work. Your staff has always been there for questions, handling returns and the voice of reason when our installers call. Thanks for the visit. Sorry I wasn't there but at least you got the fifty cent tour.
H W Property Management

We have completed the resurfacing of our commercial roof back in April and ordered a few more pails for areas where we probably did not apply it thick enough. Just wanted to share these photos with you. We have received several quotes for our 25,000 ft roof and after all was said and done managed to get it done for under $21,000 with you guys. Great product as you can see it came out wonderful and you were dealing with a skeptic.
T. Basset

Here is a picture of our finished roof. We were very happy with the end result. You have a great product here and we will be ordering for future jobs we have. We were a bit skeptical at first but when it was fully dry it looked as if we installed a new 1500 sq piece of sheet EPDM.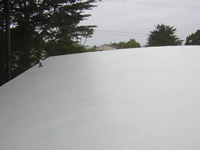 B T Contracting