Featured Customer Testimonials

Audio Testimonials:
What Our Customers Are Saying!
Hello, My name is Jeremy Berkheimer and I purchased the liquid roof coating earlier this spring. I am attaching the before and after photos of my 38 sandpiper roof. This coating was awesome. It took some real cleaning before hand and a I got a bit of extra exercise spreading it but the finished product seems well worth it. Thanks!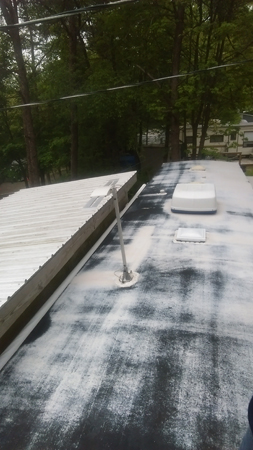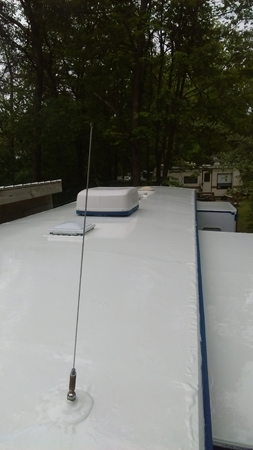 Hi,

Please find attached before and after photos for my camper roof. I forgot to snap a pic of the before, so I had already started applying the Proflex primer when I took the picture. You can still see the condition of the roof though!

Also, the after pic was after the newly coated roof endured it's first rainfall.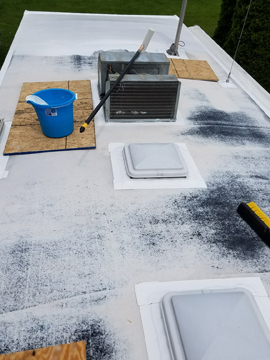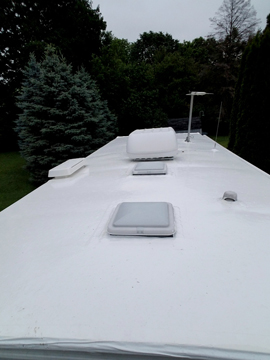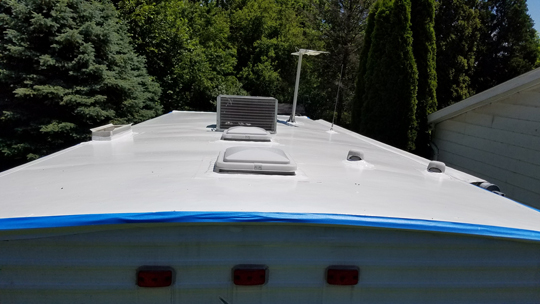 EPDM is amazing. My RV roof was a disaster. I have been battling leaks for a few years now and no other product would stop the leaks or even last more than a few months. Everything else would peel up after awhile. I used the EPDM with the primer. It rained a week later. Zero leaks! The product goes on easy and covers well. No cracks no bubbles. I am very satisfied and would recommend this product to anyone. The are so many products out there and skepticism runs high. Your company and the product did everything it said it would.

Fred D.
Peoria, AZ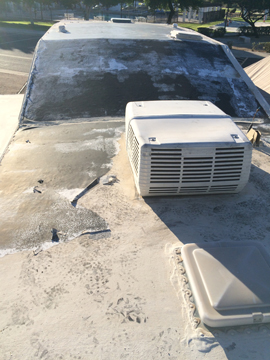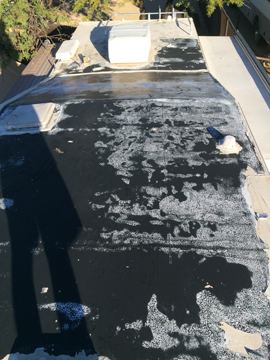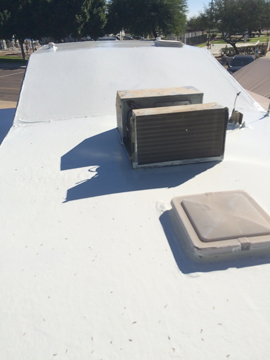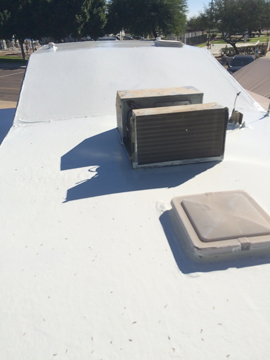 Just a great product, went on easy and looks great.
Just completed my 35 Bus, cut in the rap around sides and around the ACs and vents.
Spent the hardest time on cleaning and prep. If you are looking for a product to seal your RV stop looking !!!!

David R. D
Lincolnton GA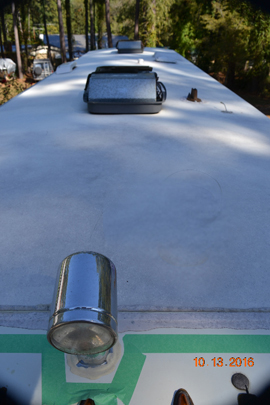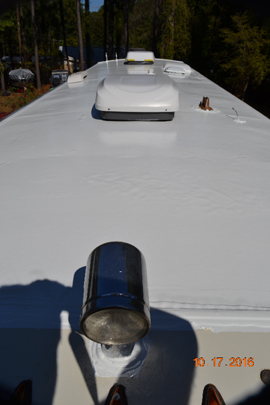 Let me tell you this stuff if fantastic. I replaced my roof several years ago and white rubber was not available at the supply company, it was out of stock and I had to replace the rubber as I had ripped the old off. The black rubber made it miserable in here.
I did a lot of research looking for a good quality coating that would last and hold up to the elements. I found your product and was convinced, so I ordered and have now applied.
I did not take a full before picture but 1 as I was applying the product. Let me tell you a couple things:
If possible do not park under a tree
Do not apply if the wind is going to pick up
Wear old shoe or shoe covers and gloves
As you can see in the photos, the tree was dropping leaves and acorns. The roller was used for back rolling. the coating sure does show up all the imperfections in the roof. the photo with out all the leaves was taken immediately after completion. the one with leaves was taken after the roof was dry

Stephen L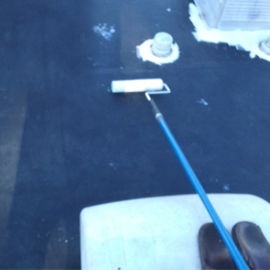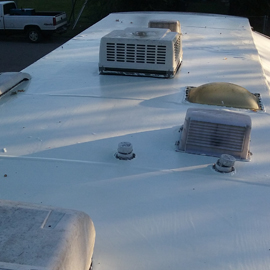 5000 sq ft concrete roof. Prep work consisted of power wash of roof and preparation of seams as see in before picture. Approximately 7 sets of ProFlex primer was used and 28 Pails of Butyl Liquid Rubber Rubber. Cost per sq ft approx. $1.66. Life expectancy is 18-20 before a recoat is needed.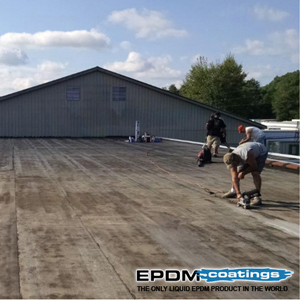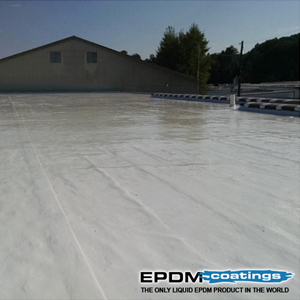 I am a happy customer. I just restored a 1986 horse trailer that had a lot of rust on the roof. After cutting out and replacing a lot of metal, I thought it would be good to put EPDM Liquid Roof on the roof to keep it from rusting in the future. After watching the video on your website, it seemed to be pretty straightforward to apply the material to the roof. My horse trailer has a rounded roof, and I was a bit worried about how I would apply it to the rounded corners without the material dripping or sagging. I received good assurance from your folks that I could do it. After I taped off the roof line from the rest of the trailer, I put on the large rubber gloves, and brushed on EDPM's primer on areas where I had done body work, or where there was old caulking in the seams. After letting it dry for a few hours - until tacky, but would not come off my finger, I mixed two gallons, and went to work. I simply poured out a small portion, then used my roller to level it out. . . This stuff is thick - so I patiently rolled it until it was even, then moved to the next spot on the roof and did it all over again. I was able to roll the excess Liquid Roof from the top over the rounded corners. I was careful to go over the rounded corners a few times so that I made sure it was thick enough. The finished product is terrific, and the texture looks great! I was so pleased with how easy this project was - just needed to plan the time to apply the primer, then wait for it to dry, then apply the Liquid Roof. I recommend this product to anyone who is serious about sealing off their roof once and for all.

Thanks,

Dwight H
Utah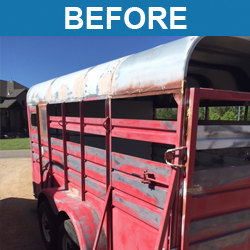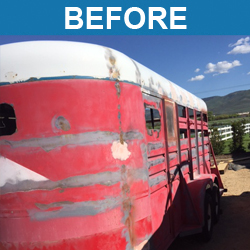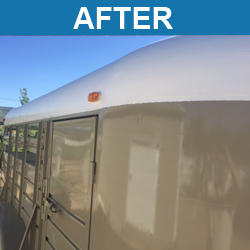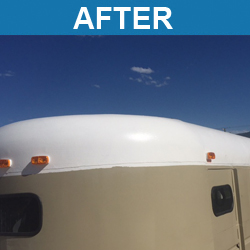 Hello, I recoat my roof every year , it is cheap insurance. It is a 1992 class C and I have been in some nasty rain with it and no leaks, it did leak originally when I first bought it, after some repairs I have been using liquid roof since, I recommend this product to everyone I speak to in the RV field.

Vincent S
Huntington NY

Hello Greg,
Here are the photos, three before, during and after per your request:

I will say that your product surpassed our expectations and saved us a huge $7,000 new roof cost. We had no leaks and but were informed during a free roof inspection that we needed a new roof by a local rv establishment. I discovered your website and bought your products just to be on the safe side. We applied the primer as well as the liquid roof. It is definitely something that both genders are able to do as evidenced by the photos of me on the roof. The roof looks great and I feel confident that we have many years of a non leaking roof ahead of us!

Thanks again for your help in the process

Kim Stonecipher-Furr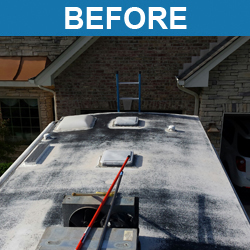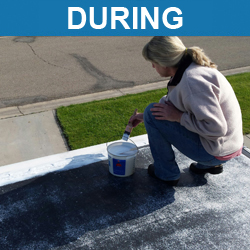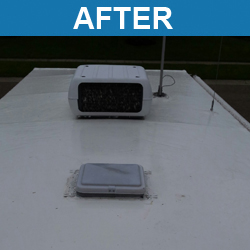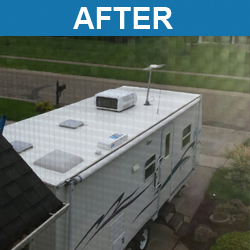 I wanted you to know I researched the product before I spent the $500 on primer and roofing material and went ahead and pulled the trigger and bought it. It went on so easily on a Sunday afternoon. It began raining overnight and the forecast is rain all week. I went out to the pop up this a.m. and the rain is just rolling off, even though the roof is still tacky. I am confident with your warranty that event though it is raining that it will cure in time. I love not having to tarp our pop up now since the roof on it was 50% gone from wind that got under it. I love the ease of installation and the look of the new roof.

Thank you so much, and I look forward to doing business with you again.

Doug T
Nixa, MO