I was able to quickly find the 2 pictures I took after I patched the roof. I will continue to look for the before pictures, We have a flat roof with a channel down the middle that leads into a drain pipe system that has been our weak point area all along. Then we installed a sky light which was like adding gasoline to a fire. For years I was blaming the sky light that we installed. We even replaced portions of the sky light and sealed around it many times. We added more tar on top of tar but still leaked Then I decided to buy the Butyl Liquid Rubber liquid rubber product. Your instructions emphasized to remove lose gravel and clean the dirt away. I used a leaf blower to blow away the dust, man what a dust cloud. That when I was able to expose alligator type cracks in the tar that were not visible. So with the Butyl Liquid Rubber product I was able to bond the EPDM rubber mat material to the stone and tar part of the roof. This year I intend to attack (seal) those cracks by extending the EPDM coating further down the channel and up the sides
Thanks for having this product on the market
Tom Pituch
Property Manager
Christ the King Lutheran Church
Twinsburg, Ohio 44087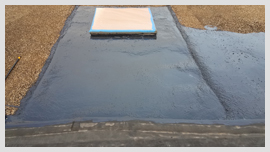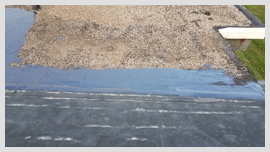 Two pictures are the before and then after using your product Liquid Butyl Rubber. Very pleased with the way it turned out! And also the shipping sure came quickly. Have a great and safe day!
Bob, Sally H.
Yuma AZ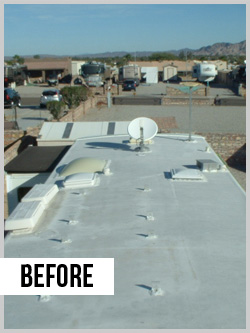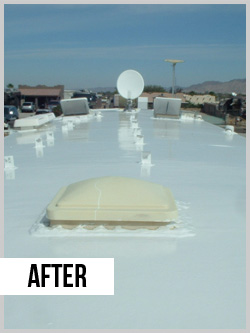 The epdm rubber roof was easy to work with. I am very pleased after having a leaky roof that will be good for many years to come. Roof had mold on it so we first killed the mold with Clorox and water and scrubbed I down and then cleaned the roof with Dawn dish detergent.
Attached are the before and after pictures.
Thanks
Rick M.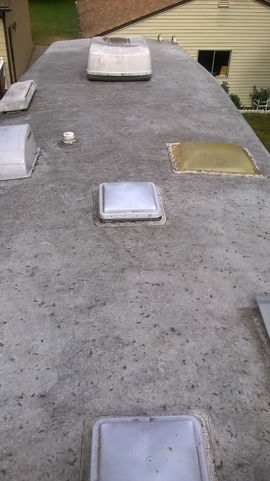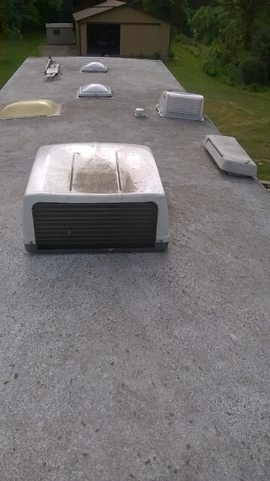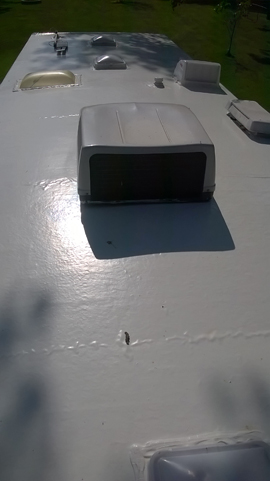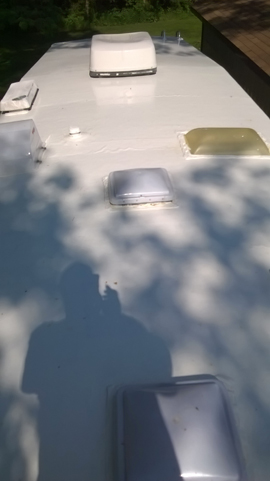 Staff at EPDM Coatings,

My 29, RV had a couple leaks, at the front where the aluminum and rubber roof came together under a molding, and under the radio antenna. I purchased the 5 gallon bucket. I mixed as directed, then poured mixed product into another clean bucket, scraped it clean, and mixed a few more minutes. After preparation, I applied the liquid butyl rubber around all edges and roof fixtures, I poured small amounts out of the bucket onto the roof and distributed with squeegee or roller as needed, until product was gone and the roof was well coated. I have no doubts that my leaks are eliminated. Excellent coverage. It will roll on easier than using a brush. We had 2" of rain the following day. My troubled area was dry as I knew it would be. The product seems expensive, but considering the cost of a replacement roof and the problems solved, it is well worth it and adds value to your roof. One of the pictures shows the trouble area at the front, which currently has a small pool of water. No leaks!
A few things to consider when using this product.
It tends to string when using a brush, squeegee, paint roller, or pouring from the bucket. This is only a concern if you have vehicles parked nearby on a breezy day. The breeze will catch the fine strings and carry them to adjacent surfaces.
Have a second back-up broom handle for your roller. I broke the tip off of the first one at the roller, and had to go find another.
Wear shoes that can be discarded afterward.
WD-40 works well to remove the rubber from skin when finished.
If you mask any area, be sure to leave a tab of tape sticking up for easy removal, and do so before rubber begins to skin over.
I am very pleased with the results, and will share my experience.

Thank you!

Kevin Fowler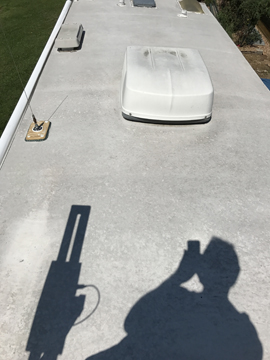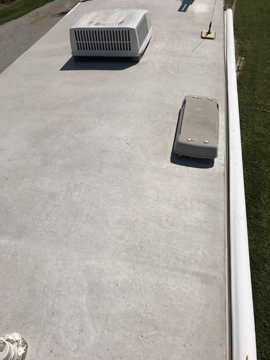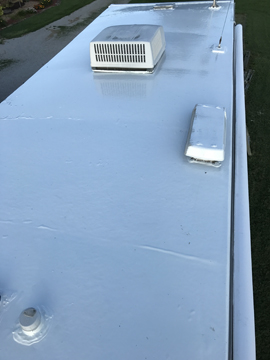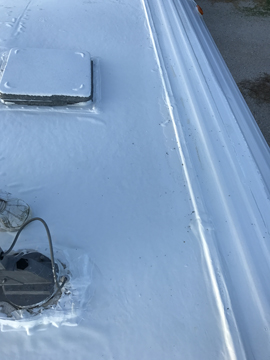 Hi,

Please find attached before and after photos for my camper roof. I forgot to snap a pic of the before, so I had already started applying the Proflex primer when I took the picture. You can still see the condition of the roof though!

Also, the after pic was after the newly coated roof endured it's first rainfall.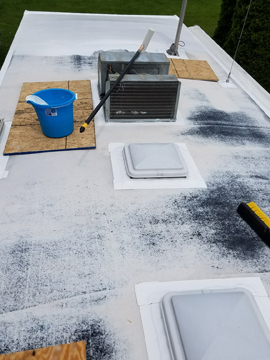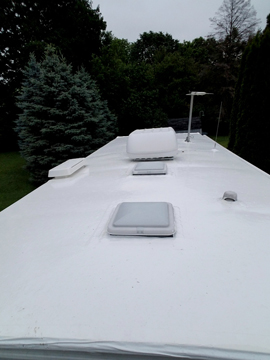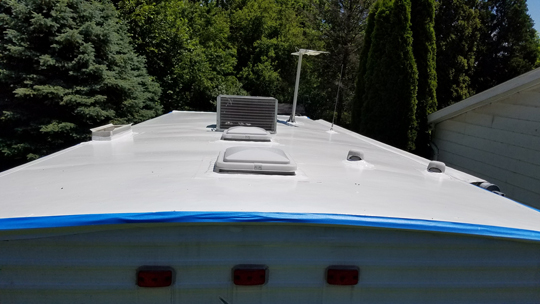 Just a great product, went on easy and looks great.
Just completed my 35 Bus, cut in the rap around sides and around the ACs and vents.
Spent the hardest time on cleaning and prep. If you are looking for a product to seal your RV stop looking !!!!

David R. D
Lincolnton GA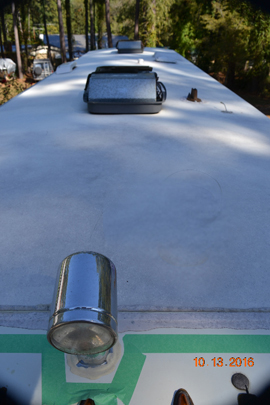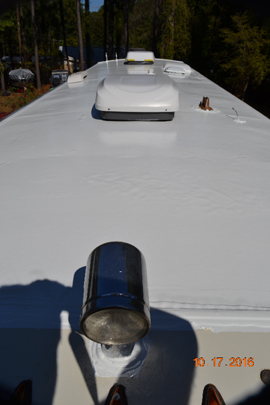 Let me tell you this stuff if fantastic. I replaced my roof several years ago and white rubber was not available at the supply company, it was out of stock and I had to replace the rubber as I had ripped the old off. The black rubber made it miserable in here.
I did a lot of research looking for a good quality coating that would last and hold up to the elements. I found your product and was convinced, so I ordered and have now applied.
I did not take a full before picture but 1 as I was applying the product. Let me tell you a couple things:
If possible do not park under a tree
Do not apply if the wind is going to pick up
Wear old shoe or shoe covers and gloves
As you can see in the photos, the tree was dropping leaves and acorns. The roller was used for back rolling. the coating sure does show up all the imperfections in the roof. the photo with out all the leaves was taken immediately after completion. the one with leaves was taken after the roof was dry

Stephen L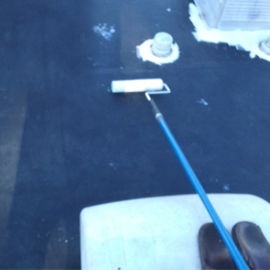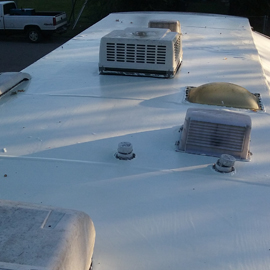 5000 sq ft concrete roof. Prep work consisted of power wash of roof and preparation of seams as see in before picture. Approximately 7 sets of ProFlex primer was used and 28 Pails of Butyl Liquid Rubber Rubber. Cost per sq ft approx. $1.66. Life expectancy is 18-20 before a recoat is needed.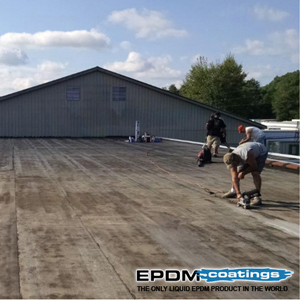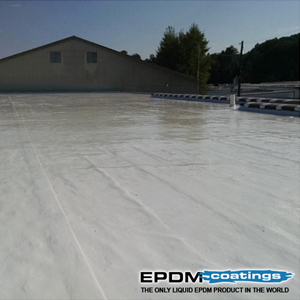 Hello Greg,
Here are the photos, three before, during and after per your request:

I will say that your product surpassed our expectations and saved us a huge $7,000 new roof cost. We had no leaks and but were informed during a free roof inspection that we needed a new roof by a local rv establishment. I discovered your website and bought your products just to be on the safe side. We applied the primer as well as the Liquid Butyl Rubber. It is definitely something that both genders are able to do as evidenced by the photos of me on the roof. The roof looks great and I feel confident that we have many years of a non leaking roof ahead of us!

Thanks again for your help in the process

Kim Stonecipher-Furr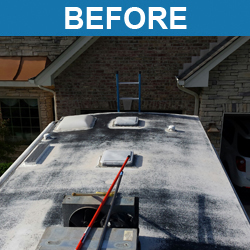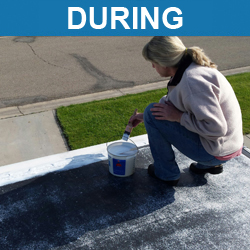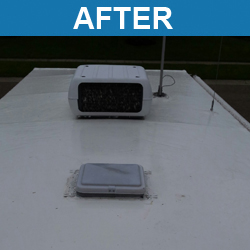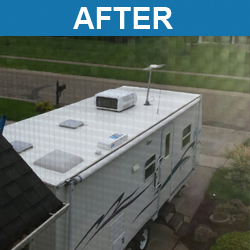 I wanted you to know I researched the product before I spent the $500 on primer and roofing material and went ahead and pulled the trigger and bought it. It went on so easily on a Sunday afternoon. It began raining overnight and the forecast is rain all week. I went out to the pop up this a.m. and the rain is just rolling off, even though the roof is still tacky. I am confident with your warranty that event though it is raining that it will cure in time. I love not having to tarp our pop up now since the roof on it was 50% gone from wind that got under it. I love the ease of installation and the look of the new roof.

Thank you so much, and I look forward to doing business with you again.

Doug T
Nixa, MO