Greg and Lou,

Wanted to reach out to you and express my gratitude the project came out just great. Everything you said exactly. Not saying that I did not believe you guys but there is a lot of cheap stuff out there. Well worth the price knowing that in 18 years from now it will still be worry free. It is actually quite amazing when it fully dries it looks like the Butyl Liquid Rubber was part of the manufacturing process when the metal was made. My compliments to your knowledgeable staff and thanks for taking the time to understand my specific situation and give me the guidance. Not an easy trait to find in companies today.

Thanks again

NJB Carpentry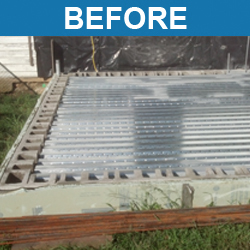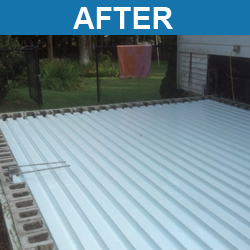 Hi Kellie,

I spoke with Craig about my new roof. He told me to send you these pictures to receive a gift card.

My RV is a 1989 Georgie Boy Cruise Master. The roof was supposedly repaired when I bought it. However the repairman did not do a good job as the roof started lifting up while going down the interstate. After repairing the weak areas the leaks started. The entire front half of the ceiling was destroyed. Last summer I removed all the cabinets, and ceiling, then replaced it along with new insulation and roof trusses. I sealed the entire roof with some elastomeric, a competitors inferior product. I did not know about EPDM Butyl Rubber roof and was not told about it by three different RV dealers that I contacted to determine what was the best product to seal the roof. Well the leaks never stopped. Finally I used window screen and lap seal on all seams and around the edges of the entire roof to stop them from separating. This worked very well. Then I found the epdmcoatings.com web site. I have to admit that I was skeptical after everything else I had tried. However I am simply ecstatic and elated with the results. EPDM is actually thicker and more elastic than a new rubber roof membrane. And it goes on so easily. After the cleaning and prep work, the application was almost to easy. I am a full time RVer since 2002. I know and meet multitudes of RV owners and will definitely tell them about the product. I just do not think I could be any more pleased.

Thank you EPDM Coatings

Stephen L
Pensacola, FL 32534
850-774-6108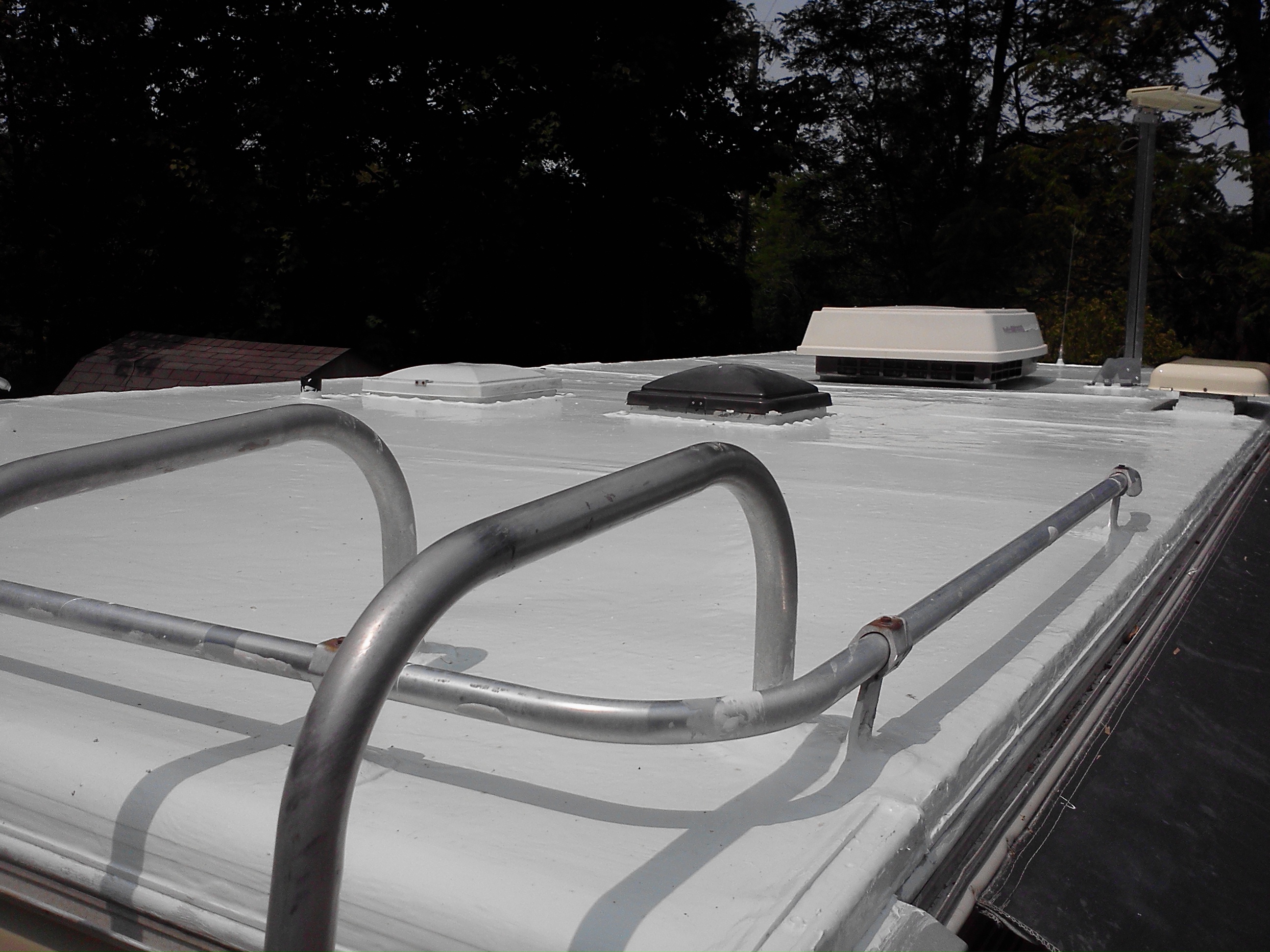 Hello, like to thank you for this wonderful product I used on my 24 RV..The roof was 10 years old and needed something done to it before it began to leak..After days of research at many rv shops and the internet, I found your product and used it..All I did was wash the roof before using your product..It took a few hours to complete the job and over all, it was quite easy to apply..I used a small "roller" and a paint brush. The finish results were like night and day..A truely wonderful product and I highly recommend it to other RVers...Thanks again

Dave Shingleton
PS. Here are the "before" and "after" pictures of my roof..what a difference...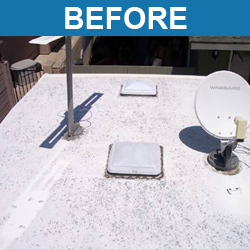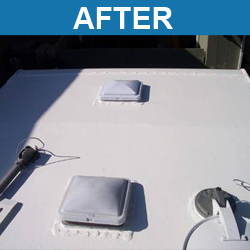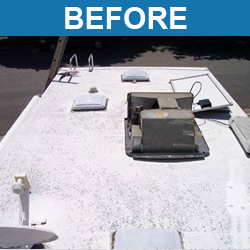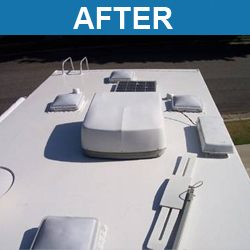 I have used your coating on two of my trailers now that had leaks and it has leaded them up for the whole season. Great product, would recomend to anybody. thanks for hepling me with my problem roofs.
Joseph Mellon



Cleaning the roof before using this product was the hardest part applying the liquid butyl rubber was simple as pouring out and spreading it around. i was worried about bubbling of this product but after five days the roof is flat and smooth and looks very good and looks to seal around vents and pipes very well i used five gallons for my 30 foot camper and would use this product again.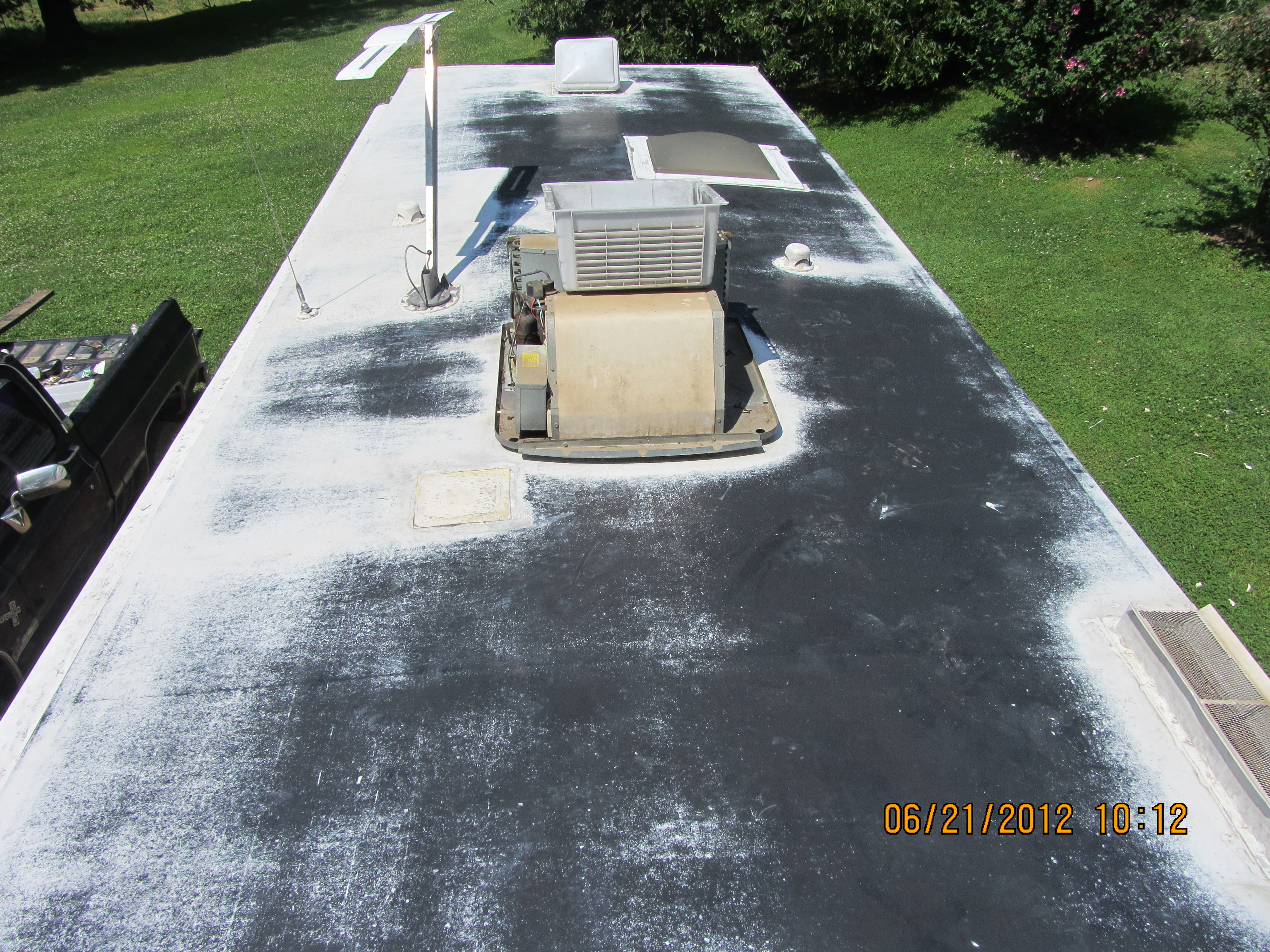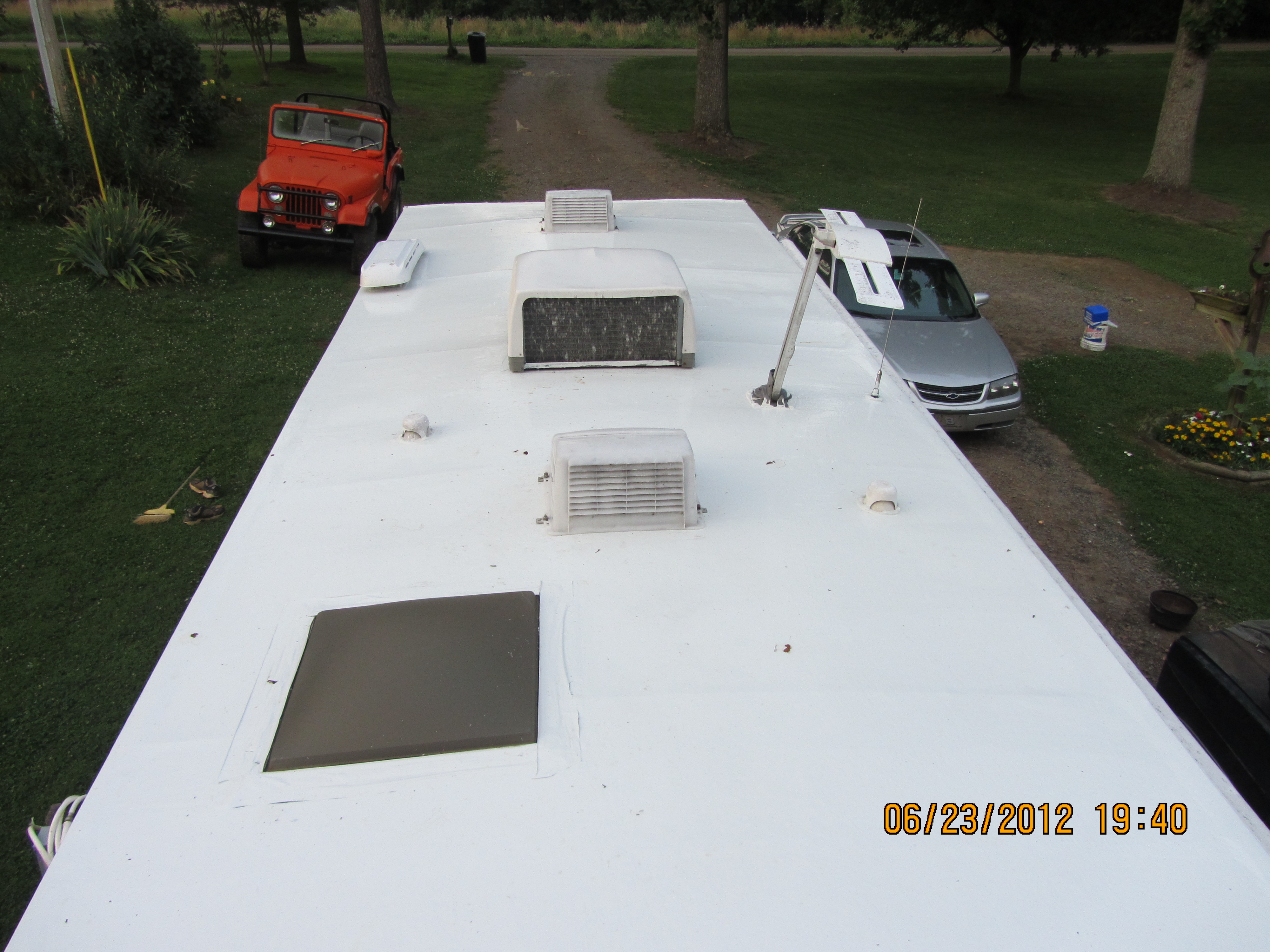 Art Haynes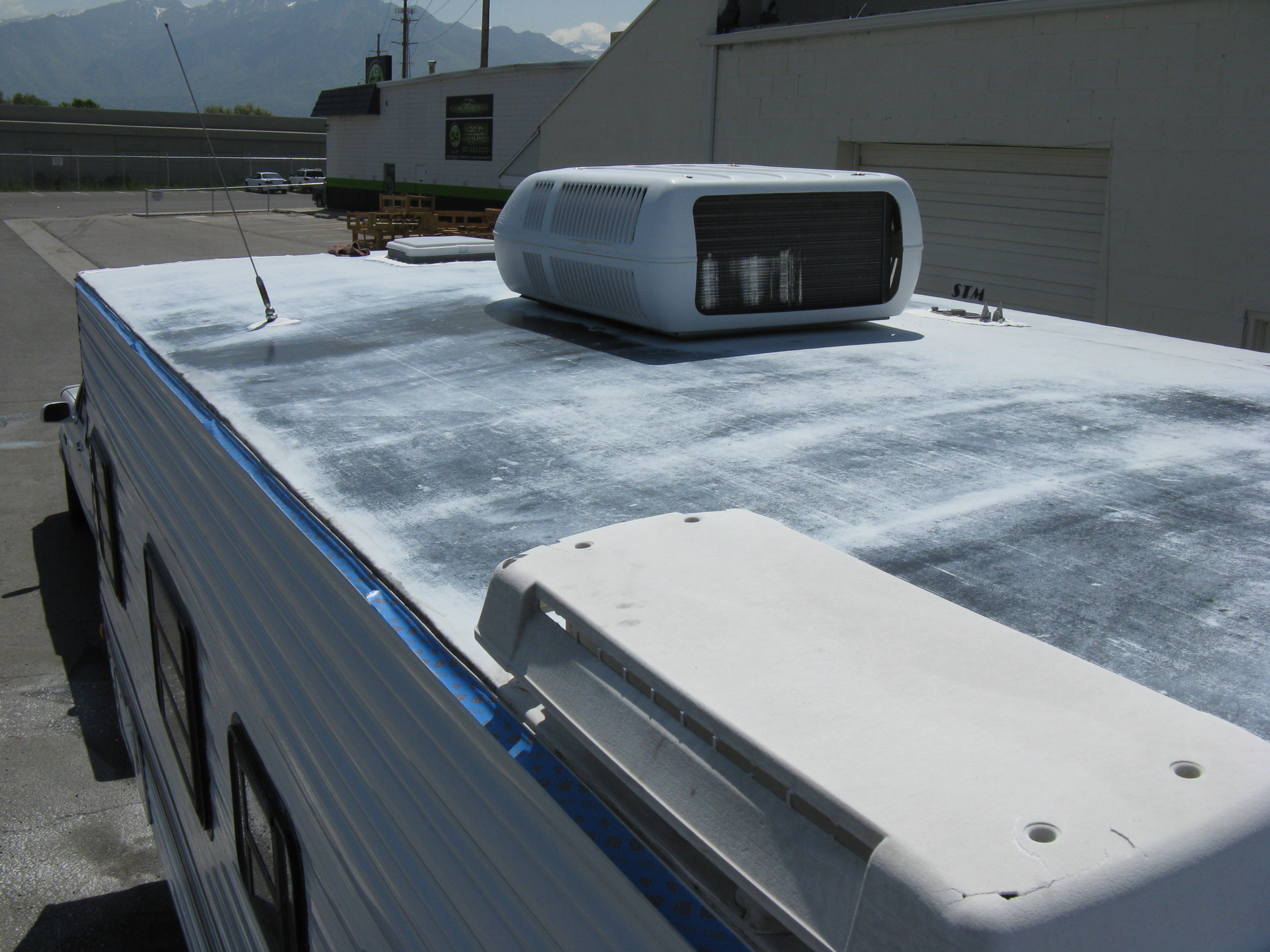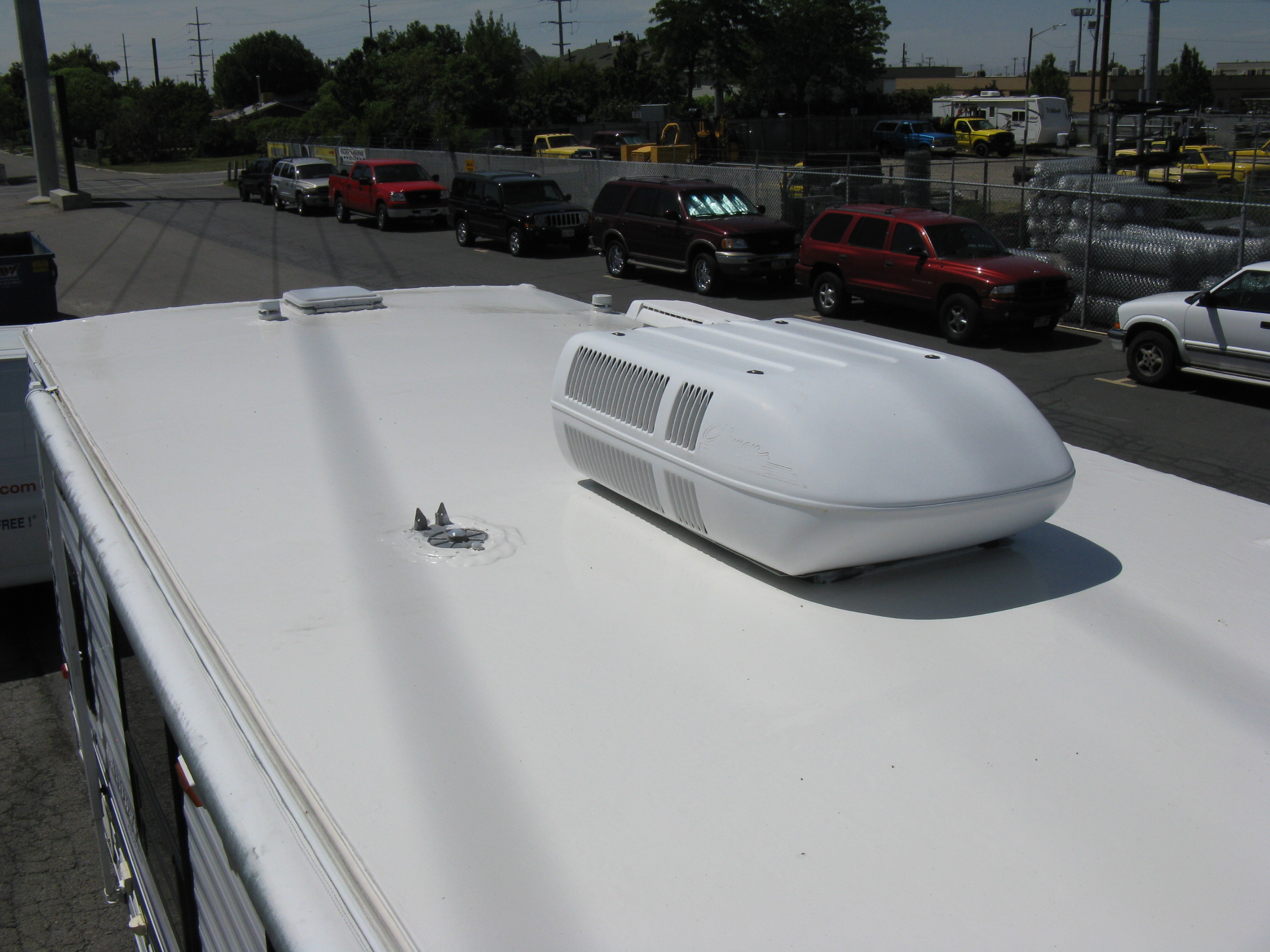 I have a 1996 25 foot camp trailer that has a rubber roof that needed coating. I did a lot of research before deciding on Liquid RV Roof. I already know that EPDM roofs are great and I was very happy when I found this product. The trailer roof had just a few very small holes and one small tear at the edge about 1-inch long. I washed the roof with a high pressure hot water washer and a great degreaser. Almost all of the old coating came off. I chose not to patch or reinforce any of the small holes. I opened and mixed the Liquid RV Roof product as per the instructions. With a friend to help me, we began to apply the thick mixture. It was a breeze to apply. Having a squeegee and roller is key. We applied on a nice cool day at about 70 degrees. We chose to do it in a location free from trees and debris. We applied about three gallons to the roof. (I bought 5 gallons...oops should have measured...not guessed) It only took about 1.5 hours to complete the application including doing the edges with a brush by hand. It took about 72 hours for the wrinkles to flatten. The small tear and pin holes were coated perfectly and sealed great.
Todd West

I finished the painting of my roof yesterday with Liquid Butyl Rubber, an EDPM rubber in liquid form. The results turned out great. Here is the product I used and the process I went through http://www.epdmcoatings.com First, I scrubbed the roof with a bit of Awesome Cleaner from the local Dollar Tree store. I mixed in an ounce or two of auto liquid cleaner also and added a few gallons of water in the bucket. This did a good job of cleaning the roof.

I let it dry overnight and then taped the edges all around the whole trailer with blue painter tape. This job took me a few hours and I was bushed from going up and down the ladder so quit for the day.

That night we had a heavy rain and here is what the roof looked like the next morning. I let it dry out well and about noon I was ready to begin the paint job. As you can see from the above pictures, my roof, which is about 8 years old was losing it's coating and had many spots which were caused by both bird droppings and "berries" from the local palm trees. I try to clean my roof at least twice per year but it was time to do something about its condition.

I started out by mixing the product with the product. It is advisable to rent a mixer that has the power to do the job. The Liquid Butyl Rubber is very heavy and will burn out a normal 3/8 or 1/2 drill motor quickly. You need to mix it thoroughly which takes some time. I rented a mixer from Home Depot for $12 for a whole day. Well worth it! Here is the mixer I used. It is advisable to have a helper available to hold the can and pour the product into the product. It will take both of your hand and feet to control the mixer as the product is very heavy and thick and causes a lot of drag and twisting force on the mixer. After mixing in the product, you have about 4 or 5 hours of working time with the product. I purchased the product in one 1 gallon can and one 4 gallon can. I mixed up the 1 gallon first and used that to do around all my "stuff" up on the roof and around the entire perimeter of the trailer. I removed my vent covers for the cutting in and then replaced them before doing the rest of the roof. This used up about 3/4 of the gallon. The rest I used on the top of the roof. The product is supposed to cover about 40 sq feet per gallon if applied as a 20mil thick coating. That turned out to be a very accurate figure as I had only a small amount left when I finished.

Here are a couple of pictures of me doing the trim around the edges. That "supervisor" is my good buddy Jim, a retired Navy Master Chief who also helped me with the mixing of the product. After doing the edges and cutting in the opening on the top, I got busy doing the rest of the roof.

I made a mistake thinking I would just pour the stuff on the roof and spread it with the roller. It is too thick to just use a roller and a squeege is needed. You pour a line on an area, spread it out with the squeege and then smooth it with the roller. The stuff is self leveling so you don't have to worry about ridges or getting it perfectly smooth. The idea is to try to get a nice even coat.

I don't have any pictures of this process as nobody else would climb up on my roof and my hands were too sticky to operate a camera. This product is very sticky and you must wear old shoes and old clothes as you will get some on you and the equipment. It cleans up with paint thinner or mineral spirits but I just threw out the squeegee and paint brushes and rollers.

Here are a couple of pictures of the finished product. It dries to a kind of semi gloss finish which looks great. It is not quite a shiny now as it looks in the pictures. Another thing is that there are a few spots where the rubber roof seemed to develop bubbles - mostly near the edges on the flat part of the roof as you can see in the 2nd picture below. This is normal according to the manufacturer and should go back down. We'll see if that happens. Notice that it is applied right over the Eternabond tape that I put on about 5 years ago. That tape still looked like new

Barney S
Bath Michigan
| | |
| --- | --- |
| | |

Some Tips others haven't mentioned.
Gregory Horne

This a great product, EPDM Rubber for roofs. It is easy to mix and easy to apply. I had a roof job where a company applied a "torch down" rubber system on my flat roof. They made several critical errors in the application of the torch down. Two added roof repairs and four internal ceiling repairs later and the roof seemed tight. Once you are burned by incompetent roofers you become a cynic quickly. Because of arbitration I got some of my money back. I certainly did not want those bozos back on my roof.
Water stands on my flat roof in various places. I decided to apply a coating of EPDM Rubber over the roof for added measure. So I bought a gallon and applied it in a critical area. It stayed tight and looks great. I waited for several months during the rainy season and had very positive results. I then bought a five gallon pail and applied it to a larger surface. Looks great and adhesion is fabulous. It bonds great with no distortions of bubbles.
I think the easiest thing was that I had a fairly solid surface with which to work. So, cleaning and surface prep seems to be critical. If you prepare the surface well your application and results will be outstanding.
I just ordered two added five gallon buckets and plan to coat the remainder of my roof. I use a short nap roller and it goes on with ease.
I fully recommend this product for roof repairs. Just follow the directions and anyone can do this with completely positive results.
Tom Preston

I would like to thank you guys. I have tried just about everything out there and nothing worked. The hardest part of the job was mixing the hardener. What was really amazing is how the roller marks just disappeared in a couple minutes as the material leveled itself. Really quite a good product.

Dennis R jr.
Salem MA