Featured Customer Testimonials

Audio Testimonials:
What Our Customers Are Saying!
It has been 4 years now since we had applied the product and really enjoy that we no longer worry about calling a roofer. So for those of you wondering if you should purchase the product the answer is yes. We were amazed that it literally stopped the leaks right after it was applied. Two days later we actually got a pretty bad storm through and zero leaks. The first time in about two years my wife tells me. Down in Texas we get our fair share of hot weather and we thought that the material would not hold up to the temperature swings but we really have nothing but good things to say about the product and the people there. When we received the product we had our share of questions and the sales staff took the time to really make sure we understood the product and did it right. Thanks to everyone at epdmcoatings.com

Bill D
Houston TX

First I want to apologize for the video we forgot all about it. But I wanted to be sure epdm gets the feedback they deserve so I am happy to write you this letter of recommendation. It has been about 6 months since we installed the material on our home. About 50% was on an existing epdm roof and the other 50%; on our older area was put on rolled roofing. You said we needed to put the primer on that area first. We must have tried every sealer out there and nothing seemed to work. Well after 4 years of disappointment our roof finally finally does not leak. On another note we also wanted to thank your company for the time you took in answering so many questions. Your sales staff there was very patient and quite frankly made the decisions much easier. You have a cheerleader now for your product.

The Humphries
Dallas TX

Top Level Inc has over 30 years of interior remodeling, commercial and residential construction and roofing experience across Europe and North America, Specializing in Asphalt, Metal, Wood shingles, Concrete, Ceramic, Slate, Roll roofing, Rubber roof, Flat roof and also Built-up roofing such as Tar and gravel roofs. Top Level Inc brings a high level of craftsmanship and guarantees quality satisfaction every time. So when it comes to protecting your home and business from wind and rain, Top Level Inc. can take care of all your needs. After Using EPDM liquid rubber roof coating I was very impressed with how durable the product was and how fast I could complete the job. The staff at EPDM coatings went above and beyond. I would definitely recommend this product for anyone with a roof repair project and we are now diehard customers.

Mariusz Lozowski
President


I done a lot of research online before I decided to go with Liquid Roof. I have to say that I am very glad that I did. The product was easy to use. This is definately a Do It Yourself Project. I did find a couple things that will help you with your application. If at all possible use two people. Even though one person can do this project it is so much easier with two. Wear gloves, it can be a messy job. I am very happy with the ease of use and the outcome of this project. The temperature was about 52 degrees when doing the roof and has now set for three days. It is still a little tacky but with the cool temps we have had that is to be expected. The warmer it is the faster it will cure out. I will 100% for sure use this product again and reccommend it to my fellow RV'ers
Duane Hess
London, KY
Duane Hess

This product is great. It was a little harder to put on then I thought it would be. Once it has dried it covered our older roof very well. I would recommened this product to other RV people.
Eric T Morrow



Greg and Lou,

Wanted to reach out to you and express my gratitude the project came out just great. Everything you said exactly. Not saying that I did not believe you guys but there is a lot of cheap stuff out there. Well worth the price knowing that in 18 years from now it will still be worry free. It is actually quite amazing when it fully dries it looks like the liquid epdm was part of the manufacturing process when the metal was made. My compliments to your knowledgeable staff and thanks for taking the time to understand my specific situation and give me the guidance. Not an easy trait to find in companies today.

Thanks again

NJB Carpentry

| | |
| --- | --- |
| | |

Hi Kellie,

I spoke with Craig about my new roof. He told me to send you these pictures to receive a gift card.

My RV is a 1989 Georgie Boy Cruise Master. The roof was supposedly repaired when I bought it. However the repairman did not do a good job as the roof started lifting up while going down the interstate. After repairing the weak areas the leaks started. The entire front half of the ceiling was destroyed. Last summer I removed all the cabinets, and ceiling, then replaced it along with new insulation and roof trusses. I sealed the entire roof with some elastomeric, a competitors inferior product. I did not know about EPDM Rubber roof and was not told about it by three different RV dealers that I contacted to determine what was the best product to seal the roof. Well the leaks never stopped. Finally I used window screen and lap seal on all seams and around the edges of the entire roof to stop them from separating. This worked very well. Then I found the epdmcoatings.com web site. I have to admit that I was skeptical after everything else I had tried. However I am simply ecstatic and elated with the results. EPDM is actually thicker and more elastic than a new rubber roof membrane. And it goes on so easily. After the cleaning and prep work, the application was almost to easy. I am a full time RVer since 2002. I know and meet multitudes of RV owners and will definitely tell them about the product. I just do not think I could be any more pleased.

Thank you EPDM Coatings

Stephen L
Pensacola, FL 32534
850-774-6108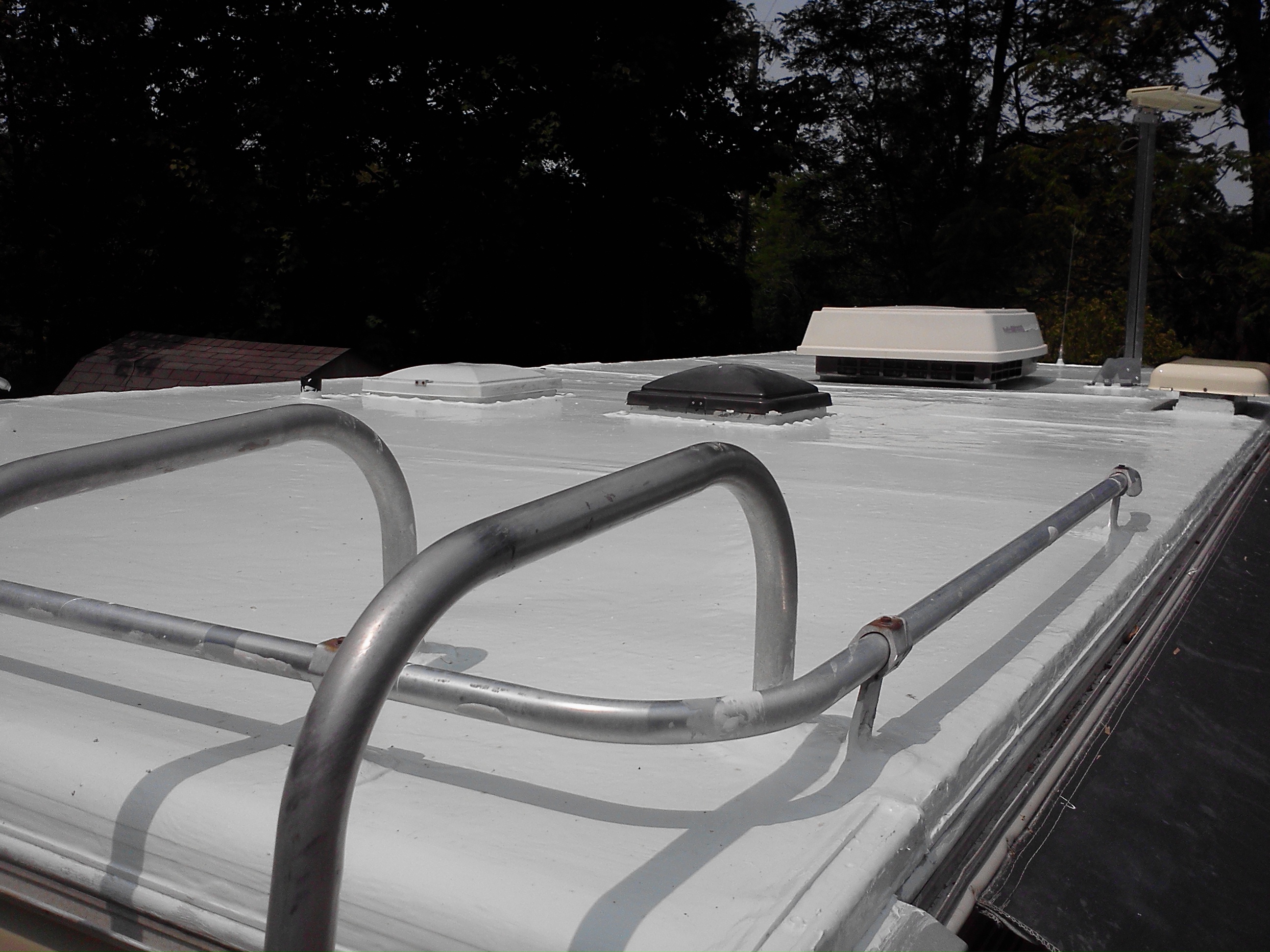 Hello, like to thank you for this wonderful product I used on my 24 RV..The roof was 10 years old and needed something done to it before it began to leak..After days of research at many rv shops and the internet, I found your product and used it..All I did was wash the roof before using your product..It took a few hours to complete the job and over all, it was quite easy to apply..I used a small "roller" and a paint brush. The finish results were like night and day..A truely wonderful product and I highly recommend it to other RVers...Thanks again

Dave Shingleton
PS. Here are the "before" and "after" pictures of my roof..what a difference...

EPDM "Liquid Roof" was effective in eliminating the leaks in my RV roof. I had water intrusion that I was continually trying to remedy with RV chaulking and patches. This effort proved to be ineffective. I discovered Liquid Roof via the internet, and really did not know any others who had experience with this product. Our local RV Store only sold emulsion based sealers and could only comment that EPDM is "expensive". It took a late and prolonged rainy season to finally convince me to try "Liquid Roof".
Once ordered, the product arrived in 5 business days without issue.

Surface preparation was the lions share of the project. Removal of the oxidized rubber from the existing roof was accomplished by brooming/brushing, air compressor, and finally and acetone wipe. Overall time to prep my RV approximately 8 hrs. Mixing the product went without issue. Application was simple and took less than 1 hour for a 27 RV. The product does produce fumes that are heavier than air. Fumes were noticable while working on the roof, but were quite noticable on the ground (and in the house, so be sensitive to the family!). Cleanup consisted of wiping down tools with mineral spirits. I just threw the roller pad and paint brush away...

Within 24hrs of application we received ~1/2" of rain and no water was noticed in the RV. True to their word, the product was water resistant upon application. By the end of the week we had received over 2" of rain and happily no water in the RV. Because of the wet and cooler weather it took a couple of weeks before the coating lost its tackiness and fully cured. It has been approximately 1 month since application and I am very pleased with the "Liquid Roof" and hoping for several leak free seasons. I highly recommend this "Liquid Roof". The additional money spent for this quality product is well worth the saving in time, frustration and multiple tubes of inferior sealers.

Thank you for a fabulous product

Kelly and Lisa M.
Baltimore MD

I have used your coating on two of my trailers now that had leaks and it has leaded them up for the whole season. Great product, would recomend to anybody. thanks for hepling me with my problem roofs.
Joseph Mellon