Let me tell you this stuff if fantastic. I replaced my roof several years ago and white rubber was not available at the supply company, it was out of stock and I had to replace the rubber as I had ripped the old off. The black rubber made it miserable in here.
I did a lot of research looking for a good quality coating that would last and hold up to the elements. I found your product and was convinced, so I ordered and have now applied.
I did not take a full before picture but 1 as I was applying the product. Let me tell you a couple things:
If possible do not park under a tree
Do not apply if the wind is going to pick up
Wear old shoe or shoe covers and gloves
As you can see in the photos, the tree was dropping leaves and acorns. The roller was used for back rolling. the coating sure does show up all the imperfections in the roof. the photo with out all the leaves was taken immediately after completion. the one with leaves was taken after the roof was dry

Stephen L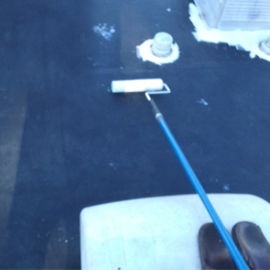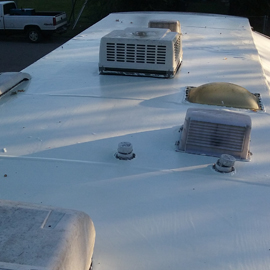 5000 sq ft concrete roof. Prep work consisted of power wash of roof and preparation of seams as see in before picture. Approximately 7 sets of ProFlex primer was used and 28 Pails of Butyl Liquid Rubber Rubber. Cost per sq ft approx. $1.66. Life expectancy is 18-20 before a recoat is needed.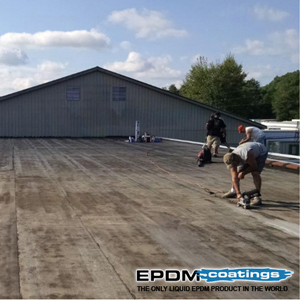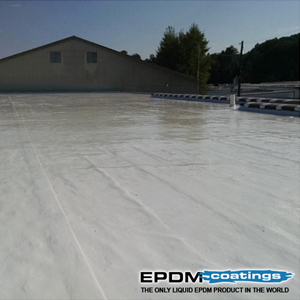 Hello Greg,
Here are the photos, three before, during and after per your request:

I will say that your product surpassed our expectations and saved us a huge $7,000 new roof cost. We had no leaks and but were informed during a free roof inspection that we needed a new roof by a local rv establishment. I discovered your website and bought your products just to be on the safe side. We applied the primer as well as the Liquid Butyl Rubber. It is definitely something that both genders are able to do as evidenced by the photos of me on the roof. The roof looks great and I feel confident that we have many years of a non leaking roof ahead of us!

Thanks again for your help in the process

Kim Stonecipher-Furr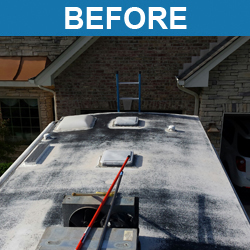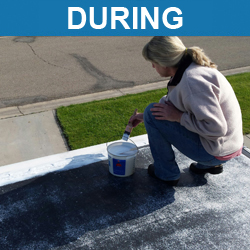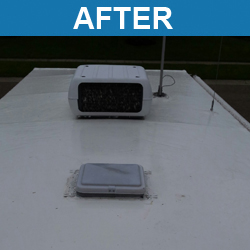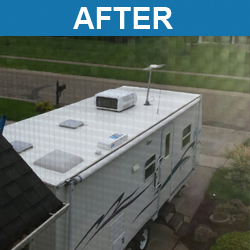 I wanted you to know I researched the product before I spent the $500 on primer and roofing material and went ahead and pulled the trigger and bought it. It went on so easily on a Sunday afternoon. It began raining overnight and the forecast is rain all week. I went out to the pop up this a.m. and the rain is just rolling off, even though the roof is still tacky. I am confident with your warranty that event though it is raining that it will cure in time. I love not having to tarp our pop up now since the roof on it was 50% gone from wind that got under it. I love the ease of installation and the look of the new roof.

Thank you so much, and I look forward to doing business with you again.

Doug T
Nixa, MO

Resort Property (Mexico)
Project Overview:

Project involved 7 Buildings of which 6 were typical and one slightly larger. Roofs were approx. 5500 square feet. Total square footage of the project was 50,000. Buildings are 8 years old and due to Existing single ply Torch on failure and substrate failure, all roofs were removed and new concrete poured to accept EPDM product. Proper slopes were incorporated in new roof design including proper drainage and scupper installations. Project is located 30 miles North Of Manzanillo Mexico on the west coast. Units are on the Ocean and subjected to high humidity, sea salt and heavy rains in July to October especially. A six man crew was required as they worked in pairs to complete tasks. AC enclosures and penetrations were started 1 hour before rollers were started. Crews were coordinated to work areas together to keep materials fresh. Pails were mixed as they were required. Total time from start to finish was 4.5 hours. No thinners were used and rollers and applications were performed as per manufacturers instructions.

Note crews were experienced in torch on applications and painting as they are part of our full time maintenance crew during the years. EPDM materials was fairly easy to work with. We adjusted our application based on temperature expectations and humidity forecasts. We started early in the mornings and were usually completed around 11:00 A.M. We mixed the pails as we required them, as we found as the day heated up in Mexico, the application time was allowing us approx. 1 hour before we were noticing tacking.

There was major prep to the buildings and once prep was 100% to our satisfaction, the EPDM was very easy to install.

As I have used other products in the past, I am very impressed with the EPDM product for its apparent quality. The end product is very solid and appears to have strong adhesion. We had minor bubbling , however as gases dissipated the bubbles settled down. I have asked our manager to take pictures of the complex to try to get most of the buildings in one picture.

Gerard J
Playa Grande , Mexico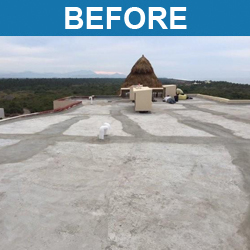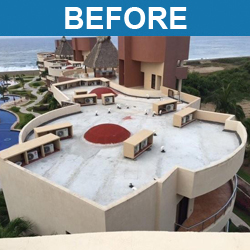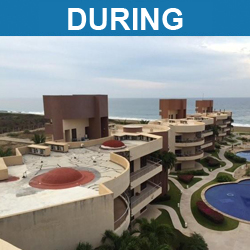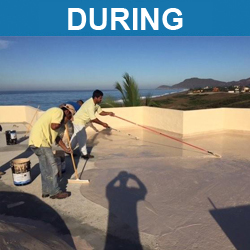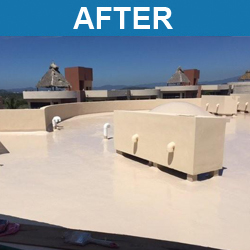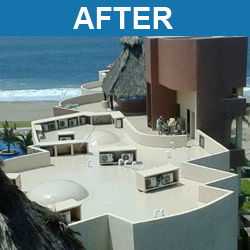 Good morning Guys Adam here from Best Western!

We just wanted to say thank you for these great products. We had been having roof leaks on an EPDM roof which were previously, a very temporarily fixed with FlexSeal. After we applied the primer / liquid rubber solution to these areas the leaks stopped, and the rubber is adhering very well to the existing roof. We have also attached before and after pictures for you to use as you wish, as well as for the complimentary $25 AMEX card offer we saw on the receipt.

Thanks again!

Adam C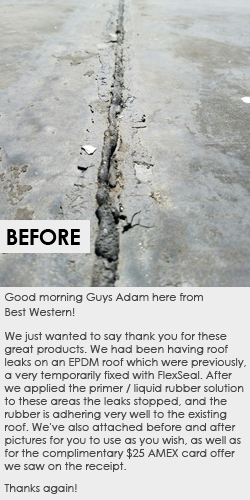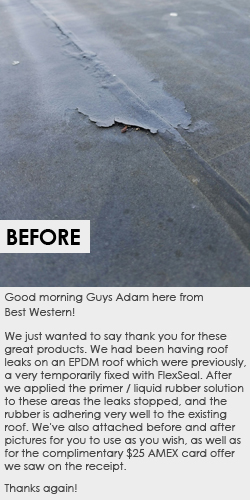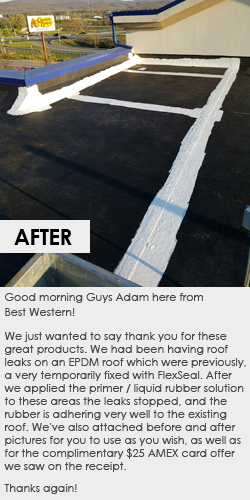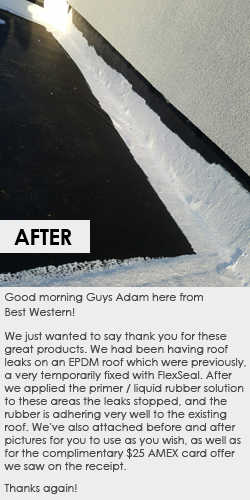 I work at a paper mill In Franklin Virginia, which at the start was a small lumber mill. In the later part of 1930 it became a paper mill. So a lot of the buildings here are flat roofs. Most have been upgraded to either vinyl or rubber membrane style roofs. As a planner, I have had the option to try various products on repairs to these roofs. To little or no avail have I been very successful till now. Price has never been of much importance to me, However results are vital.

After trying numerous products claiming long lasting results, I found many of your competitors claims untrue. I have read your products specifications, uses, and applications. Seemingly so, I wanted to use EPDM COATINGS a try. I had a small project. A membrane on a high traffic roof. Had sagging issues from standing water. A few small sections where the vinyl/rubber has torn and separated.

With minimal effort, following the specific instructions for the application of the EPDM LIQUID RUBBER was applied. The results, lets just say I placed my second order of EPDM LIQUID RUBBER today. This coating in my own personal opinion is worth the money you spend. I am pleased with the results. This coating is holding up very well on this high traffic roof. Carts roll over the repairs, people walk over the repairs. We just had three days of thunderstorms in a row. Where all the other products I have tried failed. EPDM LIQUID RUBBER has held true to their claims. It really works.

Aaron F
Franklin Virginia

Hi Guys

Your product is the greatest. I love my new roof. Anybody that would come up to me and needs a new roof for their RV it is a no-brainer to go with EPDM coatings. I can not thank you guys enough.

Mark R.
Windsor Locks, CT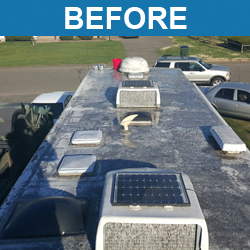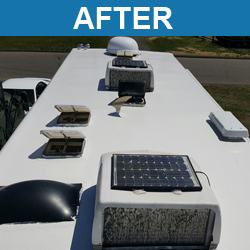 Good morning,

We have attached the before and after pictures following application of the EPDM Coating. We are very happy with the results on our 27 foot travel trailer.
Please send the $25.00 AMEX gift certificate to:

Hazel P
Spokane, WA 99223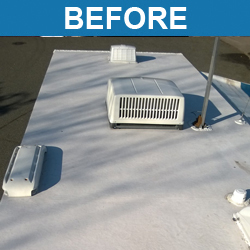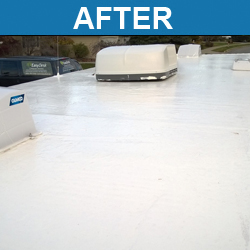 Hi, guys sorry I did forget to take pictures (I am 64 years young :-) I was applying liquid RV roof around the air conditioner and nearby roof sections on our 1994 Fleetwood Montara.
I purchased a total of three (3) gallons and then the primer on Aug 6 and Sept 7 ( item number 200965125152 ).
Note that some of the old elastomeric roofing has completely peeled off (blackish area) down to the original rubber roof. Plus there are more than a dozen patches scattered around. I wanted to make the roof look more like a roof and less like a ratty old quilt, and MORE IMPORTANTLY, I wanted to stop all the leaks. SUCCESS on all fronts!!

Lorraine P
NEWTON, IOWA 50208