This a great product, EPDM Rubber for roofs. It is easy to mix and easy to apply. I had a roof job where a company applied a "torch down" rubber system on my flat roof. They made several critical errors in the application of the torch down. Two added roof repairs and four internal ceiling repairs later and the roof seemed tight. Once you are burned by incompetent roofers you become a cynic quickly. Because of arbitration I got some of my money back. I certainly did not want those bozos back on my roof.
Water stands on my flat roof in various places. I decided to apply a coating of EPDM Rubber over the roof for added measure. So I bought a gallon and applied it in a critical area. It stayed tight and looks great. I waited for several months during the rainy season and had very positive results. I then bought a five gallon pail and applied it to a larger surface. Looks great and adhesion is fabulous. It bonds great with no distortions of bubbles.
I think the easiest thing was that I had a fairly solid surface with which to work. So, cleaning and surface prep seems to be critical. If you prepare the surface well your application and results will be outstanding.
I just ordered two added five gallon buckets and plan to coat the remainder of my roof. I use a short nap roller and it goes on with ease.
I fully recommend this product for roof repairs. Just follow the directions and anyone can do this with completely positive results.
Tom Preston

I would like to thank you guys. I have tried just about everything out there and nothing worked. The hardest part of the job was mixing the hardener. What was really amazing is how the roller marks just disappeared in a couple minutes as the material leveled itself. Really quite a good product.

Dennis R jr.
Salem MA

My 1998 Overland Lorado motor home has an EPDM roof that is showing its age.

Chalking and small cracks are evident and the roof has had numerous repairs by the previous three owners. I researched roof coatings on the internet and concluded that Liquid Butyl Rubber was the best product for restoring the roof.

I live in Boston and have trees overhanging my driveway so I decided to apply the Liquid Butyl Rubber while in Tucson Arizona while staying in a RV resort.

I ordered 8 gallons on Monday and it arrived on Friday, much faster than I expected. I bought the tools at local stores (paint brushes, roller, squeegee, wire brush and cleaning supplies). I found the Instructions and You Tube videos helpful in planning the project. Preparing the roof took about 10 hours (cleaning, brushing, patching with butyl tape and taping edges). Applying Liquid Butyl Rubber took about 6 hours and most of the time in the mixing and painting the edges using a brush. I found a hand held 12 squeegee worked well in the tights areas of a motor home roof. This was a one man job and can be done by someone with moderate home handyman skills. The roof looks great and I expecting many years of added life with no leaks.

Thanks for your help.

Doug B
Nahant, Ma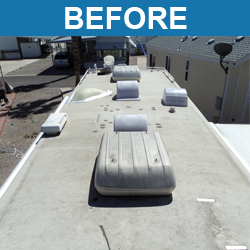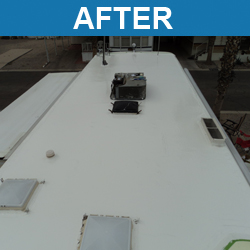 I am sending this email to sing the praises of Liquid Rubber. My husband died in 2009 of brain cancer just before his retirement leaving me with all of the home maintenance projects he had planned on completing in his retirement. Re-coating our mobile home roof was one such major project. I tackled the project in the same manner I had watched my do it yourself husband complete tasks all his life. I started out at Home Depot and Lowes examining what was available and asking a lot of questions. Our small motor homes roof needed to be re-coated also, and I thought I would start with that to gain confidence and to make sure I was indeed capable of completing the task of the larger project of the mobile home roof. At the home improvement stores I was met with skepticism, encouragement, and amazement. Next, I went online to check out some blogs on people re-coating mobile home and motor home roofs (that strategy I learned from my son) and discovered most were saying the same thing: Liquid Butyl Rubber is the best. Finding it was not sold in stores, I ordered gallons from you to re-coat the motor home and plunged in. My brother helped me by removing all caulking, patching a ripped portion of the roof, and holding the drill to mix the chemical in the Liquid Rubber, with my father in his 80s pouring in the chemical as I held the gallon can during the mixing. As you can see by the pictures, the motor home roof looks fantastic, the liquid butyl rubber was amazing to work with, my confidence soared and I began work on the mobile home roof with the order of more gallon cans. My main concern was to get the highly weathered edges coated as quickly as possible, and I did complete that project before my father became ill with bladder cancer and my time was invested in caring for him in my home, and then in a nearby long term home before his death in November. Now I am again undertaking the challenge of working on the roof. I am about to order 5 gallon buckets to cover the entire surface. I still have to ascertain how to get the heavy buckets up to the roof but shall find a process eventually. I took these photos of the motor home before and after as your website offered a monetary discount for sending in pictures. I see that it now has changed to video. However, I was glad that I did take the before and after pictures and I could not resist sending these photos anyway, with the tale of the lady and what seems to you a small and simple project, but what seems to me a completely intimidating and overwhelming project that I am able to complete because of the easy application and wonderful leveling aspect of your fantastic product Liquid Rubber! Thank you!

Pam from Nevada

It was the best product I have ever used on my camper roof.
Don Becker

It worked out great!
Don Becker

Well what can I say the product everything Greg said it would. We have both epdm roof and metal roof about 7500 all in all. Roof looks great we will send pics soon. I was just astonished how easy it went down and as we were rolling it the roller marks jus disappeared. I left the guys there and came back about 3 hours later. They knocked out about 2500 sq ft. and it literally looked like someone put down a 2500 single pieces of material. I wanted to wait a few months until I gave you my feedback and I can say this is the first time in 7 years the client is telling us his roof did not lead during the winter months. We will be ordering more in the spring. I think we will be migrating our coating product over to the Liquid epdm.

Jared Contractors


No, I do not mind at all that you use my testimonial on your website.. I hope it reaches other RVers out there who are being misled towards single stage applications that do not last. I received the Liquid Butyl Rubber today that was ordered Saturday.. GREAT SHIPPING TIME !!!!! The coating will be applied on Sat. and will also be videoed from start to finish and a follow up video and testimony on the Liquid Butyl Rubber. I also got my boss to order a 5 GAL. kit for his RV. [William Anderson] I will also video that process. My name is Doug Klem and I will be doing the application.. I have 15 years in yacht restoration and was astonished that people I met here in the RV park where I now live were using a single part coating on there rooves and recoating twice a year.. That"s when I got on the internet and found EPDM.. From all my years of working with coatings I know single stage coatings don't hold up.. I guarantee that if I am satisfied with Liquid Butyl Rubber you can expect many more orders... Thanks and I will be in touch... 850-417-9195

Doug Klem


i have used this product on over 20 rv roof to help my customers get pease of mind and prolong the life of thier motorhome and campers.
stephen berry

We Received your 1 gallon jug yesterday. Today I reviewed a few of your YouTube videos, I followed them and was amazed how easy it was to apply. My RV is 4 1/2 years old and I developed a small leak, so I decided to seal up all the openings on the roof. It took me a little over and hour, start to finish. It applied so easy and has now relieved my fears of more water coming into my RV. I also love the fact that everything needed was in the box. Awesome product!!!

Glenn C
Palm Beach Gardens FL.